As Head Coach Gary Kubiak reiterated throughout the regular season and postseason, the Broncos' path necessitated contributions from the entire roster. This series details the paths of each player to the team's Super Bowl 50 triumph. Today's entries are on the tight ends, Owen Daniels, Vernon Davis, Virgil Green and Jeff Heuerman.*
The Broncos' Super Bowl 50 victory was the culmination of a 10-year path for Owen Daniels, whose career has been entirely intertwined with Gary Kubiak's Daniels was a member of Kubiak's first Houston draft class in 2006, then followed him to Baltimore in 2014 when he was the Ravens' offensive coordinator before uniting once again in Denver this season.
"It means everything," Daniels said of their path together. "He gave me my first opportunity to play in this league, and he's kept me employed along the years as the years went by. When I was a free agent this offseason and I saw he got the job here and the Denver Broncos went right to the top of my list where I wanted to play. We've been through a lot of ups and downs; we had some good years and we had some rough years together, good times and rough times. But it's all more than worth it to be able share this with him today."
With a versatile skill set that makes Daniels a dangerous blocker and receiver combined with Kubiak's offensive system, the 10-year veteran was an effective cog in the Broncos' balanced offense that helped drive them to Super Bowl 50.
It was also a big year for Daniels off the field as he and his wife, Angela, welcomed their first child, Henry.
Returning to Levi's Stadium and the Bay Area for Super Bowl 50 was a surreal experience for Davis, who had spent his entire career as a 49er before the Broncos acquired him in a midseason trade. On the bus ride from the airport to the team hotel, fans held up signs welcoming him back, reflecting the impact he left on the community before he moved to Denver to become a Bronco.
"I think my tenure here as a 49er, it was great. It was a great journey for me, a great experience," Davis said. "I had an opportunity to just cultivate the relationships with my teammates, the coaches during my stay here. And I gave everything that I had, every ounce of my body and just gave it all. I gave it all to the fans, to the organization, the community, and I feel like I didn't leave anything behind."
Davis made his name one of the biggest in the NFL while he was a 49er. Drafted sixth overall in the 2006 NFL Draft, Davis would go on become the only tight end to post multiple seasons with 13 or more touchdowns. A two-time Pro Bowler, Davis would leave San Francisco as the franchise's all-time tight end leader in receptions (441), receiving yards (5,640) and touchdowns (55).
The Broncos had traded for him to add to their tight-end depth. Daniels and Virgil Green were effective players, but Davis would allow them to play more two-TE sets.
"It's very special, because before I left here, I knew it was for a reason," Davis said. "There had to have been a purpose for me going to Denver, and I just kept that faith and that belief and I knew that it had to be something good that would come out of it. We're back here and it's just like I imagined."
Green has been a steadying force for Broncos offenses for the past five years since the team drafted him in the seventh round of the 2011 NFL Draft. With a mean streak that helps him punish opponents in establishing the run, the Nevada product is a versatile threat. And it's not just blocking where Green excels; he also has produced first downs on 75 percent of his receptions, good for third in the NFL for tight ends with at least 10 receptions.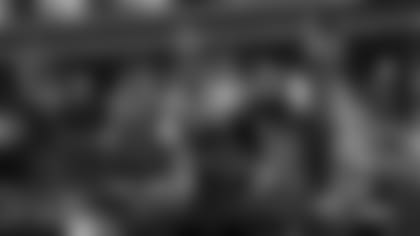 After Green's rookie contract expired following the 2014 season, the Broncos recognized the opportunity they had at hand to keep a player who had developed into an impact player, giving him a three-year contract extension.
A relentless worker, Green consistently drove to better himself to prove what he can do between the sidelines. That determination extended into his passion to help the Denver community, too. Green has been selected as one of the Broncos' most devoted community ambassadors in back-to-back years (2014-15) and works with multiple community partners in his free time.
A torn ACL at the Broncos' rookie minicamp in May unfortunately ended the Broncos' 2015 third-round pick's season well before it even began.
However, with the Broncos' Super Bowl victory and Ohio State's 2014 National Championship, Heuerman became the first-ever player to win a Super Bowl and the College Football Playoff.
Heuerman originally wasn't even on a path for professional football, though. He had his heart set on hockey and at 12 years old, he moved from Florida to Michigan to live with his friend and his grandparents. But when that friend, future NHL first-round pick Austin Watson, moved to Canada to take the next step in his path to professional hockey, Heuerman decided it would be best to go home.
Heuerman then picked up football in high school and became a talented prospect, earning the attention of Ohio State's football program. Four years later, Heuerman was a national champion and a year after that, he was a Super Bowl champion.
---