As Head Coach Gary Kubiak reiterated throughout the regular season and postseason, the Broncos' path necessitated contributions from the entire roster. This series details the paths of each player to the team's Super Bowl 50 triumph. Today's entries are on running backs C.J. Anderson, Ronnie Hillman and Juwan Thompson.*
C.J. Anderson
As the confetti rained down at Sports Authority Field at Mile High following the Broncos' 20-18 victory over the Patriots in the AFC Championship Game, an elated C.J. Anderson exclaimed, "I'm going home … for free!"
For Anderson, a trip to Super Bowl 50 meant playing on the biggest stage near where he grew up. Though the Cal product wasn't so fond of the Broncos practicing at Stanford, his alma mater's rival, he knew he would be comfortable when he was under the lights at Levi's Stadium.
His route to starting in Super Bowl 50 began about an hour away in Vallejo, Calif., and until he reached the NFL, the Bay Area was the only place he wanted to be. At 7 years old, Anderson began playing youth football for the Vallejo Raiders. In high school, he would rush for almost 4,000 yards at Bethel High School. He stayed in the area when he moved to the next step, enrolling at Laney College, where he earned All-American honors with a 1,644-yard, 13-touchdown season before transferring to the University of California-Berkley. As a Bear, Anderson played in all 25 games that he could in his two years of eligibility, but he only had two starts, splitting carries with Isi Sofele. He rushed for 790 yards as a senior, but the homegrown talent continued to fly under the radar as his collegiate career came to a close.
The Broncos came across him in their scouting process and took a flyer on him as an undrafted college free agent. He picked up steam as he learned the intricacies of protection schemes to make himself a more versatile player, and he got his big break in 2014 near his hometown against the Raiders. With a 51-yard catch-and-run, Anderson broke away from Oakland's defense and moved himself into the Broncos' starting lineup. With 767 rushing yards and 10 touchdowns (eight rushing, two receiving) over the final eight games, Anderson became one of the most dangerous backs in the league during that span and eventually earned a Pro Bowl selection.
In 2015, injuries slowed Anderson down a bit as he and Ronnie Hillman split carries in the Broncos' new zone-blocking rushing scheme. But once Anderson got healthy at the end of the year, he had the same powerful style with dynamic vision that made him so hard to stop a year earlier. In the postseason, Anderson averaged 4.8 yards per carry against the Steelers in the Broncos' playoff opener and 4.5 yards per carry in the AFC Championship Game.
Anderson came up big once again in the Bay Area in Super Bowl 50, gashing the Panthers defense at times for a few big gains. But no run was bigger than the one that put the game out of reach for the Panthers. Anderson took the handoff at Carolina's 6-yard line, sidestepped linebacker A.J. Klein (who had a shot at stopping Anderson well behind the line of scrimmage, but only grazed him with a half-hearted arm tackle) and then collided with linebacker Luke Kuechly, who could not stop Anderson's momentum from crossing the goal line.
Scoring a touchdown in a Super Bowl victory was enormous source of pride for Anderson, who was overlooked for much of his collegiate and professional career, and to excel at the highest level near his hometown was hard for him to put into words.
"I know Vallejo is going crazy right now," Anderson said. "I'm lost for words. I know they're lost for words. I can't wait to get home tonight."
Ronnie Hillman
Another California native, Hillman bore the brunt of the rushing load during the regular season and brought a quickness and speed that proved dynamic in combination with Anderson. Perhaps no run better exemplified the explosiveness of the new rushing scheme than Hillman's 72-yard breakaway sweep against the Vikings in Week 4.
His path to the NFL, and eventually the Super Bowl, began in Compton, Calif. Growing up in Compton was rough, Hillman says, and staying out of trouble with gangs and gun violence was difficult, but eventually he and his family moved out of the area and to a better neighborhood where he could focus more on football, which provided him the path to college at San Diego State.
Hillman laid waste to the Mountain West Conference as a freshman, racking up 1,532 rushing yards and 17 rushing touchdowns in his first year. There was no sophomore slump, either, as Hillman returned even better with 1,711 rushing yards and 19 rushing touchdowns. After those two years, he left to turn pro, finishing his collegiate career at San Diego State with the third-most rushing yards in school history.
The Broncos selected Hillman 67th overall in the third round of the 2012 NFL Draft, and in the years since, he has been an proficient contributor to Denver's rushing attack. He had his best season in 2015 as the Broncos' leading rusher with 863 rushing yards and seven touchdowns. In Week 17 against the Chargers, Hillman recorded a career-high 117 rushing yards and one touchdown, earning AFC Offensive Player of the Week honors.
Juwan Thompson
A second-year running back, Thompson wasn't as active in 2015 as he was in 2014 when he averaged five yards per carry on 54 rushing attempts with three touchdowns. Nevertheless, it was his physical style, capability of also playing fullback and special-teams work that earned him the final running back spot on the roster a year after being signed as a college free agent.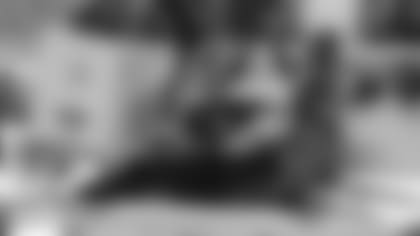 Thompson's path to Super Bowl 50 included helping revive Duke University's formerly downtrodden football program back to respectability. A versatile player willing to help in any way he could, Thompson even played linebacker for a series against Virginia Tech. The mark he made at Duke would help him find a foothold in beginning his professional football career, he would soon find out.
Blue Devils head coach David Cutcliffe, who is very near and dear to quarterback Peyton Manning as his former offensive coordinator at Tennessee, recommended Thompson as a fit for the Broncos for his intelligence, pass protection and toughness. After training camp, the Broncos decided to retain Thompson on the active roster and he would become small yet significant contributor as a rookie.
A year later, Thompson proved himself to a new coaching staff and stuck on the roster again for what would be a Super Bowl season.