As Head Coach Gary Kubiak reiterated throughout the regular season and postseason, the Broncos' path necessitated contributions from the entire roster. This series details the paths of each player to the team's Super Bowl 50 triumph. Today's entries are on the outside linebackers.*
Motivation was no problem for the defense in Super Bowl 50. There was the individual motivation to prove each player belonged at the highest level, motivation to prove doubters wrong, motivation to prove the defense was one of the most dominant of all time against the league's MVP.
And then there was the motivation to win for DeMarcus Ware, who had never been to a Super Bowl or even a conference championship game before in his storied 11-year career.
"It's beautiful," said teammate Von Miller on helping Ware win a Super Bowl. "He's an All-American person. He's an All-Pro player. He's a leader. He's a big brother to me. He is a coach, mentor. He has a lot of names for me. It's something that I hold very, very close to my heart. I remember when I first got into the game and watching DeMarcus and watching the passion that he played with. I wanted to mimic that in my game and my high school and my junior high school days. To have a percentage in helping him achieve greatness is something that I will remember for the rest of my life."
With a Super Bowl victory, a conference title game and an AFC Defensive Player of the Month award, this season was one full of firsts for Ware, who has established himself as one of the best pass rushers in league history with 134.5 career sacks (11th all-time).
A largely unrecruited player out of high school, Ware had originally planned on joining the military if sports couldn't help him get into college. Thankfully, Troy University came calling and Ware started his legend. A four-year starter, Ware finished his collegiate career as the 2004 Sun Belt Defensive Player of the Year, leading the Trojans to their first-ever bowl game appearance with 53 tackles and 10.5 sacks.
With an impressive showing at the Senior Bowl, Ware proved himself to be one of the top players in the 2005 NFL Draft. The Cowboys selected Ware with the 11th overall pick, and Ware's ascension continued as he became the second-fastest player to 100 sacks, needing just 113 games to reach that benchmark. He would find the greatest level of production during Wade Phillips' stint as Dallas' head coach, with 60.5 sacks over four years.
But postseason success consistently eluded Ware and the Cowboys. Regardless of whether they finished as one of the NFC's top seeds or as a Wild Card team, they never even reached a conference championship game.
So when the Cowboys released Ware in 2014, he signed with the Broncos with the hopes of bolstering a defense that could help Denver return to a Super Bowl after their loss to Seattle in Super Bowl XLVIII.
After his first season in Denver, Ware was reunited with Phillips, who became the Broncos' defensive coordinator and unleashed the potential of their talented group. After 10 long years, Ware had finally found the postseason success he had long yearned for and put his name into the rare class of Super Bowl champions.
Super Bowl 50 pitted No. 1 vs. No. 2 in the sense that the 2011 NFL Draft's top overall pick, Cam Newton, would be facing Von Miller, who was selected by the Broncos one spot after him.
Miller got the best of Newton and the Panthers when they first met in 2012, with Texas A&M product recording one sack, four tackles for loss and one forced fumble. Three years later, Miller again hounded Newton into one of the worst games of his career. Miller's first quarter strip-sack produced the Broncos' first touchdown of the game with defensive end Malik Jackson recovering Newton's fumble in the end zone. Another strip-sack from Miller in the fourth quarter effectively closed the game for the Broncos when safety T.J. Ward fell on the ball just a few yards from the goal line. With 2.5 sacks, one pass defensed and two forced fumbles, Miller was named Super Bowl MVP.
Reaching that individual pinnacle came two years after the lowest point of his professional career and almost eight years after the most significant turning point of his career.
In 2008, Miller almost left Texas A&M after new head coach Mike Sherman suspended him for the Aggies' spring game for missing academic responsibilities. Miller wanted to transfer but his father pushed him to stay and make it work at College Station. Miller became a more focused student in the classroom and on the field, becoming one of the most talented outside linebackers in college football. As a junior, Miller led the nation with 17 sacks and a year later, he was drafted by the Broncos with the second overall selection.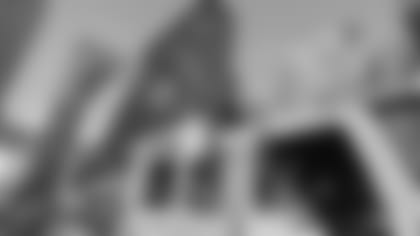 In his rookie season, Miller was named the AP NFL Defensive Rookie of the Year with 11.5 sacks, and he followed it up with an 18.5-sack season that earned him a first-team All-Pro selection.
But in 2013, Miller missed six games due to a league suspension and after nine games with five sacks, he tore his ACL in Week 16 against the Texans. The Broncos would go on to make a run to the Super Bowl, but Miller was one of many key defensive players who had to miss that opportunity due to injury.
With a Super Bowl MVP performance against the Panthers in the Broncos' victory, Miller more than made up for that lost time.
Like a handful of teammates, Barrett made the jump from practice squad to key contributor in his first year on the active roster. He leapt off the page as a preseason standout with four sacks, nine quarterback hits and one forced fumble in four games.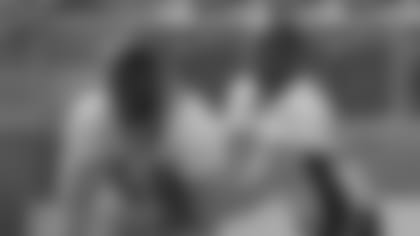 In his rookie season, Barrett spent 16 weeks on the practice squad, but had been signed to the active roster for Week 7 against San Francisco and for the Divisional Round game against Indianapolis, though he did not play in either game.
Barrett broke out in his second year, recording 41 total tackles, 5.5 sacks, four passes defensed, four forced fumbles and two fumble recoveries.
He had been a standout player for Colorado State, but it was by chance that Barrett arrived in Colorado. Barrett had begun college at the University of Nebraska-Omaha, but the school dropped its football program and the young linebacker needed to transfer. Colorado State offered a great landing spot for he and his wife, and Barrett fit in well as a three-year starter, racking up 246 total tackles, 18 sacks, 32.5 tackles for loss and three interceptions in his time as a Ram.
As a college free agent, Barrett grew as a player with his reps against the starting tackles and by watching Miller and Ware and how they find success in the pass rush.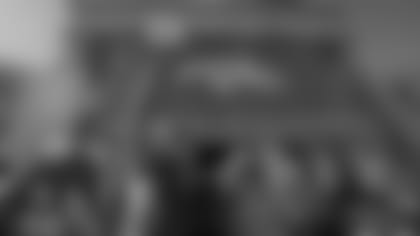 Football was Shane Ray's path out of a dangerous Kansas City ZIP code known as "The Murder Factory." His mother did everything she could to help put in the foundation for a successful life, but Ray struggled to grapple with why his father chose to be absent for much of his childhood, as well as the murder of Ray's cousin, his closest friend.
Ray would become an outstanding high school football player, earning scholarship offers from Missouri, Kansas, Wisconsin and Notre Dame. He picked Missouri, beginning a storied career as one of the top defensive players in school history.
In his senior season, Ray broke the school record for sacks in a single season with 14.5, three more than the previous record. Among those whom he had topped were Aldon Smith, Michael Sam, Justin Smith, Markus Golden and Kony Ealy.
Ray, considered one of the top edge-rusher prospects in the draft, would take a considerable tumble on draft day because of a foot injury and a marijuana citation, but the Broncos were happy to see he was available as their pick drew near. Ranked as a top-10 overall prospect by the Broncos, Ray's fall was halted at 23rd overall when the Broncos made a trade with the Lions to select him.
As a rookie, Ray appeared in 14 games, posting 20 total tackles, four sacks and seven quarterback hits.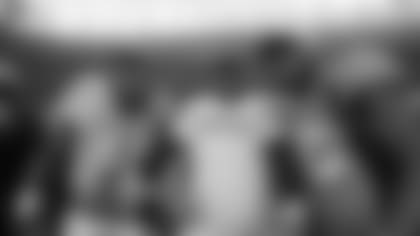 A third-year outside linebacker, McCray was added to the Broncos as a college free agent in 2013 after an outstanding career at the University of Florida. He started in 17 of 42 games as a Gator, totaling 65 tackles, 4.5 sacks, one interception, five passes defensed, three forced fumbles and one fumble recovery.
After spending his rookie season on injured reserve, McCray played in 13 games in 2014, recording six tackles and one sack. A knee injury knocked him out of three other games, and he made his first postseason appearance in the Broncos' Divisional Round game against Indianapolis.
In his third season, McCray solidified the Broncos' outside linebacker and special-teams depth. He appeared in 11 regular-season and three postseason games, recording 13 total tackles and 0.5 sacks.
---