As Head Coach Gary Kubiak reiterated throughout the regular season and postseason, the Broncos' path necessitated contributions from the entire roster. This series details the paths of each player to the team's Super Bowl 50 triumph. Today's entries are on the offensive linemen, starting with right guard Louis Vasquez.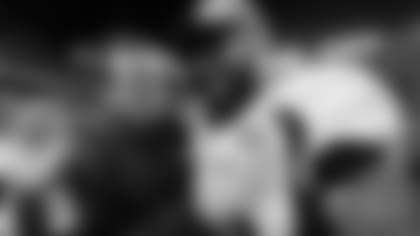 Because of free agency movement, a new run-blocking scheme and injuries, the Broncos' offensive line was something of an unknown heading into the season. Vasquez was poised to be the only returning starter on the line and one of the few with extensive experience in the NFL. The Broncos eventually added veterans Ryan Harris and Evan Mathis to join him, but the seventh-year guard still had a leadership role and during training camp, he helped rookie Max Garcia get ready for a season of significant playing time. Vasquez, a first-team All Pro and Pro Bowl selection in 2013, provided stability for the line on the interior with first-year starters on either side of him, and his leadership would help the team become one of the more efficient rushing offenses as the season went on.
Vasquez was a standout prospect from the small Texas town of Corsicana. From Corsicana, Vasquez enrolled at Texas Tech and continued to shine as one of the country's most outstanding linemen to the point that he was an All-Big 12 Conference selection in three of his four years in Lubbock and allowed zero sacks in his senior season.
Drafted by the Chargers in the third round in 2009's NFL Draft, Vasquez spent four years in San Diego before signing with the Broncos in 2013. That year, he played on every offensive snap and allowed no sacks during a postseason run that ended in Super Bowl XLVIII.
Two years after the Broncos fell to the Seahawks in that Super Bowl, the team returned to the biggest stage with a similar run though with a very different style stemming from dominant defense. Vasquez again didn't allow a postseason sack, according to profootballfocus.com, and the Broncos ground out a win over the Panthers with his help in Super Bowl 50.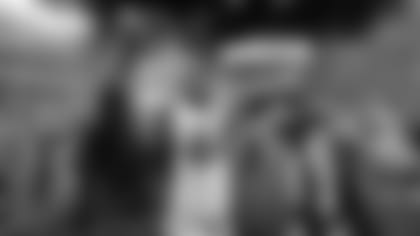 In the wake of four-time Pro Bowler Ryan Clady's season-ending knee injury, the Broncos looked to Harris to provide necessary skill and experience as he joined second-year tackle Michael Schofield and rookie Ty Sambrailo, each of whom had never played a snap in the NFL before this season.
Harris, who lives in the Denver area in the offseason, was a great fit given his history playing for Head Coach Gary Kubiak previously in Houston. And not only that, a return to the Broncos was a fitting circular path because he began his career with the Broncos as a third-round draft pick in 2007. After spending time with the Texans and Chiefs, Harris felt back at home with a return to his first team.
An effective and versatile player on the edge, Harris played on both sides of the line, moving from right tackle to left after Ty Sambrailo suffered a season-ending shoulder injury in Week 3 against the Lions.
Harris is also one of the more interesting people on the team with a diverse range of experiences from a high-school appearance on MTV's True Life (an episode titled "I Want a Perfect Body") to producing a weekly live show starring practice squad center Dillon Day on Periscope called "On the Couch with Dillon Day."
A two-time Pro Bowler and 2013 first-team All-Pro, Mathis was a late addition to the Broncos as a premier free agent after the Eagles released him in June. The Broncos beat out other teams vying for his talents, boasting a roster that offered Mathis a chance at postseason success he had not been able to achieve in his previous 10 years in the NFL.
One of the top guards in the league, Mathis brought undeniable skill and experience to Denver's young offensive line. Signed on Aug. 25, Mathis had to learn the offense quickly and without the benefit of playing in any preseason games. He played in 12 regular season games as the coaches ensured his health for the postseason, and with the rushing game improving as the year went on, his presence helped the Broncos become a more experienced and well-rounded offense in the playoffs.
In Super Bowl 50, Mathis faced the team that drafted him in the third round of the 2005 NFL Draft. Mathis had converted from right tackle to guard for his senior season at the University of Alabama, becoming a first-team All-SEC player in the process. However, the Panthers waived Mathis in 2008, and it would be a few more years until Mathis rounded into top form with the Eagles.
It was a long wait for playoff glory for Mathis, but his difficult free-agency decision in August turned out exactly how he had hoped.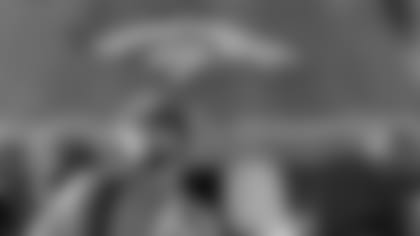 Paradis' development into a consistent starter cannot be understated. He was the only player on the roster to play on every offensive snap this year and he beat out a four-year veteran for the starting spot in training camp.
A sixth-round selection by the Broncos in the 2014 NFL Draft, Paradis had honed his skills on the practice squad before proving himself to be an adept contributor to the offensive line in 2015.
During his collegiate years, Paradis was selected as Boise State's Outstanding Offensive Lineman as a senior, and he hadn't even been playing on offense until he switched from defensive line before his sophomore year.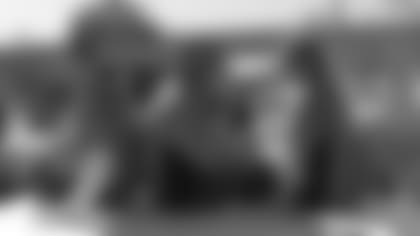 After Sambrailo's season-ending shoulder injury, the Broncos looked to Schofield to fill in on the fly, despite having never appeared in an NFL game before his professional debut in Week 4 against the Vikings.
He had spent his rookie season on the active roster, but he started at right tackle in each game beginning in Week 4. The Broncos had drafted Schofield in the third round in 2014, and hoped for such a development in his progress. He had been an outstanding tackle at the University of Michigan, playing in 52 games over four years and making 26 starts at right tackle and 10 starts at left guard.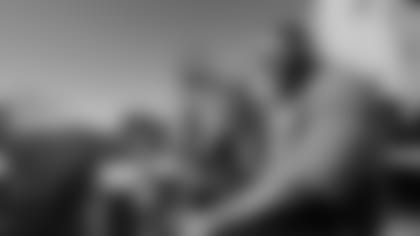 Though the Broncos were happy to add a two-time Pro Bowler late in the offseason, the signing of Evan Mathis did not mean they lacked confidence in Garcia, whom the Broncos selected in the fourth round of last year's NFL Draft.
A skilled and versatile lineman, Garcia played both guard spots and saw action in all 16 games whether on offense or special teams. He would go on to start in five games as the Broncos allowed their two starting veteran guards to recover from injuries whenever they needed to, which was vital for ensuring the offensive line—which had already lost two starters in Clady and Sambrailo—would be as healthy as possible for a postseason run.
Garcia had drawn eyes during the 2015 Senior Bowl with effective reps against the likes of first-round pick Danny Shelton, and the Broncos liked what they saw from the second-team All-SEC lineman who had been voted as the Florida Gators' Offensive co-MVP by his teammates.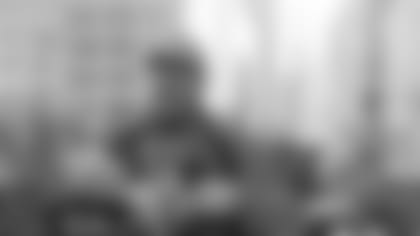 A Denver native, Polumbus has spent most of his football career in his home state. He attended Cherry Creek High School and the University of Colorado before being signed as a college free agent by the Broncos in 2008. Before making his midseason return to Denver this year, Polumbus had played for Seattle (2010-11), Washington (2011-14) and Atlanta (2015), before being released on Sept. 29. Happy to add an experienced lineman, the Broncos signed him a few days later and Polumbus would appear in 11 regular season games.
Ferentz, a first-year center, contributed mostly on special teams but also occasionally appeared on offense on a few snaps in goal-line situations as a fullback. The Broncos had claimed Ferentz off waivers on Aug. 6, and he played in 14 games in the regular season. As an added note, Ferentz's father, Kirk, is the University of Iowa's head football coach.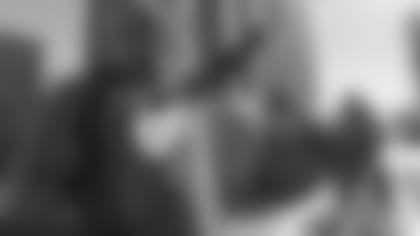 The Broncos added third-year center Sam Brenner via waivers on Nov. 18 after the Dolphins waived him a day earlier. Brenner had appeared in 10 games, including four starts, for Miami in his three years there.
A fifth-round pick by the Ravens in the 2015 NFL Draft, Myers spent time with Baltimore and Indianapolis before being signed by the Broncos on Dec. 30. Myers was a second-team All-Ohio Vallery Conference selection in his junior and senior seasons at Tennessee State University.
Ryan Clady and Ty Sambrailo
Injuries hit the Broncos' offensive tackle position unduly hard in 2015. Clady's season ended in OTAs when he tore his left ACL during an 11-on-11 drill. It was an enormous loss for the Broncos' offensive line given Clady's talent and experience, but Clady was still an active part of the team, along with other Broncos rehabbing from their respective injuries, like Sambrailo and tight end Jeff Heuerman.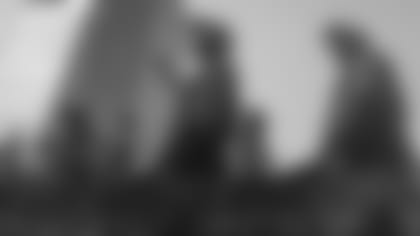 Sambrailo, the Broncos' second-round pick in 2015 out of Colorado State, had been moved to left tackle after Clady's injury, but three games into the year, Sambrailo tore his labrum in his left shoulder. He had fought hard to recover with the possibility of returning later in the season, but his shoulder did not appear to heal as Sambrailo and the medical staff had hoped, and the team placed him on injured reserve.
Still, the two were active parts of the team and unlike two years ago, the Broncos brought them and the other players on injured reserve with the rest of the team for the entire week before Super Bowl 50.