ENGLEWOOD, Colo. --The old-school veteran in one corner of the Broncos' locker room is prepared to ride off on his horse into the sunset after Super Bowl 50.
But that's what Antonio Smith does every year when the season ends.
"I'm going to run off to my ranch anyway," said the 12-year vet, who every offseason retreats to a 150-acre ranch in Jones, Okla. where he owns 12 horses, spends time hunting and even raised cattle for a while.
"As soon as the season is over, every year, I'm cowboying up all day long. That's what I'm going to do."
Until then, Smith is focused on preparing for his second Super Bowl appearance and first since he started for the Arizona Cardinals in Super Bowl XLIII.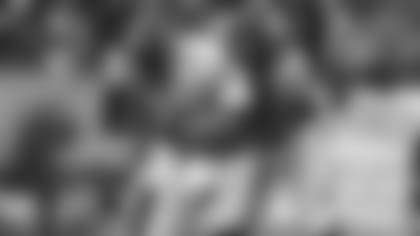 To receive a second chance after falling short with the Cardinals in their 27-23 loss to the Steelers seven years ago is an opportunity that staggers his mind.
"I don't even know if I can put it into words, man," Smith said. "It's like all good words put into one. It'll mean the world to me to just get out there and win that game and shine the right light."
It was a chance he was unsure he would ever receive, even though he went to the playoffs three more times -- once in Arizona and twice with Houston -- before joining the Broncos last offseason.
"There was a point I wondered," Smith said. "But I had an auntie who just passed this year, and one time she just spoke this into existence, and you kind of go out of your mind, like, 'OK, Auntie.' Then all of a sudden, you're here in this moment.
"I guess it was always meant to be what it is right now."
As was the case for the Cardinals seven years ago, the Broncos head into the Super Bowl as an underdog. That status is one the 34-year-old Smith embraces -- and something he feels he knows well.
"I love being the underdog," he said. I've been the underdog my whole life. There ain't nothing wrong with that."
"People counting you out, people not recognizing you, all kinds of things. Teams I was on -- every team I was on was never thought to do what we did. When I was with the Cardinals, ain't nobody think we'd do that [go to Super Bowl XLIII]. When I went to Houston, nobody thought we'd do that [win in the playoffs]; that was actually the first playoff berths of the Houston Texans."
And that set the stage for his season with the Broncos. In recent weeks, the predictions of doom have seemed to propel the Broncos.
"It definitely gives you fuel, but that's what we've been all year. It's no different than how it's been all year," Smith said. "Every year, whenever we've faced a good opponent, everybody always said, 'This is the week they're going to get beat.' And every week, we stood up to the challenge."
And now there's at least one more challenge in front of Smith, who has too much to ponder now to begin thinking about his future when his contract expires heading into the offseason.
"I'm excited to enjoy this moment," Smith said. "It ain't really like I'm doing much to ride off into the sunset now. It's like, 'I've got the opportunity of a lifetime. I've got the season. I'm in the moment.'"
The cowboy life and all the rides into the sunset it provides can wait, perhaps for a while.