SANTA CLARA, Calif. --Even as he grieves for the death of his father, defensive end Antonio Smith knows where he belongs: with his teammates, preparing for the biggest football game of his life.
"Definitely. My life in this stage has a bigger purpose than me, my feelings and my emotions," Smith said. "People are counting on me. My brothers are counting on me. There's no question."
Smith's father, Marty Williams, died at the age of 58 this week following complications from heart surgery. Smith said that his father "had some problems breathing" in recent weeks, giving him a hint of the news he received early Wednesday morning.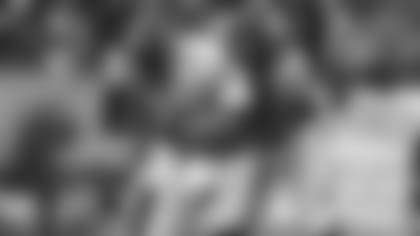 Somehow, Smith's smile and enthusiasm remained through his work Wednesday and as he answered questions Thursday morning before going to meetings and practice at Stanford University.
"It comes back every now and then," Smith said. "It's a hard thing to endure, but the spirit he put in me is my spirit. I was born with it. Through rougher and harder times than this, I even smiled. Throughout the whole hard year I've smiled. It's something that I have no control over; it's who I am."
One reason why Smith will stick it out through Super Bowl 50 is because he didn't have to look far for support; it came from his teammates.
"Everywhere. More support than I ever thought I even had," he said. "Just love. Love coming from every direction. The epitome of Jesus Christ, man -- just love. Wherever I needed it, it came."
Williams has been incarcerated for since 1991 after being convicted of murder in Oklahoma. According to The Denver Post, a Denver attorney, Johnny Lombardi, investigated the case to try and free Williams, and told the Post that Williams "was falsely convicted" of the crime.
For the last quarter-century, Smith never stopped visiting his father on a regular basis. During the season, he only had the opportunity to visit him on bye weekends, but during the rest of the year, when he settles down at his ranch in Jones, Okla., he tried to visit at least every other weekend.
"I took more from it than he probably did," Smith said. "He might have felt that he took more from it because of the situation he was in, not being able to see us as much, but I drew from it every time I went, man.
"The knowledge and wisdom that man harbored inside him was amazing. It drew me to him in the same way knowledge draws some of my brothers in to me. I got it from him."
One bit of advice stood out above all the rest.
"He just had a way of saying in the right place with a confidence that always moved me, and he would say, 'God brought you this far; he ain't about to leave you now,'" Smith recalled.
"And sometimes everybody says that, but when hard times come, that ain't what you're thinking -- 'Yeah, I hear what you saying, but I feel this pain' -- and he just would say it in a way where it would penetrate, like, just remember everything you've been through. You never thought you were going to make it out of them situations when you first got into them, and He carried you every single time, so why not this time?
"Him and my grandfather were strong, manly men. They were like, 'Pick your head up and stop all that weeping and remember that He brought you this far; He's not about to leave you now.'"
There was something else Smith received from his father -- athleticism. He said that most of his athletic ability comes from that side of the family.
"My dad's side, I mean, there were 300-pound men who could probably run 4.8, 4.7. They would have Olympic trials in a famous black town in Oklahoma called Sandtown; that's where I'm from. We called called them 'Hood Olympics,'" Smith remembered.
"They would be picking up cars; picking each other up. They're over 300 pounds, some are 350, and they're picking each other up with one arm. They had footraces with 180-pound guys. Man, I wish I had all of their athletic ability. I just had a little bit."
But despite being the "clumsy, slow-footed one," as Smith himself put it, he did enough to get this far, and when Sunday comes, he will play and hopes to get a sack not only for his teammates, but his father and family, as well.
"Definitely. It would be a wonderful memory," he said. "But even more than that, I wish that this week I could bring a good and encouraging word to my brothers. I think that's my greater purpose."