About five months ago, Mallory Pugh and Lindsey Horan competed on soccer's biggest stage. They played for the U.S. Women's National Team and helped the team to its fourth FIFA World Cup title and back-to-back championships.
On Sunday, they were more anxious to pump up the more than 50,000 fans at Empower Field at Mile High than they were to compete against the best soccer players in the world.
"I think we were more nervous about pumping up the crowd than playing a soccer game at the World Cup," Horan said laughing.
"I would definitely say the same," Pugh said.
When asked how two world champions could be nervous to encourage Broncos Country to pound their chests and get loud, the pair offered a simple explanation for their nerves.
"We're not used to pumping up the crowd," Horan said and laughed. "It was nerve-wracking."
"We're better at [playing soccer] than pumping up the crowd," Pugh said.
Though they felt out of their element, Horan and Pugh were as successful on Sunday as they were in July in France — they successfully riled up thousands of Broncos fans, just as they successfully won the FIFA World Cup with the USWNT.
Trading their white U.S. soccer jerseys for personalized blue Broncos' jerseys — gifts from Broncos President and CEO Joe Ellis — was a homecoming of sorts for the Colorado natives.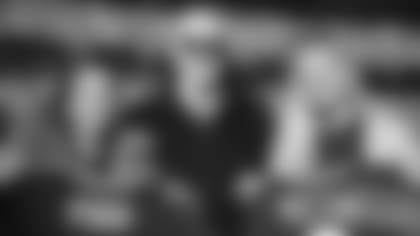 Horan grew up in Golden and played for the Colorado Rush Soccer Club. Pugh grew up in Highlands Ranch and competed on the rival Real Colorado Soccer Club.
"It's awesome, us being home in our hometown and seeing all these fans and a team that we've supported our whole life," the 25-year-old Horan said. "Getting to celebrate with them was really cool."
Pugh, 21, echoed Horan's statements about the raucous cheers that came from the Broncos' fans when they were introduced as USWNT players and Coloradans.
"We have so many fans here, and just to come back home and be surrounded and feel the support, it makes us proud to be from Colorado," Pugh said.
Horan and Pugh first met when they played at a U-20 World Cup tournament, and they weren't immediately good friends, but their friendship grew over time. Once Pugh became the youngest player to make the USWNT four years ago, she and Horan bonded over their Colorado heritage and appreciation for the state's youth soccer.
So, it was natural that "Mal" ran up to Horan and jumped on her back on the sidelines before the game as a way of saying hello. And, it was more fun to plan what to say into the stadium microphone together than it would have been alone.
"I think we're always on the same email when it's anything Colorado," Horan said and shrugged and smiled, looking at Pugh. "We always do it together."
Friends and family stood with the pair on the sidelines during the Broncos' pregame warmups, and they snapped pictures of Horan and Pugh with Ellis, John Elway and Von Miller – documenting world champions greeting fellow world champions.
Horan and Pugh's conversations were casual with the Broncos greats, but family ties to Broncos Country made the interactions, and the day, exciting.
"I think both my parents were huge Broncos fans," Horan said. "My mom is a die-hard John Elway fan, so she was jealous to see us meet him today. I think we kind of grew up in a Broncos household, so [it's] very cool for us to be here."
Added Pugh: "Growing up with a Broncos household … it's just kind of natural."
Horan and Pugh were natural hype-women, as Pugh called into the mic, "Come on, Broncos Country!"
Horan followed with, "We need to hear ya!" before the two pounded their chests and watched both fans and Broncos players jump around and pound their chests to the same rhythm.
The pregame encouragement from the soccer stars worked, as the Broncos went on to beat the Los Angeles Chargers 23-20.
"We thought it was awesome," Horan said before the win. "We thought it was really cool to get the support from a different sport. And we've been Broncos supporters, so now them seeing us and seeing what we've done, it brings a whole new level of support for each sport."