After five years as the head coach at the University of Texas-El Paso, Sean Kugler returned to the NFL this season to serve as the Broncos' Offensive Line – Guards/Centers Coach. The 12-year NFL coaching veteran has also spent time in Detroit, Buffalo and Pittsburgh, but he headed to Denver in the offseason to help transform a unit that features top-end talent in players like Matt Paradis and Ron Leary. Kugler certainly knows how to help them find success. While in Buffalo, Kugler's line cleared the way for three consecutive 1,000-yard rushers. The Steelers found similar success when Kugler helped lead their unit. Following a recent training camp practice, we caught up with Kugler, who shared his thoughts on a couple of Broncos players, explained why specialization can help in the NFL and compared Vance Joseph to a Super Bowl-winning head coach.
I know you spent some time at UTEP as the head coach. What kind of perspective did you gain in that role that helps you now?
"Being a head coach, you're dealing with a lot more kids. You're dealing with 105 kids and a lot more problems. Probably most of my time was spent on things [that were] non-football related. Being in the NFL — back in an offensive line room — I'm very comfortable there [and am] enjoying being in the room just focusing in on a small group. I'm truly enjoying it." 
You work purely with the guards and the centers. Have you seen a coach divide a role like that, and how has that specialization helped you and the players?
"There's a lot of specialization on defense. You see [coaches for] defensive ends, defensive tackles, safeties, corners. I think you're going to see a trend more toward that, because if there's one group that has to work together collectively as a unit, it's an offensive line. Coach [Chris] Strausser and I are on the same page with everything, and we work the whole unit together as a group. Title-wise, we're broken up as Centers/Guards and Tackles, but we work together."
What sort of respect have you gained for Ron Leary after seeing how he's handled the transition from left guard to right guard and then back to left guard this year?
"Ron's a pro, and he's extremely hard working and a leader. He sets the tempo as far as drills. He's a great communicator. He's a great teammate. If anything, I've just earned [more] respect [than what] I already had for him watching him during his career."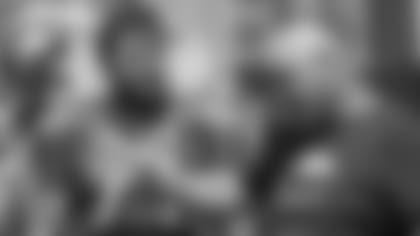 Matt Paradis was a guy who came in undrafted and has not missed a snap over the last three years. What type of player is he?
"He's a leader. He's a competitor. He plays hurt. He sets the front up as far as communication and ID'ing [defenses]. He does an outstanding job of that. He's a true pro."
I've seen you often walking around the field when it's empty and just you out there. Is that to clear your mind from everything else that's going on?
"I just use it to focus on things. I enjoy going for a walk. It is a time to clear your mind and get your mind right for practice."
You played for the Sacramento Surge in the World League of American Football. What was that experience like, and how did it differ from the NFL world?
"I went to the NFL with the Steelers and didn't make it as an offensive lineman. … Really, back then, your only opportunity to continue to play football was the first year of the World League. I enjoyed it. It was just a chance to keep on playing and the league eventually turned into NFL Europe."
What's it been like working with Head Coach Vance Joseph during your first season in Denver?
"He reminds me a lot of [Steelers head coach] Mike Tomlin. He's got a lot of energy, he's very focused, he's very detailed. He's got a great vision of what he wants with this program."