ENGLEWOOD, Colo. — Dalton Risner has one of the most crucial jobs on the field: protecting Russell Wilson. The fourth-year guard has been an important part of the Broncos' offensive line since he came into the league, consistently playing at a high level. With the new franchise quarterback playing behind him, Risner embraces the heightened responsibility of blocking for No. 3. We sat down with Risner to talk about Wilson's impact on the offense, learning Head Coach Nathaniel Hackett's scheme, jet skiing and more.
EK: How are you feeling about the offensive line as we approach the season?
DR: "I'm feeling really good. I think we've continued to work all throughout OTAs and all of training camp, and I think that we're really coming together. … We're working together really well and advancing each and every week."
With a quarterback like Wilson behind you, how has your mindset changed in terms of pass protection?
"He's a mobile guy, so sometimes he can sit in the pocket, but he also likes to move around. To be honest, as an offensive lineman, no matter who you have behind you, you've got to block to the whistle, you've got to block your butt off. You've got to be prepared for movement, but even more importantly with Russell, you know that that's kind of one of his first moves — he likes to get out and move. You've just got to be ready to block extra long and at different angles, and make sure you're not holding on because you never know where he's going to be at. It definitely presents some different things than what I'm used to, but it's all positive stuff because he's such a great guy [and] a great quarterback."
A lot of your teammates have raved about Wilson's leadership. In what ways has he helped you and the rest of the offensive line get better?
"He's locked in each and every day. He's not scared of the work, he wants to show up, he wants to go to work. He gets here early, he stays here late. This is the biggest thing I love about Russ: He's not someone that just tells the media what he's about or tells other people what he's about. He does it. What he says he's about, he's about. He talks the talk, but he also walks the walk, and that means a lot to me."
The Broncos have two very talented running backs in Javonte Williams and Melvin Gordon III. What's your approach to helping them have success in the run game?
"That's what we do every day, that's our job. Our job is to open up holes and see how [many] yards they can get. Our job is to protect Russell when it's a pass, and to open up holes whenever Javonte and Melvin are going to be running. Javonte's going to get every inch possible, Melvin's very elusive, we've got [Mike] Boone back there too. We've got so many great running backs, [and] they're going to run their butts off. The goal for our offensive line is just like pass [protection]. Let's block to the whistle, let's open up holes and make it happen for them."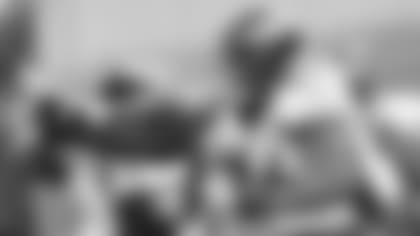 What have you liked about Coach Hackett and this new offensive scheme?
"There's a lot of new, there [are] a lot of different things that we do in terms of fly motion and motion and shifts, and different formations, multiple runs out of the same formation, play[-action] pass. There's a lot of different things going on, so I think it's really, really hard for the defense to understand what's going on a lot of the time, and I really like that. We present a lot of confusion to defenses — we play with the whole playbook that we have. That's been one of the coolest things I've been able to see since this new staff has [come] in. When it comes to Hackett, I love his positive energy, yet his willingness to get the work done and know when it's time to get down to business. I think that he's a great player's coach."
The defense has put an emphasis on the pass rush this year. Going up against this defensive front every day, what have you seen from them?
"They're really good. We've always had a great defense for the past few years. You've got D.J. Jones who can stuff the run, but he's also very powerful in the pass. You have Dre'Mont [Jones] who is super quick and elusive and has great hands, but he also has a lot of power. I think that there's a lot of great dudes on this defensive front. Randy Gregory's coming back, you've got Bradley Chubb, Josey Jewell flying around. These guys are going to be really good. I think that that's going to be a very strong point of our team this year."
How do you feel about your game in your fourth season, compared to previous years?
"I think that I've made a huge jump. I've been a guy that I feel like has played really well for my first three years in the league. I've been super consistent, I've missed maybe one or two games, I've started every game other than that. I feel like I've been a consistent offensive lineman that's continuously put in that work. I think going into Year 4, I feel I just fit this scheme better than any scheme I've really had before. I've lost 25 pounds — I went from 325 to 300 pounds — and I feel really good. So I'm excited."
Garett Bolles has been another staple of this offensive line for a while. What have you learned from him over the years?
"G.B., he's a story about resilience and perseverance. When he first got in the league as a first-round pick, he had a few years that I think he was kind of struggling. He had a choice to make — there's two types of people in this world, the people that say, 'When things get tough, I'll step down,' or, when things get tough, they go the other way and say, 'I'm going to prove everyone wrong.' I have to give [a] hats off to him, I think he did that. He put his head down, he worked really hard, he's improved his game a lot. He's cleaned up a lot of those things that he needed to get cleaned up. He's continuing to be a better and better player and a better and better leader."
Your wife is popular on TikTok. Do you have a favorite TikTok trend?
"I'm not a fan of TikTok, but I'm a fan of Whitney, and I'm so proud of her and proud of what she does. I don't have any social media, I try to stay off of it, but any TikTok that Whitney Risner does, I'm a huge fan. That's my girl."
What do you like to do away from the football field?
"Whenever I'm not playing football, I love hanging out with my wife. That's my best friend. I love doing community service and work with my foundation, that's very near and dear to my heart. Between those three things, and hanging out with family, I feel like that takes up most of my time. We hang out with our dog Moco at the house, go on walks with him, sometimes hit the pool together. Me and Whitney are lake people, water people, so we love to get out to the Lake of the Ozarks where our family has a house and get on the boat, and surf, jet ski, all that fun stuff."