Wolfe's seamless return**
The Broncos returned to full strength Sunday in Oakland with defensive end Derek Wolfe getting his first game action after missing the first four games with a suspension.
Wolfe played 47 defensive snaps (67 percent of the defensive plays), and also four snaps on special teams. He had five total tackles (four solo), and Pro Football Focus clocked him with two quarterback hurries and three stops, which PFF defines as "the number of solo defensive tackles which constitute an offensive failure."
Wolfe kept up his training while he was gone, but he naturally had some catching up to do to get up to speed with the rest of the defense.
"I felt good, especially coming out with a win," Wolfe said. "I knew [Raiders head coach] Jack [Del Rio] was going to test me since I hadn't been playing. He ran the ball at me a few times and they popped the first play — they popped one good run on us on the first drive and then after that, I feel like we did a good job stopping it."
Wolfe's insertion into the defensive-line rotation looked seamless as the defense continued to put its imprint on the game with two game-changing turnovers and stifling work against the run.
"A lot of guys welcomed me back with open arms and it's fun to go out there and get some tackles and get a couple of good pass rushes in," Wolfe said.
"I'm just proud of the defense, Chris [Harris Jr.] getting that big play, and we're just playing lights out."
Miller turns sack opportunity into a rare steal**
Outside linebacker Von Miller's strip-sack and fumble recovery was a prime example of the kind of game-changing talent he can unleash on opposing linemen and quarterbacks.
Raiders offensive tackle Austin Howard went for a cut block immediately after the snap, but Miller anticipated the move, sidestepped Howard and sprinted toward Carr, who was looking in the opposite direction and didn't see Miller approaching.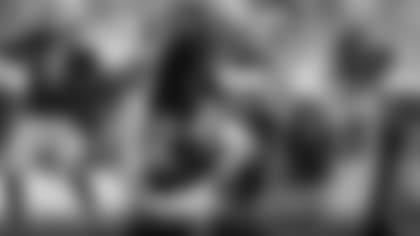 Instead of just going for the sack, Miller simply plucked the ball from the grasp of an unsuspecting Carr. The heads-up play gave the Broncos the ball and became three points, which cut the Raiders' lead to just one point.
"I just went and I knew that I was there early," Miller said. "I knew he didn't see me coming so instead of just tackling him, I was just trying to get the ball out right there.
"We knew we needed a turnover. We were trying to turn up our game and their backs, they run with the ball out, so we were trying to strip at the ball. We was trying to get the ball."
He said he had never been able to make that kind of play before, but it would be one he'd always remember because of it.
"We're just playing our type of football," Miller concluded. "We know the turnovers are going to come in those places, it's just playing [with] fanatical effort, trying to get to the ball and we're able to get some turnovers."
Depth helps overcome Ware's injury
With OLB DeMarcus Ware's back injury forcing him to leave the game in the middle of the second quarter, the Broncos needed their young reserves to step up in the absence of the September AFC Defensive Player of the Month.
Ware played 22 snaps, and then Shaquil Barrett and Shane Ray stepped in to help, while also occasionally spelling Miller during the 14 defensive snaps on which he took a breather.
"We were able to get Shaq and Shane in there for us to keep me and DeMarcus fresh," Miller said. "When DeMarcus came down, Shaq was able to step right in without even noticing DeMarcus was down. That's huge. [...] It's those type of players that make us a great team."
Barrett got a sack in the third quarter, and late in the fourth, Ray had a sack on a crucial third down, forcing the Raiders into a fourth-and-19 situation when they needed a score to cut into a two-possession deficit.
"I feel like I did well," Ray said. "I got a huge sack tonight and with DeMarcus going down, those are a huge pair of shoes to fill and I've got to be prepared to do whatever it is I need to do to go out there and be productive and do whatever I need to do to help my team."
---
With the Broncos' win, the following promotions are available
Papa John's is offering the "If the Broncos win, you win!" promotion, giving fans in Colorado 50 percent off all orders on Monday.
McDonald's is offering $1 Big Macs or $1 sausage egg McMuffins on Monday, and 30 percent off any jersey in the Broncos team store.