INDIANAPOLIS —** With preparation for another season already underway, Head Coach Gary Kubiak said Wednesday that he eagerly awaits the return of tackle Ty Sambrailo and tight end Jeff Heuerman, the Broncos two second-day picks from the 2015 NFL Draft whose rookie seasons were each ended prematurely by injuries.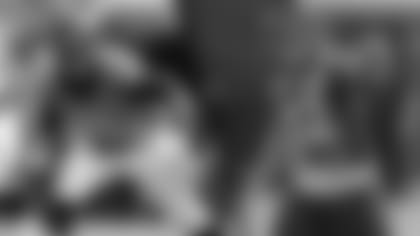 Sambrailo, the 59th overall pick, was a starter for the first three games of the season at left tackle, protecting quarterback Peyton Manning's blind side. However, he suffered a shoulder injury during Week 3's matchup against Detroit. Sambrailo rehabilitated with hopes of making a return, but after his progress stalled, he was placed on injured reserve on Nov. 2 before undergoing surgery.
"He's doing very well. The expectations are for Ty to be there when we go to OTAs," Kubiak said. "He has a bright future."
Heuerman's season ended shortly after he became a Bronco when he tore his ACL during rookie camp on May 9, just eight days after Denver selected him 92nd overall. Placed on injured reserve, Heuerman could devote himself to a patient recovery and he is now plenty ready to get back on the field.
"I think he's ready to go back on the field right now," Kubiak said. "That's how close he is. He's been working for a while I don't see any limitations for him, come April 18, that I know of."