ENGLEWOOD, Colo. — On this day six months ago, Malik Reed, DeMarcus Walker and dozens of their teammates could no longer sit on the sidelines.
After the police killings of George Floyd and Breonna Taylor in Minneapolis, Minnesota, and Louisville, Kentucky, respectively, outrage spread throughout the country at an unprecedented level. People in every state took to the streets to express the anger, frustration and utter desolation they were left with after seeing yet another Black person's life end at the hands of those our communities entrust to protect them.
Walker and Reed were no different from the many of Americans who were fed up. They had not been completely silent in the years before, but there had been a breaking point, and on June 6, they and many other Broncos gathered in downtown Denver to add their voices to the thousands of others pushing for racial justice.
Six months later, the country is not in the same heated throes of unrest, not that the myriad problems have abated or been completely resolved. While a kind of normalcy has slowly returned amid the pandemic, the Black Lives Matter movement continues.
Reminders can be found in any NFL game — names of victims of systemic racism or police brutality or phrases like "It Takes All of Us" can be seen on the back of most players' helmets, and some of those phrases can be seen painted on the back line of end-zone boundaries. But these days they are mostly just noticeable in passing as they've simply just become part of the fabric of NFL games in 2020.
"Once things started opening back up and things got back to normal, people got back to their jobs and things of that sort — even us, as football players, getting back into football and getting so focused on what we have to do week in and week out, issues can get pushed to the wayside," Reed says. "I feel like it's definitely vital and definitely important to not just have the names on the back of the helmet, but to represent them in any way that we can. And My Cause My Cleats, I feel like, is a huge way to do that."
On Sunday, Reed, Walker and a few of their teammates will help keep the movement in the spotlight by representing Black Lives Matter on their custom cleats as part of My Cause My Cleats, the NFL's annual campaign in which players can choose causes or organizations to wear on their shoes.
After the game, Reed's and Walker's cleats will be available in charity auctions, with proceeds going to their chosen foundations. In addition to the Black Lives Matter Support Fund, Reed will also represent the ACLU while Walker will also represent the Children's Hospital Colorado Audiology, Speech and Learning Center.
"In any way that we can do it," Reed says, "whether it's social media, contributing to the ACLU, Black Lives Matter or any place for social justice or systemic things going around, systemic racism, things that we're trying to fight and combat, making sure that you're making a concerted effort to be involved in those areas, [we should]."
But even just at the very least, continuing to speak about the cause is vital.
"I feel like it's something that you've got to continue preaching until we don't have to talk about it anymore," Walker says. "It's as simple as that."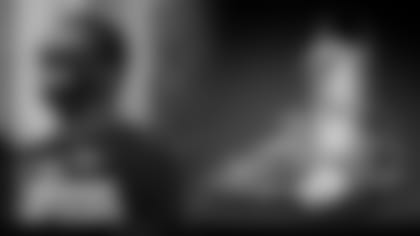 As 2020 nears its end, it feels strange to look back and recall that the phrase "Black Lives Matter" was perceived as somewhat controversial not very long ago.
"Silly, huh?" Reed says. "And it was just as simple as that. Black lives can be seen as less than and can be seen as not good enough, especially when it comes to things like this with police brutality. … We were dealt a hand going back all the way to slavery times … a hand that we had no control over. And to think that even today, things that happened way back then in slavery are still affecting us today because it's so embedded in the way the system works or the way the country is ran. To think that things of that sort is still affecting how we go about our day-to-day lives is wild."
Assessing that same notion, Walker sadly notes that the price to reach this point has been paid in blood.
"George Floyd's death caused a lot of momentum," Walker says. "It sucks that someone had to be a sacrificial lamb for the whole world to wake up. … This isn't just a thing that should have been said a year or something later, because obviously this has been going on for hundreds of years. Hopefully we get the momentum going even more. It's crazy. … It's better late than never."
A willingness to say "Black Lives Matter" is not the finish line, of course. There is no single goal except that of equality and liberation, being able to escape oppression in all its facets — not just police brutality, but also the systemic injustices in housing, employment, incarceration and so many more areas.
These things also are not a matter of destiny. Change requires people doing the hard and sometimes unpopular work of continuing to press the importance and urgency of these issues. This year's groundswell in support, though, gives Reed and Walker hope that change may come soon.
"My mom's 58 years old and my dad's 52," Walker says. "And I asked them — I said, Out of y'all's many years living, have you ever see this much momentum going with Black Lives Matter? And they said, Never. They never saw it like this. So that's a good thing."
So even though there may not be as much focus on Black Lives Matter during NFL broadcasts, Walker and Reed — and many of their teammates — will continue to do what they can to keep that momentum going and also keep it from backsliding.
"It's time to speak out and let your voice be heard on the subject and on the matter, because the more it's pushed to the side and the more people don't say anything about it, things like this continue to go on," Reed says. "It was really about breaking that cycle and creating change in any way you can and using your voice any way you can. I'm blessed to be able to be in this position to have this opportunity, having this platform. I just want to use it to encourage change and for good things to happen in this world."