DENVER — Three-time Walter Payton NFL Man of the Year nominee Justin Simmons continues to make an impact in the Denver community. At the second annual "An Evening with Justin Simmons," the All-Pro safety celebrated the work of the Justin Simmons Foundation and other local nonprofits that are changing lives. 
Simmons and his wife, Taryn, held their annual gala on Friday night at the Denver Marriott Tech Center, and it was a lavish affair as they raised funds for their foundation. Attendees were treated to cocktails and photos with Simmons, followed by a gourmet meal with a live auction, honors for community MVPs and checks presented to nonprofit organizations. 
Dozens of valuable items for a silent auction lined the back wall of the room, including signed Broncos memorabilia, a Super Bowl LVII VIP experience package, a seven-night private villa vacation in Barcelona and even a signed Kobe Bryant jersey, with all proceeds benefitting the Justin Simmons Foundation. 
The couple started the Justin Simmons Foundation in 2020, and over the past two years they have worked tirelessly to help children and families in the Denver area and partnered with local nonprofits. This year's event supported the foundation's youth development initiatives, after-school programs and all the charitable work the Simmons family does. 
"We're looking to celebrate the community," Simmons said during the event. "It's great people are here supporting us and our foundation, but our gala is really to celebrate the community of Denver and the amazing work that people are doing here. ... There's just such great work going on in our community, and part of what we do is just shine a spotlight on them."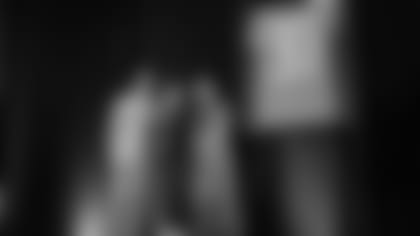 Denver sportscaster Vic Lombardi hosted a live auction during the dinner, where attendees bid on golf outings and a private meal with Simmons, tropical vacations and other grand experiences. The final auction item was unique; Jennifer Buckland, the principal of Green Valley Elementary School, came up to talk about the school's old, rusted playground that was leaving students with cuts and scrapes. With Simmons' promise to match donations up to $25,000, the attendees combined to raise enough money for Green Valley Elementary to build a new playground. 
At the end of the evening, Broncos Director of Community Development Liz Jeralds presented awards to three MVPs that have done exceptional work in the Denver community: Mary Fran Tharp, the executive director of Boys Hope Girls Hope of Colorado; Karina Muro, an educator at Eagleton Elementary; and Dr. Abbey Lara, a pulmonologist and critical care doctor at UCHealth University of Colorado Hospital. Each of these MVPs has left an invaluable mark on the community, and Simmons hoped to shine a light on their work. 
In addition to raising funds for the Justin Simmons Foundation at the event, Simmons also presented the Denver Public Schools Foundation, the Boys & Girls Clubs of Metro Denver and Boys Hope Girls Hope of Colorado with checks for more than $10,000.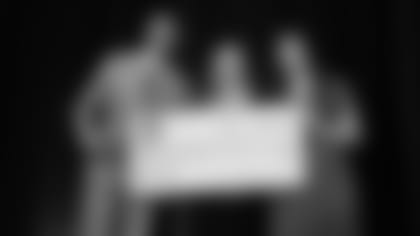 Despite the event taking place the day after their prime-time game on "Thursday Night Football," many of Simmons' teammates came to the event to support him and the foundation. Cornerback Pat Surtain II, outside linebacker Bradley Chubb, running back Melvin Gordon III, left guard Dalton Risner, defensive lineman Mike Purcell, kicker Brandon McManus, wide receiver Tim Patrick, tackle Calvin Anderson, safety P.J. Locke, guard Netane Muti and Defensive Backs Coach Christian Parker all attended, and many of them contributed to the fundraising for Green Valley Elementary's new playground. 
There were many other ways in which the players could have chosen to spend the mini-bye, but Simmons credited the team's high turnout at his event to the close bond they have on and off the field. 
"It means a lot," Simmons said. "It means the world. I'm always a firm believer [that] you really see the true mark of what you're doing and how you're doing it by how you inspire others. The fact that my teammates are coming out and supporting the different things that we're doing, and not just my event, but other teammates' events — a bunch of guys were at Dalton's event, and I know 'B-Mac' [McManus] does a great job in the community, a bunch of guys go to his stuff, Kareem [Jackson], I can go down the list — seeing guys support each other just shows how tight-knit guys in the locker room really are. For a business that, a lot of the time, can be a lot about 'me' and about selfishness, it's really cool to see that we have a bunch of guys that are selfless, and giving up their time and supporting each other. It means the world to see them here." 
The Broncos players were not the only special guests in attendance; Simmons hosted youth from the Denver Broncos Boys & Girls Club, an organization he frequently works with, to partake in the festivities. The kids got to spend time with Simmons and the other Broncos players, enjoy the meal and receive a check from Simmons for the Boys & Girls Club.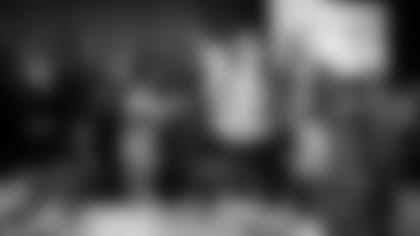 Simmons explained that making a positive impact on children is incredibly rewarding because he has been in their shoes. If it weren't for the people that supported him when he was young, Simmons noted, he would not have become the player and person he is today. 
"When you pour into someone that looks up to you or may just be going through a rough time, it's so rewarding just pouring into them and seeing them uplifted and inspired and motivated," Simmons said. "Those things are so rewarding for both my wife and I, and it's one of the coolest things we get to do. ... This whole idea started because growing up, there's no way I'd be where I am if it wasn't for the people that invested into me and told me I could do it or told me my dreams weren't too big. So that's what we want to do. That's what we want to do for our youth, and it's just been really fun." 
With his status as an NFL player, Simmons noted that he aims to bring exposure to local nonprofit organizations and community leaders — and that's exactly what he did at "An Evening with Justin Simmons."
"I think one of the things I love the most about our foundation and what we're doing is just shining the spotlight on other nonprofit organizations or schools that do such amazing work that just may not have the public notice," Simmons said. "What a great platform we have, playing for the Denver Broncos, and being a part of that amazing organization to shine some light on what people are doing and how great their impact on the community of Denver [is]."