While the thousands of eyes were trained on his workout at the 2018 NFL Scouting Combine, Josh Allen kept an eye of his own on his small hometown of Firebaugh, California.
Makenna Allen, Josh's younger sister, would take center stage back in Firebaugh hours later for her team's division championship game, and even in the midst of a few of the biggest days in his football career, Josh kept part of his focus on an important day for his sister and where he calls home.
But beyond that, it certainly seems that Firebaugh is never far from Allen's mind, and as the NFL Draft nears, he probably won't be far from the minds of residents there. Even in college, they traveled to see him play. And in 2017, they traveled to see him even when he didn't play.
"I can't thank them enough for everything they've done," Allen said. "Their support's been tremendous. I wasn't able to play in San Jose State this year, and I think people knew that going into it, but we still had hundreds of people from Firebaugh there. It's about a two-and-a-half to three-hour drive, and I think if I was playing in that game, we would have had half the town there, which is just unbelievable, the support that they have for me."
Firebaugh, a small city of 7,549 residents (as of the 2010 census), is located in Central California's San Joaquin Valley about equidistant from the northern and southern borders and just 18 miles east of the state's backbone, Interstate 5. Farmland surrounds the more centrally populated nucleus, and it drives the small town's economy.
Allen was raised there, just like his father had been — though his dad spared Allen the relentless daily work that he had been responsible for when he was young.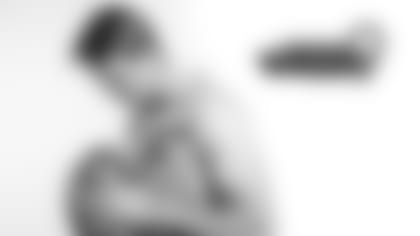 "It was about a 2,000-acre operation," Allen said. "My dad owned 1,000 acres of it — strictly row crops of cotton, cantaloupe and wheat. During the summers, helping my dad move irrigation pipe, picking weeds in the cotton field, driving discs, tractors, whatever the case may be. It wasn't an everyday thing. My dad kind of experienced that throughout his high school career. He was going before school and after school, and he didn't want to put us through that. So our out was sports, and that's what we did. We stayed competitive year-round. We tried to stay off the field as much as we can, but we did help out quite a bit."
Those were small roots for Allen, and he worked hard to grow into the NFL player he knew he could be one day. That first took the hardly recruited quarterback to Reedley College, a junior college little more than an hour east of Firebaugh.
"I was at junior college and I was begging teams to give me a scholarship, sending emails out and hoping to hear back from them," Allen said. "I got one opportunity and that was with the University of Wyoming and thankfully they gave me an opportunity and I took advantage of it."
Now on the cusp of his NFL dreams, Allen still holds on to his small-town heritage.
"It's a really surreal moment to just kind of see everything I've dreamt of as a kid, it's falling into place," Allen said. "If you knew who I was three years ago, I don't think you would say this is possible."