ENGLEWOOD, Colo. --Wide receiver Cody Latimer was listed as questionable on the Broncos' final injury report of the week, Head Coach Vance Joseph announced after practice Friday.
Latimer took part in Friday morning's walk-through session, which saw the team work without helmets, as is usual for Friday practices. He sat out Thursday's practice because of knee soreness.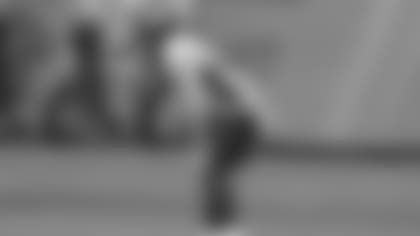 Cornerback Bradley Roby, who missed Wednesday's work because of an ankle injury, is expected to play Sunday against the Oakland Raiders. Roby returned to practice Thursday.
Running back Devontae Booker was not listed on the injury report all week. He has not played this season after recovering from a fractured wrist he suffered during OTAs in June.
"We'll see about 'Book' on Sunday," Head Coach Vance Joseph said. "To bring 'Book' up [to the active roster on game day], it will have a chain reaction as far as special teams and halfback reps."
Quarterback Paxton Lynch was the only player ruled out for Sunday's game. He has not practiced since suffering a sprained right shoulder on Aug. 26.
"We want to make sure he is totally sure he is totally healthy before he returns to practice," Joseph said. "But once he's ready to practice, he is going to be out there practicing. There won't be limitations once he's ready."
The Broncos' preparation for a divisional battle with the Raiders is underway. (Photos by Gabriel Christus unless noted)