You know the "No-Fly Zone."
You know Chris Harris Jr., Aqib Talib, T.J. Ward, Darian Stewart and Bradley Roby.
You know their claim to fame: the top-ranked passing defense, two years straight.
But do you know where they got the name that followed them to a Super Bowl 50 victory and praise across the country?
Because the "No-Fly Zone" wouldn't exist as it does today without Leah Harris.
Leah, Chris' wife, devised the name -- and the plan that followed -- out of necessity.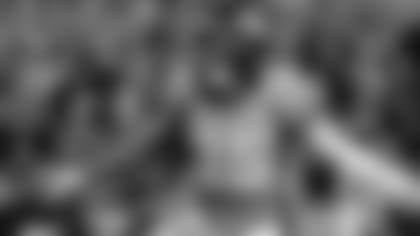 arris tore his ACL during the divisional round in January 2014, and the former undrafted player seemed to be at a crossroads.
"Chris had to get his surgery the week after [Super Bowl XLVIII] and he was just really worried about his career," Leah Harris says. "He was really worried if he was going to be healthy again, he was really worried if he was going to sign a big contract."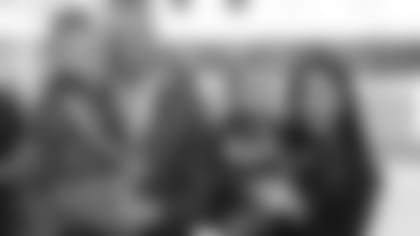 His play was strong and consistent, but he didn't get the recognition he or Leah thought he deserved.
And so, Leah put her skills to use. The business marketing major at the University of Kansas had previously worked for the Huhtamaki Group, where she ran the marketing department and had a product line.
When Chris moved from Kansas to Denver, she moved with him, and helping him in the same manner became her full-time job. As she looked for a way to help him develop his brand, she was struck by the motion he'd make after each play he made.
The motion is now ubiquitous with big plays: it starts as a signal for an incomplete pass and then turns into a set of wings as Harris soars across the field.
"Every time he played, I would ask him, 'Why do you do that? Why do you put your arms out?'" Leah Harris says. "And he was like, 'It means No Fly. No one's catching balls over here.'"
What started as a motion Harris would make during his second season alongside Champ Bailey now served as a way to establish his name.
As Leah would say later, "From being undrafted, he's really had to make his presence known."
This campaign would do just that.
Leah impressed upon Chris the importance of consistency. After every pass breakup and every interception, he had to make sure to execute the now well-known signal with his arms.
She started to design T-shirts and sweatshirts with the hopes of selling merchandise in the fall of 2014. And while Leah says Chris was skeptical anyone would want to buy the stuff, the reception was very positive.
Around Christmas in 2014, Leah was so overwhelmed with the number of orders that she needed help to mail them all out. She had good reason to ask for assistance: their first child, Aria, was born Oct. 25, 2014.
"Everything good happened [that fall]," Leah Harris says. "He had his best year ever after his ACL recovery, he made the Pro Bowl, he signed a new contract, we had a baby. That fall, that 2014 year was just amazing. And that was the first year we started doing the whole 'No-Fly Zone.' He came back out of ACL surgery and just balled out."
Indeed, as Leah handled the "No-Fly Zone" business off the field, Chris took things up a notch in the defensive backfield.
Harris started all 16 games, picked off three passes and recovered a fumble during his best season to date in the NFL. The Pro Bowl berth would be the first of three consecutive selections for the Kansas product.
Finally, Harris was getting noticed — and he signed the multi-year deal with the Broncos to prove it.
"The tactic worked and he made the Pro Bowl that year and every year after," Leah Harris says. "So that was my mission: to do some kind of branding to kind of set him apart and something to be known as."
For Leah, the campaign had an unintended result. She's been so successful with that venture that, come August, she'll unveil her Mommy & Me clothing line called Arie x Avie.
Since December, she's flown back and forth to Los Angeles to meet the designers and work on the label.
As one might expect, this new project has a significantly different target market.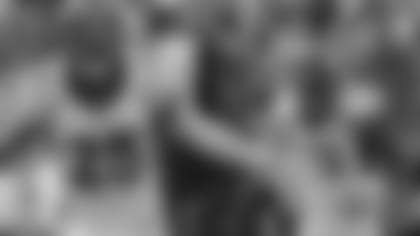 In the years that have passed, the "No-Fly Zone" has evolved into a different beast. There are hats. There are leggings. There's a camp. There's even a "baby No-Fly Zone," safety Justin Simmons says.
But it started as just a name — one that can be traced back to that initial attempt by Leah to help her husband stand out to the rest of the NFL community.
"I buy that story," Talib says. "If Leah says she came up with it, then Leah came up with it. We ain't going to argue with the wives. We know not to do that."
Harris, who quickly tried to spread "No-Fly Zone" among the entire secondary, didn't have to work very hard to sell his teammates on the name. When he asked them to refer to the group as the "No-Fly Zone" with the media, his teammates bought in.
"I liked it," Talib says. "I liked it right away. I knew we had enough talent in that back end where we needed a name. It was in the era of defensive backs – 'Legion of Boom' era -- where guys were naming themselves if you were worthy. I thought we definitely had the talent and we definitely were worthy, so Leah came up with the perfect name for us."
In Tampa, Talib's teammates in the secondary called themselves the "Dirty Boys," but because they didn't rank among the league's best, the name never got much traction.
During his time with the Patriots, the secondary avoided nicknames altogether.
In short, the "No-Fly Zone" didn't have much competition in Talib's eyes. The name was so good, in fact, that other teams routinely try to adopt it as their own.
How seriously do Harris and Talib take those attempts to swipe the name? Well, both Broncos cornerbacks chuckled when asked about recent social media posts that co-opted "No-Fly Zone."
"There were a whole bunch of teams trying to take it [originally]," Harris says. "The [Seahawks] had the 'Legion of Boom,' so we just had to come up with our own. … We originated it. It's always funny to see how they can't come up with another name for their own DBs."
Talib even came up with a set of rules to help other units determine if the name is OK to use.
"The numbers don't lie," Talib says. "If you're way back in pass defense then you can't be the 'No-Fly Zone.' You're giving up bombs. If your best corner gave up five touchdowns, you can't be the 'No-Fly Zone.' The name's already taken."
But Leah Harris may be the most amused by the blatant attempts to copy Denver's secondary.
"I see that and I'm like, 'OK, you just can't do that. You can't do that.'" Leah Harris says. "Especially when it's teams that have one good player or two good players. Especially now, we have such a strong defense.
"It started here. It's going to end here."
Everyone else better start looking for a marketing representative as good as Leah.