INDIANAPOLIS —** Long before Jalen Robinette found himself on the cusp of realizing his NFL dreams, before he dazzled observers with the country's most efficient receiving production and before he took his first class at the Air Force Academy, he received the culture shock that most new cadets at the Academy get when they undergo basic training.
Through a six-week summer course that transitions young cadets into military life, Robinette was molded physically and mentally to prepare him for a college life that no other player at this year's Combine shares, and to prepare him for life after the Academy as an officer.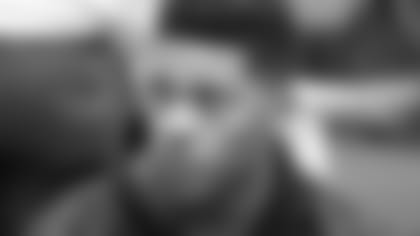 Basic cadet training begins with an introductory phase that focuses on instruction pertaining to military customs, codes, knowledge and daily conditioning. But it's the second phase at the rural training center of Jacks Valley that is most challenging. "Activities in Jacks Valley will push you to your physical limits," the Academy's admissions site warns. The conditioning, small-unit tactics and firearms training exercises are intense, and require a disciplined body and mind.
"That's kind of like one of those situations where we have to hit the ground running and that's exactly what I had to do," Robinette says. "It was definitely a huge culture shock, being yelled at, putting a uniform on every day — just everything you did, they watched you [and] observed you from head to toe."
With that kind of description, Robinette might as well have been training for a future in the NFL.
Robinette couldn't see his NFL future until it was almost right in front of him. But others around him could.
Virginia Tech quarterback Jerod Evans could see it when they played together beginning with their time on Air Force's Prep School football team, before Evans tore his ACL and decided to transfer.
"I told him ever since I was at the prep school that he's going to make it to the NFL," Evans says. "And I didn't waver from it. He's really a freak of nature. I think once he gets that chance to show his ability, people will start salivating over him."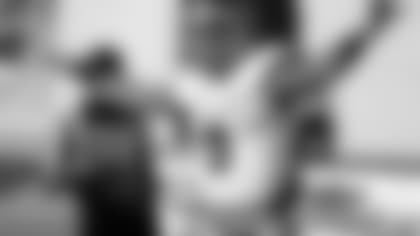 Robinette was more cautious about his chances. But as he prepared for his final season at the Academy, he knew the opportunity that lay at his feet.
"I feel like going into my senior year — in my junior year going into my senior year — I think I definitely, the opportunity was there," he says. "I definitely had to step up my game. I knew there was that gap coming from a triple-option offense to the pro style. I know people are going to see that gap when they look at my and my situation, but I think I can definitely integrate well into a pro-style offense and onto an NFL team."
That transition might sound familiar to Broncos fans who recall how Demaryius Thomas became a top-flight receiver in the NFL after showing flashes in a run-heavy triple-option offense at Georgia Tech.
Like Thomas before him, and Calvin Johnson before him, Robinette's biggest challenge preparing for the jump to the NFL is learning the route tree that is the basis of receiving patterns at this level.
"I've definitely watched film on what [Thomas and Calvin Johnson] did," Robinette says. "They were kind of in the same situation, making big plays, didn't really run much of the NFL route tree, and I think their athleticism alone proved that despite what they went through with the triple option, they could definitely integrate and knock out the rest of the NFL tree and do great things in the league, which they did."
With that in mind, Robinette is focused on learning the route tree by repetition and following in Thomas' and Johnson's footsteps as best he can.
Robinette joined the Academy with his future in mind. It wasn't about the NFL; it was about security, honor and duty. The ability to play Division-I football at the same time was just an added bonus.
The Academy prepared Robinette for much more than football, and it may have him more prepared than anyone for the wild changes that await him in the process that will deliver him onto an NFL roster.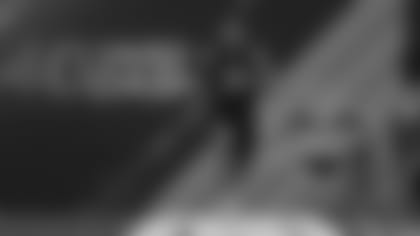 "I think when we're thrown into the fire here at the Combine with all the media, the meetings, the drug tests, all the measurements and everything, it's definitely a test of how much patience you have," Robinette says, "and I think with all the training I went through, I definitely developed a way to handle that and stay calm under stressful situations."
And just in time for him to make the jump to the NFL, the Department of Defense updated its policy that previously required a 24-month active duty assignment after graduation. Now service members with the opportunity to play professional sports can serve out their duty in the reserve if their military branch approves their request.
A different path awaited Jalen Robinette, and now he has the preparation and flexibility to go after it without reservations.