On Tuesday, seven Broncos spent the afternoon of their day off visiting cancer patients at Children's Hospital Colorado and UCHealth University of Colorado Hospital as part of the team's Fight Like A Bronco campaign supporting cancer survivors and those fighting cancer and efforts to help prevent and research cancer. The visits may seem like a small thing, but in these stories that we documented following the day, you'll see just how important they were to the patients and their families. We begin with a trip to Children's Hospital Colorado and the art room at the infusion center.
PART I: Art class with the Broncos and room visits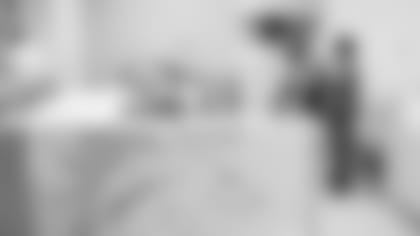 Distractions are welcome in the infusion center at Children's Hospital Colorado. For the kids who are there fighting cancer and blood disorders, they may even be necessary.
That's why, on the seventh floor at the hospital on the Anschutz Medical Campus, the clinic has an art room right by the front desk. On a normal day, it's just a little place where kids can take their minds off their treatment and exercise their creative side.
Tuesday, however, isn't just a normal day. Tuesday is the day the Broncos came to bring a little extra joy to the art room.
"I think it does a lot of things," says Christy Dobson, the hospital's director of corporate and community relations. "I think it's just inspiring to the kids. It makes them feel special to have a professional football player come see them, someone that they cheer for and root for."
Through some finger-painting and conversation, Justin Simmons and Austin Schlottmann are able to supply a bit more than just a distraction. Over the course of the art project — a banner for Thanksgiving next month — Simmons and Schlottmann offer an experience that would put smiles on the faces of a few kids and their families.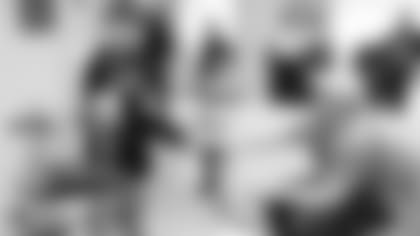 The nature of undergoing exhaustive cancer treatment tends to leave patients of any age understandably tired and not always eager to engage in conversation.
Connecting with children who may feel unlike their normal selves can seem challenging in these circumstances, but it's not impossible.
"Nine times out of 10, kids want to talk," Simmons says. "You've just got to find the right things they want to talk about."
When R.J. enters the art room, Simmons immediately introduced himself and caught sight of R.J.'s Golden State Warriors hat. Simmons, an avid NBA fan, strikes up a conversation about the team and their favorite players, making even a kid wearing a Raiders jersey feel a little more at home around a Bronco.
It was a small thing, but it was a small thing that brought these two strangers a step closer and showed that being in the NFL doesn't make someone unable to relate to.
"My job might have a little bit more of the glamour to it," Simmons says, "but I'm just a normal person just like you guys, and it's just kind of crazy that my profession brings so much joy to families that are struggling."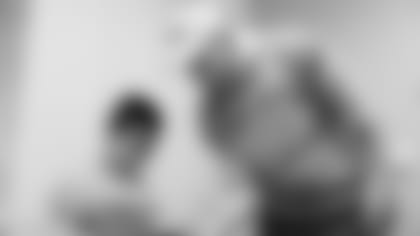 Simmons isn't normally a big arts-and-crafts guy, but he was happy to get his hands dirty for this.
The Thanksgiving banner needs turkeys, which means someone had to get the palm of their hand coated in paint. Sebastian, a younger patient, is a little hesitant at first about having his own hand painted, but he is less worried about painting Simmons' hand. They started with a red turkey before experimenting with their colors a little. For Simmons' final turkey, Sebastian starts with a coat of blue paint before adding orange on top. Naturally, this turkey must be a Broncos fan.
"I think it is really impactful when they come and engage and play with them or interact with them," Dobson says. "It makes them feel like they're going the extra mile to spend time with them.
"It makes them feel like they've got a big brother there hanging out with them."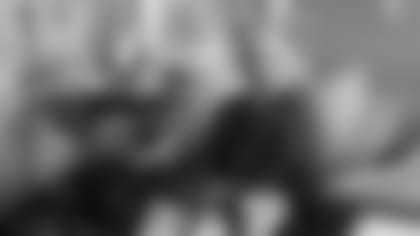 Chase, a 10-year-old patient, had actually already met a handful of Broncos before Shamarko Thomas, Sam Jones, Simmons and Schlottmann entered his room Tuesday. He was a Junior Reporter two weeks ago, when he took a trip to UCHealth Training Center to watch the Broncos practice and interview Demaryius Thomas.
This time the Broncos came to him.
Within his room, Chase bonds with Thomas and Jones over a game of catch, talking about his love for football and the position he'd play.
"It brightens his day," says Mary, his grandmother. "With the chemo, it brightens his day more than you know."
Dobson, who's seen numerous Broncos visits over the years, has been able to get a sense of the impact as well as any outsider.
"I think it does show them that there's more to the players than just what they see on the field, but also the big hearts they see off the field," Dobson says. "I think it's really impactful and meaningful. I think we've had families that have asked players to pray with them, to do crafts with their kids and really just to engage and be part of their family, even if it's just for a few moments."
The encounters become more than just a one-on-one experience with a Broncos player. It's a family welcoming them into a private space, sharing a small piece of their lives and, in return, receiving the comfort that comes with knowing the players care.
"It just means everything to the family, not just him," Chase's grandmother says. "It's going to carry him through. I don't think people understand that."
"I was already a fan of the Broncos. Now I'm even more of a fan."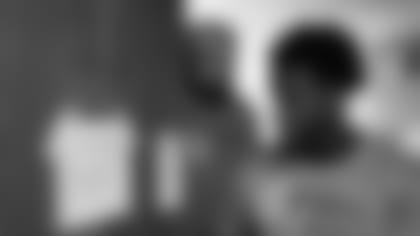 Being a Bronco obviously carries certain advantages — fame, varying degrees of fortune and some other material perks. It also, for better or worse, adds more weight and influence to your words and meaning to your presence.
It can also take you behind closed doors, like this one, which read:
Please see RN if questions
Even on a bad day, who doesn't want to meet a Bronco?
"This is bigger than football," Simmons says. "We have a tremendous platform to be able to give back and be able to shed some light on what could be some dark situations and some dark times. If we could do that and spare a couple of hours in our day just to come in and brighten some lives, why not? Why wouldn't you?
"… I won't be labeled as a Denver Bronco forever. Eventually you have to part ways with football, but it's just crazy that your current profession can just do wonders for people in tough situations."
It's almost a kind of magical power that Broncos players can have here. Children who were normally very quiet and didn't talk at the hospital opened up to Simmons, Thomas, Jones or Schlottmann and engaged them in conversation.
Part of it may be that they already feel like they know the players some from watching them on TV and that just lowers the barrier to conversation to the point that they already feel comfortable speaking with them when they normally wouldn't with other strangers.
Regardless of the reason, the result is a memorable and unique experience the children can keep with them forever.
"I've had kiddos tell me that the best day of their life was when a Denver Broncos player came to visit them," Dobson says. "So that kind of says it right there. And they mean it. It's just such a positive experience, and it is a break and a distraction from some of the things that they're facing. But that feeling of making them feel special, you can't replace it."
PART II: Bringing extra energy to UCHealth's infusion clinic
From Children's Hospital Colorado, Justin Simmons and the Broncos' staff head across the way to UCHealth University of Colorado Hospital, where they meet up with Keishawn Bierria to visit with adult cancer patients at the hospital's outpatient infusion clinic.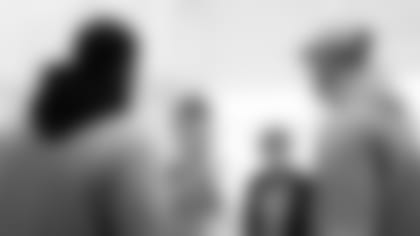 Linda was at the end of a long day that she didn't want to go through when she met a couple of Broncos players.
Fighting lung cancer, she had a mix of chemotherapy drugs awaiting her after radiation therapy at 8 a.m., and she was dreading another day of it. Since she started her second round of chemotherapy, the drugs have made her feel at times like a different person. Six months ago, she'd been out hiking. Then she began chemo again and watched her body and her habits change — beginning a process of getting sicker to hopefully feel better.
The hours of treatment on Tuesday — particularly the chemotherapy's drugs — make her weary and rob her of her usual vibrancy, or at least it nearly does.
"I've got a really strong cocktail — but it's not a good cocktail, you know what I mean?" Linda jokes. "I want a cocktail!"
To perk up, she planned on taking a nap, but when she finds out Justin Simmons and Keishawn Beirria are coming through the infusion clinic, she changes her plans and no longer finds herself in need of any extra energy.
The players swing in around the curtain, and she jumps to her feet, trying to get untethered from oxygen tubes to give them a hug.
"Thank you, thank you, thank you! How often do I get to hug a Bronco?" she exclaims.
 "What a good-looking man!" she says to Bierria. "Best chemo of my life!"
Linda's mother, Millie, doesn't seem to be as big of a Broncos fan as her daughter, but she may become one just because of the visit.
"We're so lucky to have people like you in our lives," Millie says. "… Don't ever stop. Be kind all the time."
Linda, a Broncos fan since she moved to Denver and began watching the Three Amigos, exudes an energy and excitement meeting Bierria and Simmons that showed just how much these hospital visits can mean.
"I got excited and so my adrenaline started pumping, and that's good stuff going through me," Linda says. "Instead of just sitting here going, 'Oh, woe is me! Where's my blanket?' and you get pitiful. This is like true medicine. It means a lot. It means more than they even know.
"… They're sweet. The kindness, you can just see that from them. It's nice. The more positive you get, the more you're going to get well."
An hour later, after the Broncos left the clinic, Bierria smiles at the memory of meeting Linda and the warmth she and her mother showed him and Simmons.
"Seeing her, just the energy she expressed and how happy she was, it was cool," he says. "It definitely shows you that whatever she's going through, she's beating it. It shows that her spirit is alive. She's fighting and she's still able to have that same side of herself and show that side and be herself. That was cool to see — especially her going through that treatment and finishing it up, like, 'I'm on my last day. I'm on my way out, but you're handsome!'"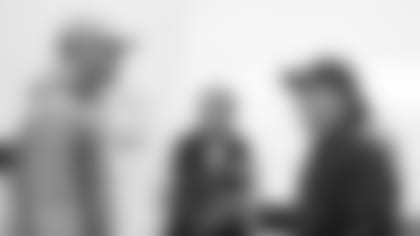 Tuesday was Randy's wife's birthday and he and his brother-in-law really have to be going. To get home, he has to drive 200 miles after finishing up his day of chemo. But first, he has to meet the Broncos.
To make that happen, Simmons and Bierria go straight to his therapy bay to ensure they got some time to talk before they left.
After talking, the players give Randy one of the goody bags with a Broncos pennant and other gear that they give each patient they met, but Randy and his brother-in-law have something else in mind that they want signed: a birthday card for Randy's wife.
It may be a small thing, but it was something personal, a gesture sure to bring out a smile.
"You're doing the right thing coming out here," Randy tells them as they part ways.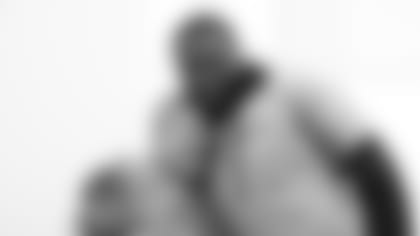 Patricia knows Keishawn Bierria from his eyes. There was just something about them. Her daughter, Michelle, meanwhile spots and recognizes Justin Simmons as the two Broncos walk past them to catch Randy before he hit the road.
Michelle, who is fighting colon and liver cancer, and Patricia are surprised by the visit as the commotion simmers down the hall, and they make sure to get on the list of people who want to meet the two players.
As two big Broncos fans, they're thrilled to get to know Bierria and Simmons, but they become even more enthralled when they learn that Bierria could relate to their experience, as his parents had each fought battles against cancer.
"With them being here, it's exciting," Michelle says. "It's a different kind of feeling with them being here. It's, like, somebody outside of my family cares about what I'm going through. … He knows the hardships and what we feel and what we're going through. He knows what she's feeling as my caretaker, so what she's going through, too. It makes it more important because he's aware of that. I was happy to know that."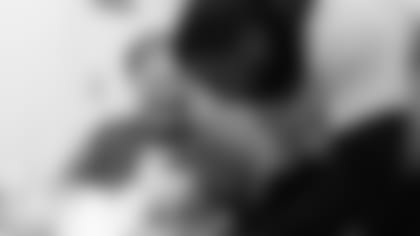 The days when Bierria's mother was in chemo are now blurry for him. Those are days he does not want to dwell upon, but ones he wants to move past.
But on Tuesday, he recalls those tough days.
"It was definitely difficult," Bierria says, "especially seeing the changes it did to her, physically, and especially spiritually, because some days she would say, like, 'I'm tired,' and you're just like, 'You're not tired. It's just rough right now.' Seeing her, especially after those low levels and seeing how those medicines changed her, [and] as far as her needing them, it was rough. It was definitely rough."
His mother, Simonne, had been diagnosed with leukemia when he was just beginning his college years at the University of Washington. Now her cancer is in remission.
"But to see a person's spirit fight and to see them overcome that and push through and understand that what they overcame, many people [can't relate], but a lot of people can relate to it," Bierria says. "Seeing them beat it and seeing them regrow and seeing their body change back and regain their health, that really is very meaningful, as far as showing life. You want people to stay here as much as possible. We live a beautiful life."
"When I got the opportunity to do this, I said yes without even thinking twice," he says, "because I've been from that. A lot of people can't relate going through that or understanding what it's like to be in that situation, but once you're there, only the people who have been there can understand. For this to be able to help people just by showing my face and turning on my smile and actually telling them, 'I've been through that and I can understand where you're coming from and I'm here to support you and I'm praying for you,' it's major."
The responsibilities that come with being a Bronco are different for each player. It's up to them to choose how they make an impact, whether on the field or off it, and on Tuesday, Bierria and a handful of his teammates showed exactly how they can maximize that responsibility.
"We're so well-known and some people look at us like superheroes for what we do — to just be able to share that energy with somebody and show them that we care, it's definitely important," Bierria says. "It could almost be life-changing in some situations, because somebody might feel alone or feel like that no one cares with what they're struggling with because everybody lives their own lives. For us, it's very important."