INDIANAPOLIS —** It feels a bit peculiar to hear that Rashard Higgins' goal at the combine is to open eyes. He did plenty of eye opening during his three years at Colorado State, particularly in his breakout sophomore season.
The level at which Higgins played in 2014 had never been seen at Colorado State. He torched the school's single-season receiving records, pulling in 96 receptions for 1,750 yards and 17 touchdowns, which were 10 receptions, 457 yards and seven touchdowns more than the previous records in each category.
But with a coaching change following Jim McElwain's hiring at the University of Florida and the departure of quarterback Garrett Grayson, CSU's most productive passer in school history, Higgins' star fell a bit in 2015, though that just meant he didn't have a historic season. He still had 1,062 receiving yards and eight touchdowns, but he could sense that a drop in production meant he had more ground to make up to grab attention from scouts across the country.
"I just feel like people go to the big-name school guys instead of the Colorado State, the low D-I, kind of schools," Higgins said. "I know a lot of people don't show me a lot of attention, but when I leave here, I look to open a lot of eyes."
After just three seasons, Higgins became the Rams' all-time leading receiver with 4,036 receiving yards, so he felt he was ready to make the jump to the NFL.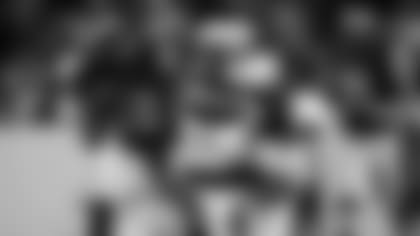 "It took a lot of consideration in coming out early," Higgins said. "I know I talked to my mom, I talked to my friends close to me. But what my coach told me was, 'Go with what gives you peace.' I talked to God a lot; I'm a very spiritual person. I went to Him, and every time I told myself I was going to do this, I was at peace. So now that I'm here, I'm ready to show what I've got."
Nicknamed "Hollywood" by his youth-football coach after Higgins made a big play when he was a kid, the Rams star made a big name for himself in Ft. Collins with sharp routes and an uncanny ability to create separation.
Though the changes between the 2014 and 2015 seasons were difficult, Higgins said they helped him become a better player, and, in the process, that's helped him prepare for the NFL.
"I'd say the most difficult thing was learning the new playbook," Higgins said. "Just being in McElwain's playbook and then changing to more of a run-based scheme—nothing toward Coach [Mike] Bobo, he's a great coach—but I'd say that's the most difficult part. […] You've got to be willing to face adversity and overcome."
Higgins' self-scouting report
Where he wants to improve: "I feel like the biggest aspect of my game that I can pick up on is my speed. I've been working on my speed quite a lot. So I'm going to keep working on my speed, too. There's always things for improvement and that's one of them."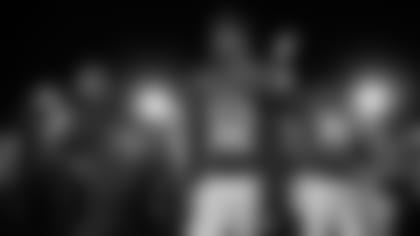 His biggest strengths:"I'd say my route-running. A lot of guys can't run a route, and I believe I can run a route. […] I take pride in running routes and just getting open." His NFL comparison:"I had a guy on my team tell me I look similar to [Steelers WR] Martavis Bryant. I watched one game, I don't know who he was going against, I was like, 'Man, I kind of do favor Martavis Bryant a little bit.' He might be a little faster than me, but the way he comes out of press [coverage], the way he runs his routes, I believe I look like Martavis Bryant a little bit."