DENVER – **Following the Broncos' Week 1 commemoration of the franchise's three Super Bowl championships, the team honored three of its most influential players by  revealing symmetrical panels for John Elway, Floyd Little and Frank Tripucka on the east side of the Jumbotron on the south side of the Sports Authority Field at Mile High.
The jersey-retiring ceremony began by honoring Tripucka, who was the franchise's first quarterback and also pro football's first player to throw for 3,000 yards in a season. His No. 18 was briefly unretired from 2012 to 2015 when the Broncos signed Peyton Manning in free agency. The retired number panel also notes Manning's contribution below the jersey. Following Manning's retirement after Super Bowl 50, the number was removed from circulation once again.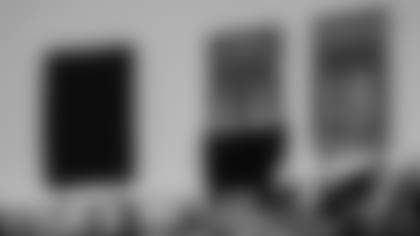 Tripucka, who passed away in 2013, was represented by 18 family members in the south end zone as the curtain covering the tribute was let down to unveil the number.
"My father would probably think we're making a big fuss out of nothing, but that was my dad," said Kelly Tripucka, the fifth of Frank's six sons. "He was very happy to lend his number to Peyton Manning, and of course the last thing he ever said to him before he passed away three years ago was, 'Go out and win a Super Bowl.' Everything came true.
"We're thrilled that the Broncos have honored my father in this regard and the whole family is here. There's 18 of us here for number 18 on the 18th of September. So it was meant to be."
Little and his wife, DeBorah, watched next as his No. 44 was unveiled. Known as "The Franchise" for his contributions to the team in its early years, Little led the Broncos in rushing for seven consecutive seasons and earned induction into the Pro Football Hall of Fame in 2010.  The ceremony finished to wild applause for Elway who watched his No. 7 complete the trifecta to the left of the big screen.