The NFL Scouting Combine is busy for the 330 prospects who traveled to Indianapolis, but it may be even busier for the coaches of those teams looking to evaluate said prospects. Assistant Head Coach and Running Backs Coach Eric Studesville took a moment away from the madness on Friday to walk DenverBroncos.com through his last 24 hours at the Combine. From meeting with players to assisting with the running back drills, Studesville always had something to do. The Broncos won't select players to join their team for another couple months, but the work to identify potential for the next draft class has already begun.
Thursday, March 2, evening --Studesville's preparation for Friday's workout begins on Thursday evening.
The running back coaches who will assist with the drills gather and discuss set-up, timing and execution.
They get it figured out now — tomorrow, there will be no issues.
On a typical evening at the Combine, Studesville may have an interview with a prospect. That's not the case on Thursday. He had already met with players on Tuesday and Wednesday night.
"You sit down and you meet with these guys," Studesville says. "You have 15 minutes — it's kind of like speed dating. But it's a good thing where you get a chance to see them and see their personality and listen to them and ask them football questions and ask them other things."
Tonight, however, he's free to focus on the next day's work.
Friday, March 3, 7 a.m. -- Studesville wakes up. It's a welcome change from the season when he'll have long been at UCHealth Training Center. But he's got work to do, still. He spends the next two hours finishing up.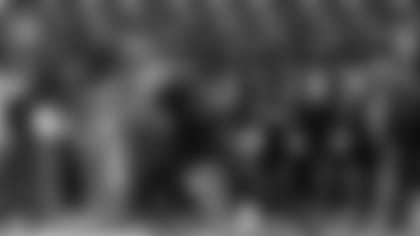 9:00 a.m. -- He heads to breakfast and has a meeting. This one lasts for an hour, and then he's got to get back to his room.
Studesville packs his bag, as this is his last day in Indianapolis. He checks out of his room, but his trip isn't over. In a couple of hours, he'll be back in a comfortable setting: on the practice field.
11:02 a.m. -- Studesville is at Lucas Oil Stadium early. The offensive linemen are done with their 40-yard dashes, but their on-field work will continue for another hour, at least. There's more linemen than running backs, and there are more drills. This session drags on, but Studesville doesn't look concerned.
He stands, then sits, then talks with his fellow coaches.
"When we get here we make sure that we know what the time schedule from the offensive line group is, as far as getting ready to run the 40," he says, "so that we can get started as soon as they get done with their drill work."
1:10 p.m. -- The 40-yard dash begins for the running backs. They'll sprint as hard as they can to put a good time on tape – but they'll also stand and wait for another hour before the real workout begins.
Along the back of the end zone, everyone continues to stretch.
1:23 p.m. -- As the prospects go through the 40-yard dash on the opposite sideline, Studesville sits on a bench on the visitor's sideline and watches. The drills are already set up. That happened at his meeting the previous night.
All that happens now is a quick check in with the quarterbacks who will hand the ball off and help with the route tree the backs will be expected to run.
"The only thing we'll really do there is kind of talk to quarterbacks and tell them when the running backs are starting to get through that second group of 40s," Studesville says. "We get them loosened up so they're ready for the drills and to throw. And then as soon as they're done, we've already organized in our meeting who's going to talk through each drill, who's going to do each drill, demonstrate the drills, and then we get out there."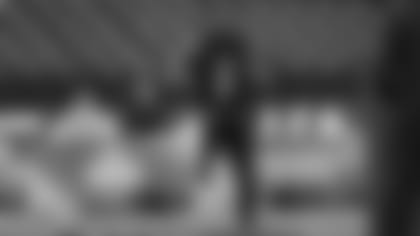 2:06 p.m. -- Studesville and the other coaches in attendance bring the 30-plus running backs together near the 30-yard line. Drills are explained. Expectations are communicated. When Studesville speaks, he's concise.
"We're going to work," he says to Leonard Fournette, Christian McCaffrey, Dalvin Cook and other hopeful prospects in the crowd. Wasting time isn't an option, and the players' ability to follow instructions gives the coaches another piece of information in a packet that will help later determine their value in the draft.
"We do that because we don't want to be here all day doing this," Studesville says later. "That's one reason. But the other part of it is we're coming out to work. This is their first opportunity to demonstrate what kind of work ethic they have and how they're going to approach this as a business.
"We want to instill that when you have all these running back coaches down here working with you, it's acclimating them to what the expectations are going to be when they come to play for us. It's going to be the same thing. We're not walking around. We're not waiting. There's got to be some urgency in this. And that's what we're trying to start with that whole process here."
2:10 p.m. -- Wisconsin's Corey Clement takes a handoff from Colorado's Sefo Liufau, hurdles three bags and quickly interprets a coach's signal that instructs him which way to cut.
Studesville stands back and watches with the rest of the prospects as the first drill begins. He's not there to coach up any of the players. There will be time for that later if the Broncos draft one of them.
For now, he makes sure that each player knows where he is supposed to line up, which route he is supposed to run and what to focus on as he completes each part of the circuit.
"I'm just down there just making sure we're re-emphasizing little coaching points and the things we want, because we want everything to look the same," Studesville says. "We want everyone to be lined up the same place, run the route the same way. That's one of the things we look for. We're looking for if they're listening to details. Do you have to tell guys line up here, line up there. That's all part of the evaluation process."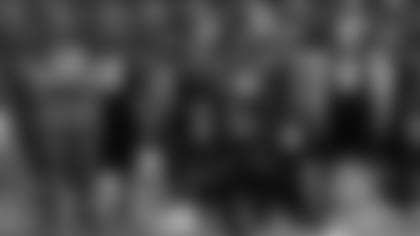 2:16 p.m. -- The players huddle up again before another drill — this time, one that simulated a between-the-tackles run.
2:22 p.m. ­-- They move on to a toss play drill in which the players must show off their footwork around a trio of cones.
It's one of the drills that teaches Studesville the most.
"I like the zig-zag cone drill," he says. "I think that shows you their change of direction. Can they sink their center of gravity and move around cones?"
The first drill also catches his eye and shows him whether the players are in an awkward body position and how quickly they can react to information.
2:28 p.m. -- The running backs become pass catchers as they run five-yard outs.
2:34 p.m. -- A coach halts a drill. He reminds the backs to finish every drill strong — to pick up the pace and push themeselves even harder. Message received.
2:41 p.m. -- The backs now leak out and run posts. Wheel routes are next. Then seam routes. Finally, the bubble.
McCaffrey excels. His footwork and hands are on a different level.
3:00 p.m. --The final drill of the afternoon arrives. Studesville still stands with the players. In Denver, he may spend this time hyping up his players or encouraging a back who hasn't had a great day. That isn't his role in Indianapolis.
Instead, he's still focused on the details — and on evaluation.
"We want this to be about the players," he says. "This whole thing is set up for them. It's not our time to jump in and fix. We want to see them."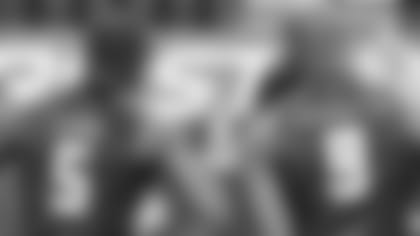 And in one final organized drill, he gets that chance. The backs flip around toward the quarterback and sprint about five yards back and forth between a pair of cones. On each of their three trips, they turn their hips and head and find a ball that's fired at them from about 10 yards away. After the final ball, they turn upfield and sprint toward the end zone.
"I just think that makes you find the ball," Studesville says. "There's some little mechanics in there regarding what we want out of the drill. So they've got to think a little bit while they're doing it and they're going real fast. They get three balls and there's a lot going on right there. So I just think it kind of just gives you a chance to see a bunch of different things at one time."
3:07 p.m. -- The players gather. The past hour on the field has gone by fast, and the coaches and executives in the Lucas Oil suites have a wealth of new information to sift through.
Studesville helps break the group down, and he walks slowly toward the sideline where he stood an hour before.
He sits for a few minutes, grabs his briefcase and walks toward the exit.
3:37 p.m. -- Studesville finally heads off the field. He's spent an extra half hour watching a dozen players who stayed behind for extra work.
It's a mix of guys. McCaffrey and Fournette are there. So are some players who won't be drafted.
There aren't any more running drills. Instead, it turns into an opportunity to show off their catching abilities. For McCaffrey, that means more chances to show how he stands above the rest. For Fournette, it's an opportunity to show he's more than capable. And for the lower-performing players, it's a way to make up for dropped passes or poor routes during the main workout.
During the extent of the hour-long session, each player had seven chances to catch passes. The sample size is small, and the results are meaningful. The extra work gives these players another chance to do what the coaches have yelled all day long: "Put it on tape!"
3:42 p.m. -- After a week of interviewing players, Studesville finds himself on the other end of the recorder.
He's asked what the drills could be missing — and if, maybe, the running backs should undergo some sort of pass-blocking evaluation?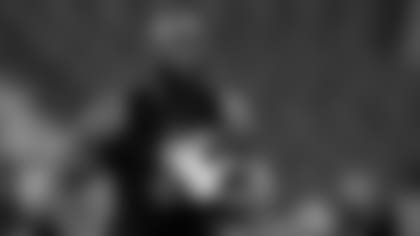 "I don't think you can really do that," he says, "because we play the game in pads, so that's a hard thing to do. I know the offensive line does it, I just don't know if for backs it's going to be a true evaluation of what you would get.
"I think this is good to get a generic look at guys, but I place a lot of weight on what I see on game tape."
He's got a plane to catch, though, so he quickly strides toward the exit of Lucas Oil Stadium.
"Another Combine is done," he says.
Then he heads off toward more work, more evaluation and another season in Denver.
7:55 p.m. -- From Lucas Oil Stadium, Studesville heads straight to Gate C42 at Indianapolis International Airport. He boards Flight 689 and lands in Denver at 8:59 p.m. MT.
The real work is about to begin for Studesville.
"For me, I've watched what we call point-of-attack tape on these guys," he says, "which are plays that have been pulled off and created, in essence, more like highlight tapes of guys. So I've seen just about all of them at this point in time, at least a little bit. Not studied them in detail, but I've seen what they can do a little bit.
"And then now what I'll do, is I'll go back and I'll pull up anywhere from three to four games on every guy and watch games on these guys. I'll pull up what I think are their best games where they had a lot of catches or a lot of carries or good competition. Then that's where I'll evaluate them and really start writing my evaluations and rankings of those guys."
For the night, however, Studesville will head home to rest after four whirlwind days in Indianapolis.
It's been quite the 24 hours.