Denver Broncos | Parking & Transportation

With the exception of lot C, parking lots open 4.5 hours prior to kickoff. Here are the gameday purchase options (via credit card):
Lot C is the early tailgating lot.
Lot C opens at 8am for 2:05pm & 2:25PM kickoffs, 12pm for 6:15pm & 6:20pm kickoffs, and at 1pm for 7pm preseason games.
Lot C sells a very limited number of credit-card spaces on a first-come, first-serve basis for $40 a parking space.
Tailgaters line up early to purchase these spaces (a tradition dating back to the original opening of the stadium).
The lot is expected to be sold out 30 minutes to 1 hour after lot opening for each game
Lot A is the carpool lot.
Lot A opens 4.5 hours prior to kick-off.
Spaces are exclusively sold on gamedays to vehicles WITH 4 OR MORE PATRONS in them for $30 a parking space (credit card only).
Cars must have 4 or more people in them to be eligible to buy a parking space. Vehicles without 4 or more patrons in them will be turned away.
Tailgating is NOT ALLOWED in this lot.
Accessible Parking
All accessible parking spaces at the stadium are restricted to guests possessing and displaying valid state-issued ADA parking placards or vehicle registrations. Violators will be ticketed and fined.
On a first-come, first-served basis, guests may purchase a parking permit with access to an ADA Parking Space in lots D & G for $30, and in Lot L for $20 on game days. These lots open 4.5 hours prior to kickoff and do sell out, due to high demand. Please note, the stadium is cashless, and only credit cards will be accepted as a form of payment.
Offsite Parking
A convenient option for fans without stadium parking passes is to park in a near proximity offsite parking facility, such as:
Ball Arena (formerly known as Pepsi Center)
Auraria Campus
Denver Aquarium
Riverside Church (2401 Alcott Street, Denver, CO 80211)
Parking spaces at these facilities are sold from $15-$30 and open up to the public approximately 4 hours prior to kickoff.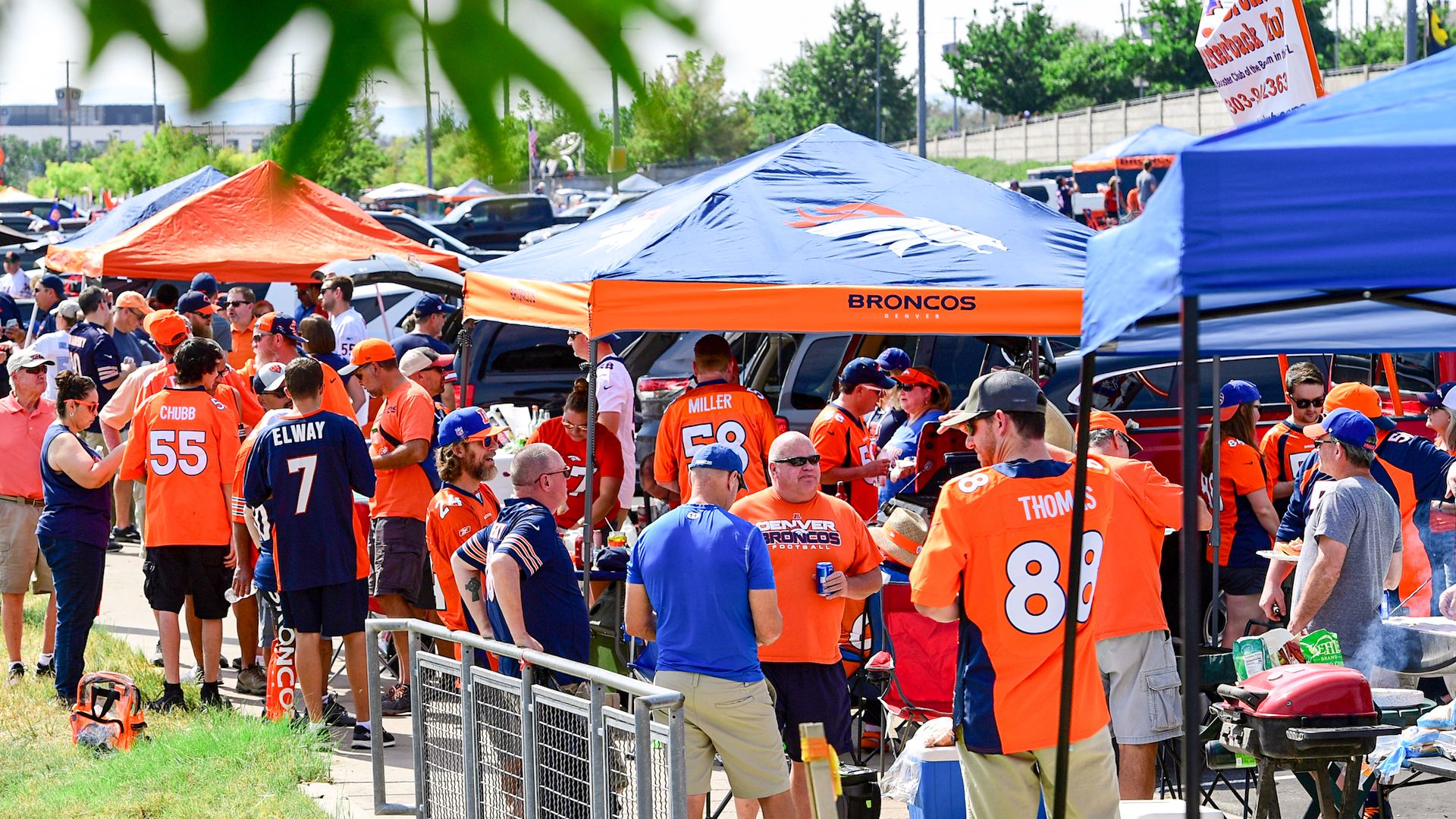 Tailgating
Tailgating is permitted. Please be mindful of other fans and only use parking spaces for vehicle usage only. Tailgating must not occupy another parking spot(s) and must not block the drive lanes or walkways.
Please review the list of tailgating policies prior to arrival
If you have already purchased a permit, add your parking permit to Apple Wallet or Google Pay prior to arriving at the Stadium. Please have your permit ready prior to approaching the lot attendant.
Empower Field at Mile High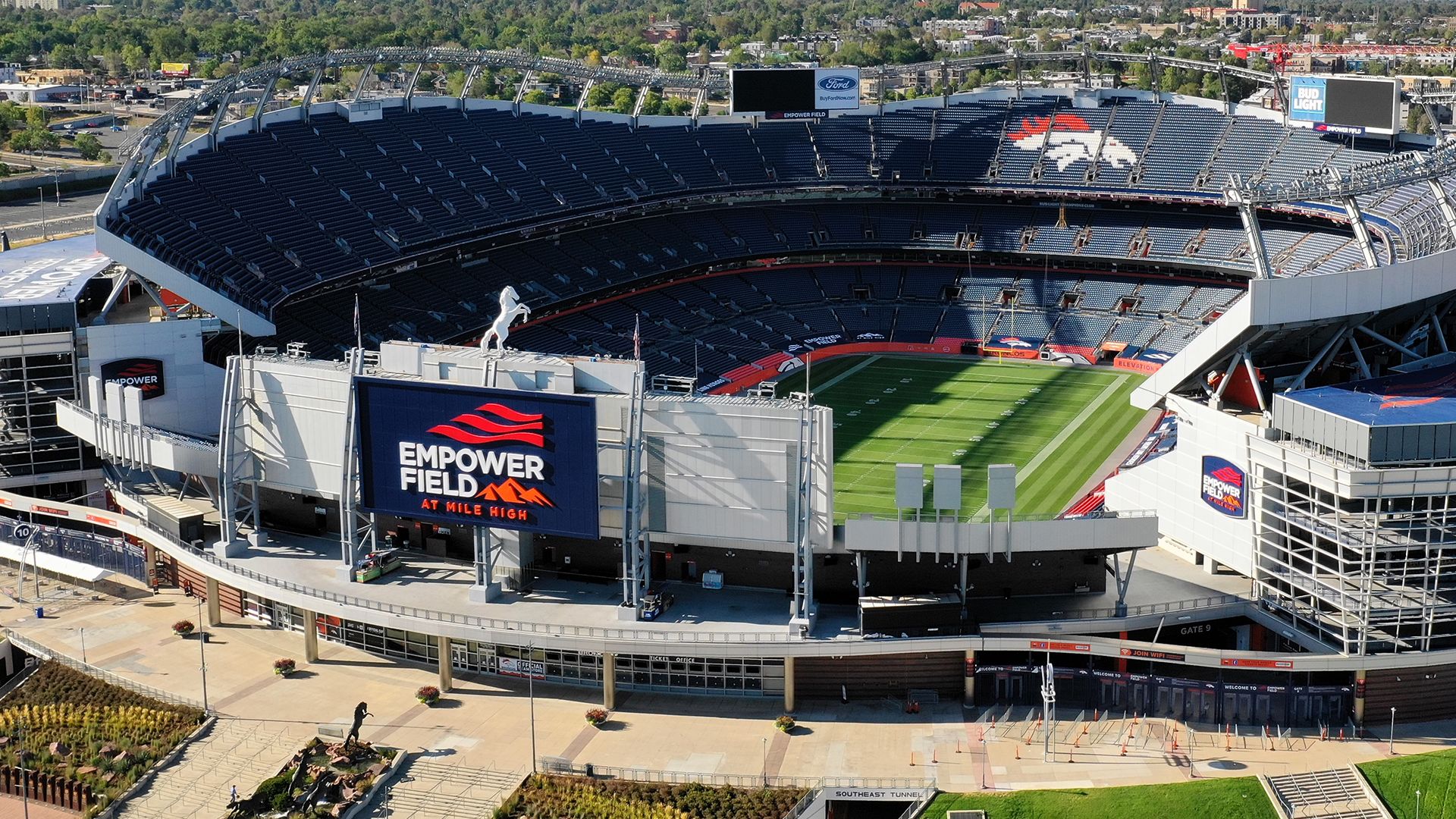 1701 Bryant Street, Denver, CO 80204
Download the Broncos 365 app and the Waze app for best directions to your parking lot.

LIGHT RAIL
The Empower Field at Mile High Station and Decatur-Federal Station provide direct access from light rail to the stadium. Please check the RTD website for important service updates including capacity limitations and service frequency.
RIDE SHARE
After the event, head to the south side of the stadium towards the RTD Decatur-Federal light rail station. The Rideshare pickup location is located on eastbound Howard Place - across from Lot M.
Additional Parking Information
Visit the Empower Field at Mile High website for further parking details.