ENGLEWOOD, Colo. —** Coaches are starting to get back to the Broncos' practice facility in preparation for training camp, and one was particularly thrilled to return to great news.
Wide receivers coach Tyke Tolbert was naturally happy from a professional standpoint to hear that Demaryius Thomas signed a new five-year contract with the Broncos through the 2019 season, but he was even more happy to hear about it on a personal level.
"I'm happy for us, the Broncos, and I'm really happy for him, based on where he's come from, the trials and tribulations he's had to go through coming up," Tolbert said on Monday. "And to see him get rewarded for all his hard work is very rewarding for me as his position coach because I know when I got here, he worked really hard to get where he is. He had an achilles injury when I first got here. He would stay after practice with me and work on route techniques and he would study more and he would do a lot of things to the point where he really worked hard to get where he is. People just don't realize that. He worked really hard to get where he is so I'm very happy for him in that regard."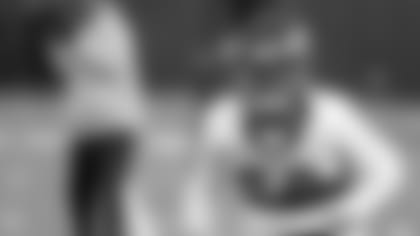 Thomas will bring that hard work back to the practice fields when training camp begins, and though he'll be making up for some lost ground in learning the offense, he was able to study with an assist from Tolbert.
"He actually saw a lot of film on it too because we sent him all the tape and all the cut-ups and all the practices we had," Tolbert said. "So he's been studying on his own and keeping up to speed as much as you could without being here."
Terminology from the previous offense may seem like a daunting task but Tolbert doesn't expect a steep learning curve for Thomas because of what they've retained from the previous offense, the communication he has with Peyton Manning and the route concepts he'll learn.
"Any new system will take a little time — from high school to college, college to NFL, NFL one team to NFL another team — it's going to take some time," Tolbert began. "But the good news about this particular offense is I think it's very wide-receiver friendly from a standpoint where the offense Coach Kubiak is bringing is very detailed from a standpoint where it kind of tells you, as a receiver, more times than not what you actually have on that particular route. A lot of routes we have are concepts as well, but more times than not it's very specific on X, you have this; Z, he has this; F has this.
"So from that standpoint, he'll pick it up a lot more and he's going to get to hear from the quarterback in the huddle when we do huddle, which we will most of the time, I would imagine. We still have a lot of our old offense involved so we'll have some of that mixture in so he obviously won't have to relearn any of that stuff; he still knows that. So combining the two offenses, his learning curve won't be as steep because he really only has to learn half the offense, if you will."
Thomas knows the potential the offense can bring him, especially with opportunities for big gains off play-action passes. The greater balance the Broncos hope to achieve brings with it the ability to catch defenses off guard.
"[The offense] gets me excited as a coach when we're all learning it in the spring and looking at cut-ups," Tolbert said. "I went back to Houston with Andre Johnson and those guys, and I went 'Wow, there are big plays to be had in this offense.' And I was reiterating that to him when I did communicate with him during the offseason. The fact is that there are some big plays in this offense to be had by the receivers so I think he's fired up about that and he actually saw a lot of film on it too because we sent him all the tape and all the cut-ups and all the practices we had."