ENGLEWOOD, Colo. — Mitchell Risner can recall three major moments in his son's life. They are moments that shaped Dalton Risner into the man he is today — and Mitchell still gets emotional thinking back on them.
There's the day that Dalton was drafted by the Broncos.
And the day he was voted a team captain as a sophomore at Kansas State.
But those two pale in comparison when Dalton would leadthe Wildcats onto the field at Bill Snyder Stadium. With an American flag or a flag representing the U.S. Army's 1st Infantry Division in his hands and thoughts of his brother in his heart, Dalton did hisfamily proud as he represented Austin, who served in the Army from 2012 to 2016.
"No comparison, the most emotional," Mitchell Risner says. "I even think about it, [and I'm] almost in tears. For whatever reason, him carrying that flag down that field [was the] most impactful, most emotional moment for me, no comparison compared to being voted three-year team captain, … there's so many awards in college, being drafted to the Broncos.
"… It's that connection, it's that respect, and it's that admiration of Austin and all people in the military and the lives that people have sacrificed for what we have today. No comparison in how I feel about that moment."
Since the start of November, Dalton has recognized his oldest brother's service in a new way as a rookie in the NFL. As part the league's Salute to Service month, each player selects a decal representing a military branch to be placed on the back of his helmet. Dalton, naturally, selected the Army.
"I have so much respect for him and so much respect for anyone who's in any branch of the military," Dalton says. "But the Army holds a special place in my heart."
When Austin told the family a dinner in 2012 he would be enlisting in the U.S. Army, Dalton was a little shocked at first.
But the more he thought about it and the person he knew Austin to be, the less he was surprised.
Dalton had long looked up to his big brother. Their parents had entrusted Austin with a lot of responsibility as the eldest of the five brothers, and he often watched over his four siblings.
"Austin was everything to Dalton," Mitchell says. "… Dalton wanted to be like Austin and dress like him. And Austin set the ground rules at the same time. Austin was extraordinarily rigid. He went the military route of course, and he always acted like that."
The games that Austin laid out for Dalton and their brothers played were no exception. Austin loved rules, and his games reflected that. Every game had an objective and rules that accompanied it.
Sometimes that game was playing army, as so many kids do.
So maybe it made sense, the more Dalton thought about it.
But now it was going to be real.
"It was a shock that he was doing it," Dalton says, "but it was never a shock like, 'Oh my gosh, I don't think he can do that,' because Austin is a perfect fit for that. He's a selfless person. He's someone that doesn't care about the glory."
Austin had been valedictorian at his high school and had collegiate options in front of him in Boulder or at a military academy, but that sense of being part of something biggercalled to him.
"There isn't an exact moment I can pinpoint that was the defining moment of when I decided to join," Austin says. "Rather, it just felt like it was what I was meant to do."
Dalton, then a freshman in high school, was somewhat conflicted by his concern for Austin and his appreciation for what those in the military do, as his family has a tradition of service in its background.
"Of course, there was a worry for my brother," Dalton says. "I was young at the time. Of course, when your brother joins the military, you think he's going to be a part of the war [immediately]. … He does have the opportunity to get deployed — and Austin was deployed ...at a time or two — and that [gives me] conflicted feelings. You appreciate what he's doing, but at the same time, that's your brother."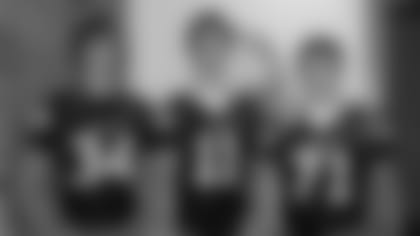 As Austin proceeded on his new path, he and his parents considered his options, including admission into the U.S. Military Academy at West Point, which would have set him on a course to becoming a commissioned officer.
"We had him lined up," Mitchell says. "We went to the Air Force Academy over the summer, he was lined up to go to West Point. We were getting a senator's recommendation. We were almost done with all the ridiculous steps you have to do, and Austin came back and said, 'It's not the way I want to go in. I want to be on the ground level. I want to be a "grunt," if you will. I want to be U.S. Army and I want to be Airborne.'"
Austin enlisted and started basic training at Fort Benning in Georgia. In short order, he then went to Vicenza, Italy, to join the 173rd Airborne Brigade Combat Team as a scout sniper in a recon platoon. From there, he returned to America to become a team leader in the 82nd Airborne Division. He would finish his active duty contract as a sergeant.
In the meantime, Dalton was becominga talented high-school football prospect, ultimately committing to Kansas State as a three-star recruit. But Austin never left his mind for long.
"Dalton was really trying to understand what that meant," Mitchell says. "… Dalton didn't really, truly get an opportunity to appreciate that, one, until he just matured, as a young man, to understand what does it mean when you sign up to go into the military, and then, number two, when he heard stories from Austin or via us about Austin's military journey."
As he grew older, Dalton started showing his appreciation in small ways, like holding the flag for the 1st Infantry Division at his games. Not because Austin would want him to, but because he himself wanted to.
"He never told me about carrying the military flags or the army decal," Austin says. "He doesn't boast to me what he does to show his pride. The kid just does it out of the kindness of his soul, and that is a greater gift than I could ever ask for. I find out about all these supporting gestures through third parties and it just hits me deep that he continues to show pride in what I do on his own accord. I'm grateful to have people at home like Dalton, helping us do our job over here with unwavering support."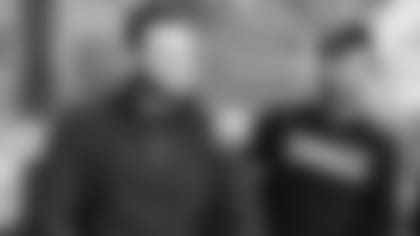 Austin isn't in the Army anymore, but he's not far from it.
After his contract in the military ended, Austin got an associate's degree at the University of Central Florida, but it wasn't long before he felt a familiar pull.
"The old life I left behind called to me once more, so I decided to contract for the [Department of Defense] with a security company in Bagram, Afghanistan," Austin says. "… I now am in Iraq and am a contractor for the DOD doing aerial intelligence, surveillance and recon work."
His line of work may keep him far removed from his family, but he stays in touch the best he can and has been following Dalton's career even 10 hours and some 6,800 miles away — albeit much differently than how most people do.
"We have a tent with one computer that can stream the games," Austin says. "So when the Broncos play, I fight my way to the front, quite literally, and make sure I get the right channel going. We all gather around and root for number 66 and the Broncos."
Austin experiences the games viscerally like so many fans do, though he has a personal connection. When he watched Dalton pull Phillip Lindsay into the end zone in Green Bay, Austin says he "got goosebumps and was beating my chest thousands of miles away."
"It's been like a dream to watch Dalton play in the NFL," Austin says. "… 'Big D' worked daily on his craft and rose above all criticism and accomplished what I can say is only a dream. I get butterflies watching my monster little brother do his thing. I could not be more proud of the man he has turned out to be with his philanthropy and community giveback alongside his new NFL career."
Back in America, though, Dalton doesn't feel much like the special person in the family.
"I'm the one admiring what he does," Dalton says. "I admire what he does, because I don't feel confident in doing it myself. Like I said, I think it takes a special person. He's a great man and he serves our country every single day. I admire what he does."