This week the Broncos face Tom Brady, in his first year as quarterback for the Tampa Bay Buccaneers.
Naturally, much of the buzz about the game is about the magnificent Brady, as it should be — especially since this could be his final game against the Broncos.
The duels between Brady and Denver have been magnificent over the years. Who can forget the playoff game in Denver with Champ Bailey's 100-yard interception return or the two AFC Championship Games between Brady and Peyton Manning?
I was there the first time the Broncos ever played Tom Brady, back when he was not yet known to be special.
It was Oct. 28, 2001, and he was making just his third road start for the New England Patriots, subbing for an injured Drew Bledsoe.
We in Broncos Country had our fingers and toes crossed, hoping that Bledsoe would need more time to recover so that we would get to face Brady. It sounds crazy now, but back then, Brady had just six games of experience under his belt.
Just the year before, Bledsoe had engineered a 28-19 New England win over the Broncos in Denver with four touchdown passes. He was an outstanding quarterback who had led a Patriots resurgence after being selected first overall in the 1993 NFL Draft. Entering the 2001 season, Bledsoe was a three-time Pro Bowl quarterback who had led the Pats to four playoff berths and to Super Bowl XXXI.
Bledsoe was chosen for the Patriots Hall of Fame in 2011, so he was clearly an outstanding quarterback during his 14-year career.
Tom Brady? He was just a guy.
He had played with Broncos quarterback Brian Griese at Michigan, but he was only drafted by the Patriots in the sixth round. Brady was the 199th player selected in the 2000 draft, and spent his rookie season on the bench behind Bledsoe.
However, Brady turned out to have the qualities that he has demonstrated time and time again so many years later. And so he pronounced himself to be the quarterback of the future (and the present, in fact) to the New England coaching staff and football personnel. Many have spoken boldly, but none have ever delivered like Brady.
Now he is known for playing his first 20 seasons — two full decades — with the Patriots, leading them to the Super Bowl nine times and winning six.
But back on Oct. 28, 2001, no one in attendance that day would have predicted any of that for the young man making just his third start on the road, and doing so in one of the most hostile environments the NFL had to offer.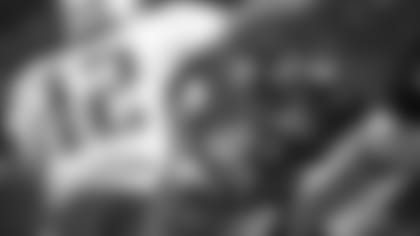 There were 74,750 Broncos maniacs in attendance that day, as well as plenty of cynics in the press box. Everyone was wondering when Bledsoe would be back for the Patriots, and a number of New England writers were speculating that Bledsoe's injury might keep him out for a long while.
Denver won the game, 31-20, as Brady had not yet become the cool customer in late-game situations. In this game, the Broncos entered the fourth quarter with a four-point lead. But Brady ended each of the Patriots' four fourth-quarter drives with interceptions. The third would be the straw that broke the camel's back, as defensive back Denard Walker returned his second interception 39 yards for the clinching touchdown.
Brady threw two touchdown passes that day, including a five-yard pass to another future New England immortal, Troy Brown, and the second-year quarterback completed 25 of 38 passes for 203 yards and those two scoring tosses. But Brady also had those four interceptions and a passer rating of just 57.1 for the day.
The Broncos had another big home win and there was not a soul present who would have predicted that at the end of the year Brady would become just the second quarterback ever to win the Super Bowl in his first season as a starter.
But we keep learning that just when we thought we knew it all, we did not.
Tom Brady has fashioned a career that certainly will land him in the Pro Football Hall of Fame on the first ballot. And even if it hadn't been evident on Oct. 28, 2001, it may have helped shaped him through that first season.
Now, this week, he leads a new team into the same stadium (with a new name) in which he made just his third road start of an illustrious career.
On the other side, Broncos Country comes into this week's game against the Buccaneers with great disappointment over our 0-2 starting record, and legitimately so.
But both in terms of records, and the quarterback we are playing this week, let's take a look back at a couple of times that provided the foundation for the present.
We are 0-2, with a rich history of championship success, so this is disappointing. But that is our record now, not at season's end.
Back in 1973, the Broncos had never had a winning season in their first 13 years of play, it was a 14-game schedule, and Denver started off 1-3-1. That certainly was considered a harbinger of another losing season. But week by week, game by game, the Broncos paved the way for their future.
Denver finished that season 7-5-2, posted the first winning season in Broncos history, and actually played the Oakland Raiders for the AFC West title in the final game of the season.
So, too, you never know about individual players. Sometimes they become stars right before your eyes — only you do not realize it until later.