Wide Receivers Coach Tyke Tolbert is in the midst of his seventh season with the Denver Broncos, and he's once again leading a group of dynamic players. We caught up with him about several of his receivers, family dinners at the facility and his ideal golf course.
Aric DiLalla: Carlos Henderson is obviously on IR, but how can he use this season to prepare for next year?
Tyke Tolbert: Carlos has been in every wide receivers meeting, every offensive meeting — and when we have our individual meetings, he's the one guy that asks most of the questions to make sure he's in tune, to make sure he's engaged in meetings. After meetings sometimes, if I let the receivers go early, I have him, in the locker room, line up and run every play on the script to make sure he's on it and he knows the whole concept of every play, not just one position. I'm keeping him very engaged in that regard, asking him all the questions in the meetings and having him walk through the script that the players are going to run in practice that same day. That's one of the things that's keeping him abreast, if you will.
AD: Demaryius Thomas is getting closer and closer to Rod Smith's records. What's it been like to have a front-row seat as he chases that mark?
TT: I'll be honest with you, I have no clue what those records are. The only record I'm concerned with right now is [3-2]. Obviously, this is the only team he's been on, and he's been a tremendous player for us for a long time. I'd like to see him continue to be that player and get more opportunities to put up the numbers that are going to help us win games. Because at the end of the day, that's the bottom line: winning games.
AD: How has Isaiah McKenzie impressed you so far?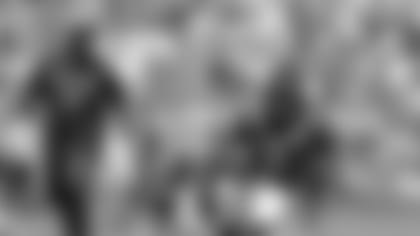 TT: Isaiah, he's the one guy that I have that can go into a room, turn off the lights and be under the covers before it gets dark. That's how quick he is. He is here and there at the same time. He is really quick. He's still learning the little nuances of playing everywhere in our system, but he's another guy that [impresses with] his speed and quickness and with the ball in his hands, run-after-the-catch ability. I'd like to see him get more opportunities to do that and showcase his skills. He's a really good player. He played at a very high level at the University of Georgia, playing in the SEC. It's not too big for him in that regard as far as competition. It's just a matter of getting him more comfortable, but the more reps he'll get, the more comfortable he'll get.
AD: What's it like working with a guy like Offensive Coordinator Mike McCoy, who's obviously able to find a way to utilize your guys in a really impressive, creative way?
TT: Our relationship goes back to the first time he was here when I got here in 2011 and Mike was here. We were running a very similar system. … For him to come back, he's got some other nuances of the offense that he's added since he left, being in San Diego for four years. It's still some of the stuff we ran before, plus some stuff he brought with him from San Diego. It's good, because Mike's a guy who wants input from all the staff. He listens to the input and if he likes it, he'll implement it into the game plan. It makes you feel like when you come to work and you study film and you do a lot of things, you have a say in the offense as a whole. We have so many good players on this team, it's hard to get everybody all the time, and it's because they all want the ball all the time. At some point in time, we all have input to put in the game plan to put the plays in, and when we go out there to play on Sunday, we know that we all have a hand in what we have in the game plan. That makes it a really good working relationship.
AD: You have daughters, and Head Coach Vance Joseph this year has added a Monday-night family dinner. What's that added time been like?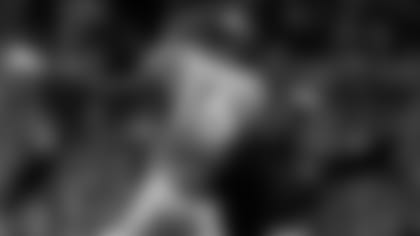 TT: Awesome. Awesome. Awesome. I had that one other time … when I was in Buffalo. V.J. brought this back to Denver, and it's an awesome deal. When I leave for work on Monday, my girls don't see me. When I come home from work, they don't see me — and that's all the way until Thursday. I see them, but they don't see me on Monday, Tuesday and Wednesday. I get to see them a little bit on Thursday. They're still up for a little bit when I get home. But to be able to come here on Mondays, that little hour or hour and a half, it's an awesome deal. They look forward to it. My wife looks forward to it. She's in the same boat. She doesn't see me because she's sleeping when I leave, and she's asleep when I come back. That's a great deal, and it gives you new energy when you see your family. You have to eat anyway, so you might as well eat with your family. And even when they're gone, you have a little burst of energy to finish out the rest of the night and finish up on a good note.
AD: You hand out cookies to the wide receivers, so what's the key to baking a really good cookie?
TT: You'd have to ask my wife that. She makes "Touchdown cookies." Every Friday, I bring the cookies to the guys, and they look forward to it. It's a good thing, because I told my wife, "We've had a lot of success making these 'Touchdown cookies' the last few years." Sometimes, she's crunched for time a little bit, and I'm so appreciative to even find the time to make those cookies. They enjoy them, and as long as they enjoy them and as long as we keep winning games, she'll have to keep making cookies.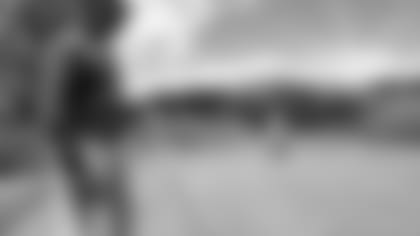 AD: I know you're a big golfer. If you were designing the Tyke Tolbert golf course, what's your biggest focus? What would it be known for?
TT: Wide fairways, big greens and no water hazards. No sand either. The sand I would have, it would not be put in a position to alter your game. When I'm teeing off, I need a wide fairway. When I'm going on the green, I need a big green. I like to be on the green in regulation, so the bigger the green, the better. And putting-wise, not too many undulations in the green. So it would be an easy golf course to play — probably too easy. That's how I would do it, and I would base my handicap off that course. So anywhere else, I could say, "Oh yeah, I'm a 2-handicap, 3-handicap."