With Emmanuel Sanders signing a contract extension in September and Demaryius Thomas signed through the 2019 season, Wide Receivers Coach Tyke Tolbert doesn't have to worry about much in the near future. The 14-year coaching veteran sat down to talk with us about his dynamic with that tandem, life as an NFL coach during the season and where his group can grow. [A condensed version of this interview appeared in the Oct. 24 Gameday Magazine]
How do you feel knowing that Emmanuel and DT are Broncos for the long haul?
It makes me feel really excited for our football team, and in particular for our wide receiver room because I've said all along, I feel like when guys label wide receivers one, two, three and four, I feel like we have two No. 1s with D.T. and Emmanuel, and very few teams have that. So for us to have those two guys in their quote-unquote co-number one positions [is huge]. 
Are they pretty levelheaded with regard to their game-by-game production?
They're all competitors in that receiver position, on any team. Any guy wants the ball, but the fact that they know each other so well — and I think they're genuinely happy for one another when one has more success than the other or vice versa — but the bottom line is whenever you win, everybody's happy. I think at the end of the day, as long as we keep winning, those things don't mean as much as when he wasn't winning.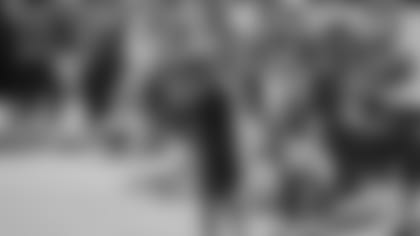 You've coached through different offenses. What kind of transition was it from the previous one with Adam Gase and an uptempo strategy to this methodical, balanced attack with Head Coach Gary Kubiak and Offensive Coordinator Rick Dennison?
Coach Kubiak and I talked about that over the course of last year and this year, and I think he does a great job because he does what's best for our football team and how it is now. So, it might not be the throw-it-all-over-the-place type of offense that we've had before and all the wide receivers get tons of stats, but we have the best defense in football.
For us to have that and have young quarterbacks on the roster, we're going to do what's best for the football team. And if we have to run a little more, we'll run a little more. If we have to pass it a little more, we can pass it a little more. I think instead of saying, 'We're this, that or the other, as an offense,' I think Coach Kubiak does a good job in really just deciding on what's the best formula for our football team to be successful. 
With Emmanuel and Demaryius here for the foreseeable future, how would you like to see them grow?
From a football — especially offensive — standpoint, I'd like for them to be able to continue to grow with our young quarterbacks. Some of the things that a veteran like Peyton [Manning] would do, he would see something and check something at the line and threw to them wide open. Those young quarterbacks don't see it right now, and I think they will in due time, and they have to be patient in that circumstance because it's not going to always be the best check or the best play or whatever, but whatever's called, the have to go out there and execute and make it happen, in the run game and the passing game.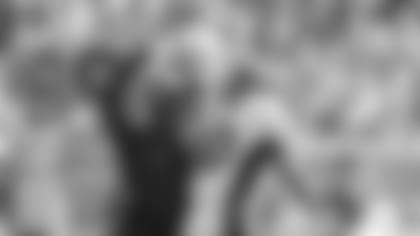 What kind of potential do you see in the younger wide receivers like Cody Latimer, Bennie Fowler and Jordan Taylor?
Bennie has done some things that's shown he's able to make plays in this league. Cody has done some things to show he's able to make plays in this league, especially in preseason, and Cody has continued to come along. I'm very happy with where Cody is right now [and] where Bennie is, coming off the injury.
I'm really happy to see the maturation process of Jordan Taylor, because when he got here from Rice in the spread offense and just kind of running routes and letting them throw it up to him and make plays, he's really worked on his craft. As far as his route technique, having good footwork, because being 6'5", it's harder for a guy coming out of breaks as opposed to a guy who's 5'11". So he's had to work on that time and time again, and he's gotten so much better with that. He could always make plays on the ball, but in this league, you have to be able to have some separation against some elite DBs, and he's continued to work on that to the point of where we feel very comfortable putting him in the game, whenever it is. If DT or Emmanuel gets tired or whatever, we'll throw him in there and whatever play's called, go in there and execute it, be it run or pass. He had a play in the Indianapolis game, his first quote-unquote official NFL catch, for 20 yards. So he's averaging 20 yards a catch right now. Hope he keeps that average.
You mentioned how smaller receivers tend to come out of breaks quicker. The slot is generally where we see those guys — Jordan Norwood, Wes Welker, etc. But Bennie's a bigger receiver we see in that spot. How does he excel there?
Well, Bennie has really good feet for a big guy. Really good feet, and Bennie is super smart, too. Bennie is the guy who knows all of the positions; he knows the whole philosophy of the offense, where he needs to be. Bennie is like my Michael Jordan of the wide receivers. He is my go-to guy. When I need Bennie to go play X, go play F, go play Z, go play Y, I plug him in there and he knows what to do. And he has the feet like a smaller guy to be able to get in and out of his breaks, but he has the speed like a big guy and the size of a big guy to play outside. So he has that rare combination of size, speed and foot quickness to be able to play anywhere on the field. 
What is the fatherhood life as a coach in the season?
It is difficult. My wife and I kid all the time [that] my wife is a single mother for six months of the year because she's the one going to all the school activities and all the extra-curricular activities, whether it's volleyball, which my older girl plays, or gymnastics with my younger girl. So she's doing all that, so it's difficult. One thing that I'm grateful for is modern technology. You have FaceTime, so you get to see them in that regard because when I wake up in the morning and I go kiss them, they're asleep. When I come back at home and I kiss them, they're asleep. And I think on Thursdays is the first time they're able to see me, because I get home a little bit earlier, right before they go to bed, and I get to spend a little bit of time with them on Thursday. And Friday, I pick them up from school, so my wife calls me 'the fun uncle' because I pick them up from school, take them to get ice cream and [clear] the conscience of not seeing them all week. So that's awesome and Saturday home games, Coach Kubiak of letting the coaches and the players bring their kids to work with them and my girls so look forward to that, to come here and hang out with us, eat breakfast and see the other kids. We can go home after that.
That part is difficult during the season because I don't get to see them basically through or until Thursday night, or that they see me, to put it that way. But FaceTime is good and talking on the phone, I talk to them about three times a day: when they wake up in the morning, make sure they have a good day; when they come home from school, I see how their day went; and when they go to bed at night, I tell them goodnight.
How much do you enjoy the other part of Saturdays with families, getting to interact with the players' children?
I love kids. My two daughters say, 'We need to have another! I want to have a brother!' Eric [Studesville's] son, E.J., that's my god-son, so I tell them, 'That's your little brother.' But I love kids and just being around them, seeing them laugh and smile and give you a high-five. That's the greatest thing. 
Demaryius seems to be very similar to you in that regard, loving being around kids.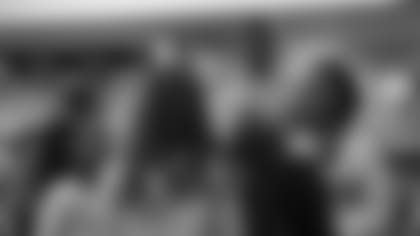 My kids and Eric's kids think DT is like their play buddy, because every time they see him, DT comes up and picks them all up and gives them a hug. After the game, even in the parking lot, he'll see them and he'll get out of his truck and give them a hug. He's been over to the house a couple times for different holidays and stuff we've had, dinners and stuff like that. He's awesome with kids, yeah. 
I also hear you're a really big golfer. What are some of the most incredible courses you've played?
The most beautiful golf course that I've probably ever seen in Colorado is Sanctuary. Just the view on the No. 1 tee box, to have that view of the mountains straight downhill, par five, No. 1 handicap, that's a beautiful tight course. I lose a lot of balls there, but it's a beautiful course.
I was able to play Tiger Woods' new course in Texas this summer. He opened up a new course down there in Bluejack National. I played that one and I'm telling you, that course is the most beautiful course I've ever played on, from a grass and setup [standpoint]. It's a phenomenal course out there. I was able to get out there and play though it's a private course. I called in a favor. I called Peyton and Peyton called Tiger and they were able to get us on, me and a couple of my high school buddies. That was a cool course to play on. I love playing golf and I get to play it only probably about four and a half months out of the year. I start in the last part of March and then April, May, June, July. I don't play during the season. ... I'm totally focused on football during the season, then when it's not football, as I mentioned earlier, I spend time with my family because I don't want to cheat them out of any more time than I feel like I am, because I'm working so much. 
Does your family play at all?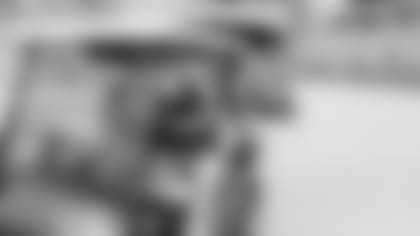 I'm trying to get my girls to play, and we go to Topgolf. They enjoy Topgolf. My youngest one, she has a really good swing, but she's not into golf like that. She could be really, really good because she's very competitive. I think she's the second-most competitive person in our house, behind me. But she's really competitive and she could be really good at it but I'm not going to push her in it, because she loves gymnastics and she loves basketball, so I let her do that.