The list of people who have coached talent like Von Miller or Khalil Mack is short. The list of people who have coached Von Miller and Khalil Mack is even shorter. After being hired by the Broncos to be their outside linebackers coach in January, Brandon Staley can count himself among that small group. After a recent practice, we caught up with Staley to hear about what it was like to make that transition from Mack to Miller, what has surprised him about working with Miller and why Bradley Chubb is such a special player and person.
What is it about Head Coach Vic Fangio that made you want to stay on his staff from Chicago to Denver, and how has he kept this team fighting even as there's been some tough stretches?
"I looked at his track record when I was with him in Chicago. All the things he accomplished at all the different type of places that he'd been — his start as an NFL coach in New Orleans to taking over an expansion team in Carolina and what he was able to do there; with the Houston Texans and then going to Stanford, just completely changing the face of that program only in one year; and then the success at San Francisco, which is probably, in recent history, what everybody remembers, what he did with that unit, taking them to a Super Bowl and having them amongst the top two or three [defenses] in the NFL. He's done it wherever he's been.
"He's been with a lot of the great players that have played, Hall of Fame players particularly at the position I coached. So it was just exciting. You knew you were going to be with one of the best defensive minds in all of football. So then being with him in Chicago, it only solidified all those feelings. You were able to see it up close. I had studied it for so long as a young coach, and I felt like I was coaching for him. But then ... to be on the staff of his, I really grew a lot in those two years and we accomplished a lot. And it was exciting for me to come here and do it in a different way and with a different franchise.
"The great thing is, him becoming the head coach, he's the same guy. One of his best traits is his consistency. He's got a relentless work ethic, and that was something that in Chicago, there was nobody that set a higher standard for how to do their job than Vic, and he's carried that [on] here as the head coach. He does a great job with the team and with players, and what they respect most about him is I think his consistency in approach and that he studies and works at it really, really hard, and ultimately puts them in good positions to be successful. I think our players see that, they feel that, and it's only going to get better as we go."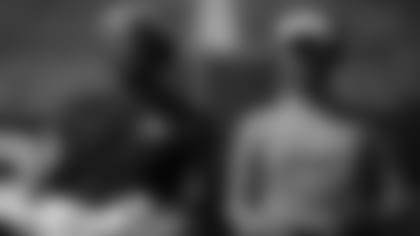 After you got hired and started to prepare for this new role, what excited you about working with Von Miller and what did you know about him at that point?
"First off, I just knew what type of player he was. When you follow the NFL, you are aware of who the elite players are, and all that he's accomplished in such a short amount of time — Super Bowl MVP, one of the fastest players to 100 sacks, I think in his second year he had 18.5, I think he was one of the quickest guys to 50 sacks in the history of the NFL. I just think I was aware of what he was capable of, and [I] knew that he was the type of personality that loved football, that [he] was a guy who was really the face of the franchise, a guy that was a leader in the community. I had known about a lot of the things that he was involved with off the field, and that excited me because you're getting a guy that's the total package; he's not just a player, he's a guy that's a team leader, a guy that's making a difference in his community and throughout the NFL. So I thought that was really exciting, because I was with a guy in Chicago in Khalil [Mack] who was very similar. So, it was very exciting."
Have you and Von bonded over your glasses?
"A little. He's trying to get me to upgrade. We're looking into that for the holiday season."
As good as he is, what's one thing maybe people don't appreciate enough about him?
"I think that he's just really, really coachable. He's really into his craft, and he's really open to suggestions and teaching and critical of his performance, looking for ways to improve his game. I was probably pleasantly surprised with that. And he can take what you tell him in the meeting and tries to do it the best he can on the practice field. A guy that's as accomplished a player as he is, a guy that's played as long as he has, I thought I was pleasantly surprised with that."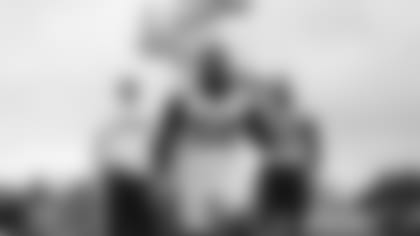 Head Coach Vic Fangio mentioned that before the 2018 NFL Draft, the Bears had Bradley Chubb pretty high on your draft board. What were you excited about then, and how has that matched up to working with him here?
"I think Bradley Chubb would have been a perfect fit for a lot of teams, but we just felt that with the way we played, he would be an ideal player, front-line player in our defense. He's really the total package as a player and as a person, as a leader. We knew what he accomplished at North Carolina State — at that type of place, he really changed the face of that program to being a national program. [That was] a team that was beating Florida State, competing with Clemson, and he was the guy that was at the front of all of that. But just in terms of playing the edge as an outside linebacker, [he] was extremely physical against the run. He was a really accomplished college pass rusher. Coming out of college, you usually don't see a guy that's as advanced as he was. And then he just had a great football IQ. He was able to articulate different coverages, techniques, situations. He was just really impressive in his interview. And when we brought him to Chicago in [one of] our 30 pre-draft visits, it just solidified all those feelings, because he's got a really vibrant personality. You knew this guy was going to be able to change the face of whatever team he was going to go to. At that time, that's what we were looking for."
Before Chubb's knee injury, what kind of progress were you seeing out of him in his second season?
"I thought this guy was going to take off. His second year, he was poised to have a really special season. And don't look at numbers; just look at what his tape looked like. He was just night and day: more confident in his abilities and much more confident in what was going around him, the different ways that offenses would try to attack him and more comfortable in our own scheme. He was just playing really physical, really fast. I was really proud of the way he prepared all offseason, because it really translated in those first four games. He was playing really well."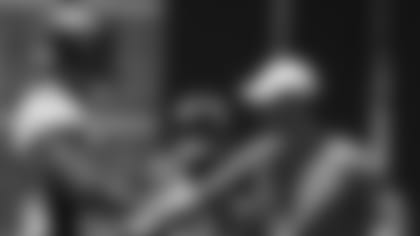 In his absence, undrafted rookie Malik Reed has stepped in and played well. In today's world where just about every college player's tape can be found on the internet, does it surprise you that guys can still fly under the radar like that?
"There's a story out there like him for probably every team. I just think that those guys that — and our team is exemplary with that, with Phillip Lindsay ... Todd Davis, Alexander Johnson — every undrafted guy has a story, but what probably is the common theme is that they have an undeniable will. They're a guy that when they get opportunities, they take advantages of them. I think that's probably the best way to describe Malik. When he's gotten his opportunities, he's taken advantage of them. He's a sponge, and it means a lot to him. Those guys that are undrafted, those opportunities don't come as often. But when they come, you have to take advantage of that moment because you don't get a lot of second chances when you're guys like him. Throughout his entire time here, he's been able to do that and grow as a player and prove as a player. This season, he's gotten better every week."
When did you know he could make this roster?
"I think in the springtime he showed that he belonged. You're not in pads, so you don't have a full evaluation, but he showed he could pick up the defensive concepts quickly, which is always a good sign with any player. And then I think physically, a lot of the question marks that people had on him, which was probably the reason why he wasn't drafted, he quickly put those questions to the side and just showed that he belonged against our frontline players, against the players that you knew were going to be playing for us on offense this season. You had a feeling that it was going to go that way, but I think he really showed his true colors during training camp. Early on you just knew that physically he was going to be able to do the job."
In college, you played quarterback but since became a defensive coach. When did you decide to switch sides?
"That decision was made for me. The guy that hired me — his name is Joe Novak — he was the head coach at Northern Illinois and kind of built that place into what it is today. He loved the quarterback-turned-defensive-coach, because when you're a quarterback, you're responsible for all 22 guys on the field. You have to command the huddle, you have to be able to reach everybody on the team. And as a defensive graduate assistant, that's kind of your role. You're running the scout team, you're kind of the quarterback of the scout team. He really liked that. He really liked that angle. One of the best coaches that coached for him, Scott Schafer, was a quarterback. So he liked that angle and when he offered me the opportunity, I didn't turn it down."