At any Broncos practice, you can hear the always-vocal Bill Kollar from anywhere on the field. After a recent practice, he sat down with us to use what was left of his voice that day to tell us about working with the Broncos' new starting nose tackle and about his favorite golf courses.
Ben Swanson: What can you tell me about the impact of Domata Peko Sr. — not just on the field, but in the meeting rooms and as a person?
Bill Kollar:It's important, obviously, both ways. The guy's a great guy, great worker, always positive, pleasant to be around. In practice, in games, the whole deal, or outside of it. The guy has really done a heck of a job for us.
BS: He's such a positive, gentle guy off the field. How do guys like that become intense, aggressive people as soon as the cross the sideline?
BK:He just has that switch where hey, he's a happy go-lucky guy off the field, but he's all business when he's on. And practicing and playing, he's doing a heck of a job for us.
BS: Does his personality rub off on you?
BK:On me? No, it doesn't rub off on me. I hope it rubs off on the other players, but it doesn't rub off on me.
BS: Having worked with Derek Wolfe for the past few years, what's it been like coaching him?
BK:He's had some problems, especially last year, with some injuries and stuff, but when he's out here and he's able to go, he's full speed and he's another guy that's just a pleasure to coach.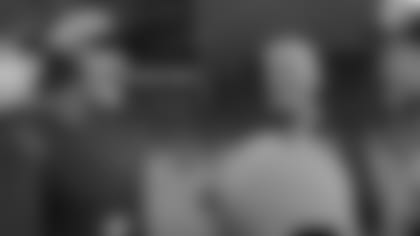 BS: One of your former players when you coached for the Falcons is former professional wrestler Bill Goldberg. What was it like to coach him?
BK:We had just signed him, he had gotten cut by, I think, the Rams, and we signed him and had him a couple years there. The guy was just like how he was in the ring. A wild man, tougher than heck. He had a problem staying healthy; that was the biggest thing with him. But he's a great guy, pleasant to end up being around, and we've stayed friends of the years. Really a heck of a guy.
BS: Were you a wrestling fan during his heyday?
BK:Oh, yeah, without a doubt. In fact, I went to the match when he went against Hulk Hogan and won the championship and the whole deal. I went into this hotdog place, The Varsity, in downtown Atlanta before the match. There were all these wrestling fans in there and they just kept chanting, 'Goldberg, Goldberg.' It was unbelievable. It was really a heck of a deal. But, you know, he played at the University of Georgia. They loved him there when he played there, because the guy's a great guy, really a pleasure to be around.
BS: I know you're a huge golfer. Do you have a favorite course?
BK:I've got a bunch of them, really. But there's one not too many people have heard about in West Virginia called Pikewood. It's in Morgantown, West Virginia, and it's really a heck of a course that rivals a bunch of those real top courses.
BS: What is it about golf that you love so much?
BK:I just love playing. I played it when I was a little kid, and I picked it up again when I was playing with the Bengals and Tampa. I've just done it ever since. It's competitive. You go out and it doesn't matter how much money you're playing for, you just want to end up being good. I'll be out there playing by myself and I'll get mad at myself for blowing a shot or whatever. It's just one of those deals where you've got to play all the time and you're never going to end up accomplishing it. You've just got to keep going to compete.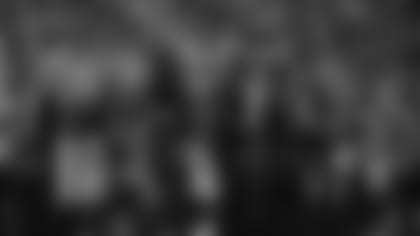 BS: Do you recall how you got into golf as a kid?
BK:My dad. When I was a kid, me and my brother, we used to end up [there]. Back then, they'd take you out to the golf course and you'd stay all day long. You might be 8 years old and you'd be out there the whole day and they'd pick you up at night. You can't do that stuff nowadays, you know.
BS: Do you find you enjoy golf more now than you did as a kid? BK:What happens is when you have a job and everything, obviously you don't have the free time to go out and play as much as you used to when you were a kid. But, yeah, I really enjoy playing and obviously I don't really play much during the season, but during the offseason I try to play as much as possible.