In his 29 seasons coaching in the NFL, Ed Donatell has seen a lot — including the Broncos' back-to-back Super Bowl victories in the '90s as the team's defensive backs coach. Now, he's back in Denver in his first year as the team's defensive coordinator, coaching another talented group. We caught up with him recently to talk about those championship Broncos teams, his experience working with Vic Fangio and what he thinks of the talent he has in this defense.
What made Steve Atwater a player who a lot of people say should be in the Hall of Fame?
"I think in his era, he was a guy who did two things: He would make the domination hit and then he could also turn the ball over for you. I also believe he's a two-time Super Bowl winner and played in three Super Bowls — that's usually something that's factored in there. So I think he has it all. I think [what] stands out when you talk to any guys about that era, his name comes up. He's one of the premier guys in that era that exemplifies extraordinary safety play."
Since then, you've maintained a friendship with him well after you were his coach. He sold you a house in Atlanta and coached your kids' youth football team. What makes him such a special person?
"My youngest son, Steve, who's a coach at Stanford, he spent more time with Atwater than at our house. He just hung out with his kids, slept over — they played ball or were doing something every day. … It's just that he treats everybody with respect. He was a guy who played at a really, really high level, but he was always aware of everybody around him and the people who did things to help him perform. That's what was good, and he was the same guy every day."
He told me that leading up to Super Bowl XXXII, the defensive backs had gone through so much film on the Packers that they told you midway through the week that they didn't need to watch any more. How did you react to that?
"There's a time in coaching every once in a while where somebody says they have it, and they were getting edgy. They were watching so much, they were getting edgy. It was just time to leave them alone and let them get to the game. We intended for them to have a good performance. I think we were 10- or 12-point underdogs, something of that sort. But when the moment was big, they all played good together, when they needed to on that stage. That was a really good Green Bay team."
When people look back on that team, they seem to look at the offense — Terrell Davis, John Elway, Shannon Sharpe, Gary Zimmerman, Rod Smith, Shannon Sharpe. Do you feel like the defense was underrated?
"It was just a really good team and good defense. I just look at the opponent we went against that day. They stood up to Brett Favre, and he had a great group of receivers and tight ends and a good running game, and Coach [Mike] Holmgren is a heck of a coach. They stood up on that day. It was a good program, with Coach [Mike] Shanahan and [then-defensive coordinator] Greg Robinson. They led us, and we were doing some really good things at that time."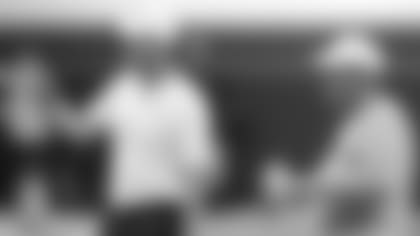 Moving toward the present, do you remember the first time you worked with Head Coach Vic Fangio and what your first impression of him was?
"Yeah, I do. I just know he was detailed, very business-like and he had command of what he wanted to do with the scheme. He knew exactly what he wanted to do. Very exacting."
And how does he apply those same concepts to how he is today?
"I think it all applies. One of the things is we've been working at this. This is our ninth year together in a partnership. We feel like we've always got to get better, and if you work together and you get that experience and you apply it, you will improve. The league is always improving, so if you don't improve, you will fall behind. He just has progressed with those principles. He's very honest and straightforward and he covers all the little things, all the details."
What's the one defining attribute you want this defense to have?
"The first thing is any great defense over the years is feared by opponents. People get on the field, they feel that you're going to be really tight to them, the coverage is going be there, the hitting is going to be clean. Our first and foremost place we start is tackling. And we were off to a good start in the first game. We liked the tackling. There's no summit to tackling. You have to work on it every week. If you just slip a little bit, you're going to look bad in your preparation. So, no summit to tackling, that's probably number one; if you're a clean tackling team, you're usually going to like what you see."
We've seen the defense create a bunch of turnovers at practice during camp and we saw some early in preseason. How do you coach a team to be good at doing that?
"There's just all kinds of facets that lead up to that, because everybody wants to do it. Everything from your players, your mindset, your scheme, the timing of the call, the disguises … but it starts with your mindset. We start with the mindset that it's our takeaway. Nobody turned it over to us or gave it to us. We have to go in and take it. It's not just going to happen. And you've got to prove it every year. Some years a little better than others. We intend to start it and get that going quickly here, because it helps you win."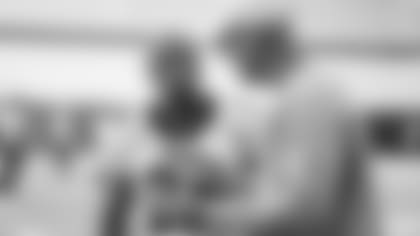 Your coaching experience is more in the secondary, and with guys like Chris Harris Jr., Kareem Jackson and Bryce Callahan, what do you think you can accomplish with that kind of talent?
"Every time you take over a group — and we've had two groups, four years in San Francisco and most recently, four at Chicago, and then here's another group — you just kind of have a vision for what you think they can do. Here, we've never quite had a group this experienced. They've been around good programs, good teaching, Super Bowls, and our deal is bring them together. Connect them and connect them to us, and then just see how far we can take it. We really think that is something way out there, in the form of excellence. But the league is pretty good, so we've got to play together. Time will tell."
Why do you feel that Isaac Yiadom can make a jump in his second year?
"I think first, his makeup. The guy wants to get better every day. That's first and foremost. He has talent. We like that he gives us a different guy. The guys you mentioned before, they don't have the size he has. So we're going to need him for certain matchups, and he can bring that to our team. But the biggest thing that we like about him is he has really good ability and he wants to improve every day, comes to work."
How rare is the combination of pass rushers you have here in Chubb and Von Miller?
"It's rare. It's very rare. In the defenses that we've put in, going back to San Francisco — Ahmad Brooks and Aldon Smith were our edge guys — and then we get Khalil Mack and Leonard Floyd, we get those guys together. And here's another really good group. But really the only thing that matters is you measure on winning. That's the only thing people remember. Did we come together and win? That's really what our focus is."