As a former Bronco, Defensive Backs Coach Renaldo Hill arrived in Denver knowing exactly what would await him: a tradition of winning and the high expectations that go along with it. Coaching a group featuring veterans Chris Harris Jr. and Kareem Jackson, he plans on fulfilling those expectations. After a recent practice, we caught up with Hill to get his thoughts on returning to Denver, how he's evolved as a coach and what changes he's seen in his old college coach, Nick Saban.
You were a Bronco before, when you played defensive back for the team from 2009-10. What stands out to you when you look back at your time here?
"A lot of change. Obviously, another championship was added. The building's changed — a lot of upgrades around here. We didn't have the indoor [practice field] before, so that's always a good thing. But that's also a product of winning and being in a winning environment. When you win, other things come along. So you can see how the building's progressed, how the things have progressed just to help the players, all to benefit the players. That's what Mr. Bowlen was all about. You can see the change that happened from my time being here to returning."
Was that what made you excited to return, that culture?
"Definitely. It was a warm welcome just even in my interview process, seeing 'Greek' [Director of Sports Medicine Steve Antonopulos], 'Flip' [Equipment Manager Chris Valenti] and people who have been in the building for a long tenure. It was great. It felt like home."
Before breaking back into the pro ranks, you cut your chops as a coach at Wyoming. What were you able to learn there?
"The biggest thing was coming from a player to a coach, learning that everyone doesn't see the game like I would see it. It takes more time. It also [requires] patience, as far as the teaching aspect, not expecting it to happen as soon as I [say it]. They say, 'If a player doesn't get it, then you need to tell them one more time.' It's a constant of that, and it allowed me to grow in that aspect. It got me out of my comfort zone; I didn't know anyone on that staff until I got there for the interviews. It allowed me to open up and network with other talented coaches around, and I still have those relationships to this day. But I saw growth in myself, just because it allowed me to have a room and a chance to make my mistakes and grow from there. I just think it was a definite benefit, and I'm glad I decided to take that opportunity there."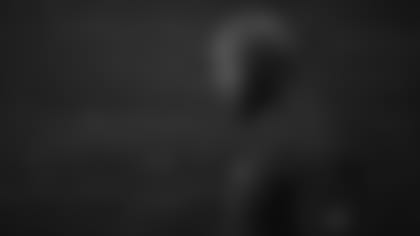 When you were a player, what characteristics did you like in your position coaches?
"There were coaches who were stern in their belief. There were coaches who were flexible when they had veteran leadership. To take control of the room, they let veterans have control of the room and they could step aside. But I think the combination of it all, maybe having someone who's disciplined and someone who's stern and flexible, because I guess the way coaching is now, you're going to fall into a lot of different rooms, and there are going to be opportunities when you need to be stern, or maybe you have a young core or maybe a group where you have some veteran leadership and you can allow it to be a little bit flexible once you hear your message being delivered through those guys. I think it takes an open coach to understand that, 'Yeah, I have my principles, and how can I still get my principles addressed and get them across to those guys?' But I think it's first letting them know where you stand and then understand what you do have in your rooms. I took it all. I enjoyed it all, having those different coaches in my room, and I try to do the same in evaluating where my room is at and what needs to be done. Do I need to be more stern? Do I need to be more flexible? It's just having a balance of both, I believe."
What's it been like working with Head Coach Vic Fangio and what have you been able to learn from him?
"Honestly, I feel like a little kid, just learning from Day 1. Everything that he says I'm just trying to absorb. It gives me opportunities to absorb and understand that there's a different way of doing things, not just the way I've been exposed to. It's a constant growth. If you see his defenses from San Fran to Chicago, it's always a new element that they're adding. He can kind of take you back through those archives and [how] things have evolved. I think in this game, you need to continue to evolve, so I'm a sponge in there. I'm really quiet and to myself, just trying to take in everything, because I know it's a lot of knowledge of the defensive part of the game."
As a former defensive back, what is it you admire most about your two most veteran players in Chris Harris Jr. and Kareem Jackson?
"They've been battle-tested. They're great leaders in the room for those young guys. They've been a part of groups where they've been the young guy and they saw others showing leadership, and they're able to reciprocate that and give it back to those guys. They're pros at what they do: They're locked in in meetings, they're detailed, there's a lot of questions. So, they're preparing themselves even by asking the questions to take their games to the next level. It's a constant with that, and they're hoping that the young guys sense that, feel that and are able to put some of that in their game."
You have some history with Alabama Crimson Tide coach Nick Saban. You played for him at Michigan State and more recently were able to observe his practices. How's he changed over the years?
"To me, I told some of the guys he's lightened up a little bit. I can remember walkthroughs where we weren't even allowed to say a word if we weren't in the play. I was kind of in shock and awe when I went back to Bama and could hear guys kind of talking while the walkthroughs were going on. But that's all a part of it. That's part of evolving, too, and learning that it's just a different generation, and you have to be able to adapt to those things as well. But as far as on the field, he's the same guy. I probably can jump back in there and jump right into the same terminology, same drills and have an understanding of what he's doing. And it's worked over the years. The one thing he will do is he'll definitely tweak and adjust, but he'll keep his basic core the same. And that's what you like about him. You know what you're getting all the time. It's not going to be one year something totally different, then the next year it switches. He's stern and he's the same in that aspect, but he does evolve as the game evolves, with the change from being two-back pro [formations] when I played to now RPOs [run-pass options]. He's still able to adapt, and the thing you like about his system is that it is adaptable to the change in football."