ENGLEWOOD, Colo. — Wide Receiver Coach Tyke Tolbert hates to lose in anything. When his oldest daughter was 4 years old, he bought an air hockey table. Though he was happy to concede a goal here and there, his competitive spirit wouldn't let him lose the game.
But that's just how he's wired. It's how his father Leon Tolbert was, how he is and now how his youngest daughter is.
"I got that from my dad and now my youngest daughter has that same competitive fire in her," Tyke said on Monday. "She's 9 and doesn't like to lose in anything. That's the biggest thing I got from my dad, being ultra-competitive."
That fire has been a driving factor in Tyke's career, first as a football player and now as a coach, and it was also what propelled Leon's athletic accomplishments that recently earned him a posthumous induction into the Prarie View Interscholastic League (PVIL) Coaches Association Hall of Fame.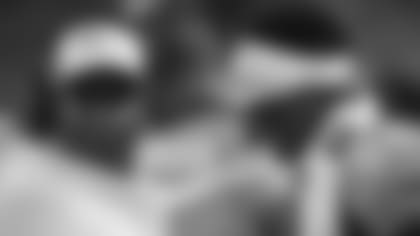 The PVIL was a pre-desegregation league that existed from 1920 to 1970, governing academics, athletics and music for black high schools in Texas. Among the esteemed PVIL athletes are six Pro Football Hall of Fame members: Joe Greene, Gene Upshaw, Dick "Night Train" Lane, Charley Taylor, Emmitt Thomas and Ken Houston.
At a difficult time in American history with segregation, the schools existed with meager resources but produced distinguished students who would become some of the country's finest citizens, athletes, entertainers and more. Though the era marked a dark period before the Civil Rights Movement, PVIL is proud to remember the outstanding people who came out of the climate in spite of segregation. "Remembering the past with pride" is the slogan that adorns the top of their website.
Leon Tolbert was one of those stellar athletes for Booker T. Washington High School in Conroe, Texas, where he won two state championships in the 1960's, including a season in which the Bulldogs went 13-0.
Tyke's mother designated him to speak on his father's behalf, which was a great honor for him.
"We were very humbled by his induction and we had some family and friends there," Tolbert said. "There was over 1,000 people in attendance because there were several inductees but my dad got inducted for football so it meant a lot. I know he would have been proud to be there if he could have been there but for my mom to designate me to give the acceptance speech on his behalf was a very proud moment for me."
Leon's athletic legacy lives on for Tyke and his family in his mother's collection of newspaper clippings from the era. Tyke knows some of the stories his father told may have had a bit of exaggeration, but those clips are able to document Leon's some of his proudest moments in his football career.
"He used to tell us a lot of things about what he used to do. But the funny thing about it is my mom kept newspaper articles and all that stuff so I can actually read it and see his name in print the things he actually did, which is pretty impressive," Tolbert said. "So he had the evidence, I guess, to back it up about how good of a player he was and things he did of that nature. But I'm sure that would have been very good for him, very proud for him to be able to be inducted into the Hall of Fame. And he would have been really, really happy with that."