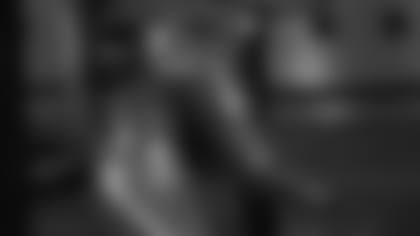 Socks may have foretold Leary's ultimate destination on his free-agency venture. When he packed his luggage for what could have become a multi-stop tour, he threw in a pair of argyle socks. They just so happened to be orange, blue and white. He wore them Friday when he was introduced to the media and toured the facility. Though it wasn't planned, his sock game worked out just fine.
Before Ron Leary became a starting NFL guard, he thrived as a basketball player at Baton Rouge (La.) Southern Lab. But that wouldn't last long.
"I was a basketball star," he said. "I felt like I was going to the next Mike [Jordan]. But I'm 6-3, 320 pounds, I wasn't going to be Michael Jordan (laughing). I put my hand in the dirt and I'm blessed it's been working for me."
Leary won't be returning to the court anytime soon, though.
"No, I got off the court. I hung the sneakers up and picked up some cleats."
Leary joins quarterback Paxton Lynch among the Broncos' Memphis Tigers contingent. Though Leary never played with Lynch, who left school after his junior season, he kept track of the team's progress from afar.
"We weren't there at the same time, but as soon as [Lynch] got there, they started winning," Leary said. "He's a proven winner, man. We weren't winning too much when I was there, but he got there and they started winning. He's a great kid. I talked to him yesterday. He sent me a text just welcoming me to the family. He's a good guy. I'm happy for him. He's going to get better with progress, with time. I'm looking forward to seeing him grow."