ENGLEWOOD, Colo. — The list of important events Andrew Beck wished his father was at is a long one: holidays, birthdays, football games, etc.
Chris Beck wishes he had been there for all of those, too, for what it's worth.
But as a commissioned officer in the U.S. Army, Chris had committed his future to serving his country. That meant a commitment to sacrifice. In the most critical of circumstances, that could have been his life. In that regard, he's been lucky. However, even the normal state of affairs also demands a painful level of sacrifice.
In that regard, as father, Chris has not been so lucky.
"I missed the very first time he wore his football pads," Chris says. "I think he was 7 years old or something and ran out on the field at practice. I missed a lot of things."
That was when Chris went to Iraq. That deployment was hard on Andrew, as Chris recalls, and he carries the proof.
"I still carry a note in my wallet that Andrew wrote to me when he was probably about 6 or 7 years old," Chris says. "I was getting ready to deploy to Iraq and the note basically says:
Dad, I'm very upset that you're leaving. You could work at McDonald's and that would be perfectly fine. I just don't want you to go. But I know it's your job and I know you have to.
"It was hard to read," Chris says. "I still remember where I was where he handed it to me."
These deployments — three in Afghanistan, one in Iraq — lasted 12 to 15 months, and they were tough for Andrew and his brother, of course. All they could do was try to understand the situation beyond their own walls.
"There was always the reminder of … while it may not directly feel like he's doing something for me, he's doing something to help improve our country or other countries around the world and things like that," Andrew says. "So that was one thing that just kind of pushed us through it. Like, yeah, it may suck that I have to give up my dad for a little bit, but somebody else needs him a little bit more right now."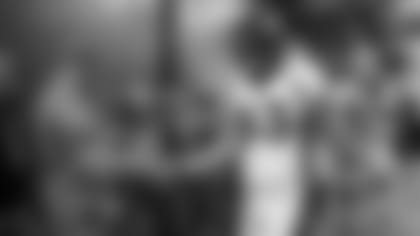 Those experiences still drive Andrew.
"I'm selfish just like every other kid, in the sense that if I'm doing something big or important or even the little things, I want one of my parents to be there for it, down to my professional games now," Andrew says.
Beyond that, he applies his lessons in the ways he tries to give back to the community. Andrew did outreach in 2019 to more than 300 military families through partnerships with America's Gold Star Families, Buckley Air Force Base, Fort Carson Army Base, TAPS (Tragedy Assistance Program for Survivors), USO Denver, VA Eastern Colorado Health Care System and Volunteers of America: Colorado. He also has volunteered at a PLAY 60 clinic for children from military families, visited veterans at a VA hospital and started a program called "Beck's Bags," which sends care packages to homeless veterans.
For his work, Andrew was nominated by the Broncos for the NFL's 2020 Salute to Service Award.
"As I get older, I have just more and more profound respect for everything that all of our military servicemen and women do," Andrew says. "We travel two days for a game, I get home and tell my wife, 'Wow, that stunk, I missed you.' And then I think, 'Well, my dad had to do that with my mom for 15-month periods of time. … I understood it when I was younger, but nowadays I kind of understand it a little bit more, which is why I try to do as much as I can to help the military community and just kind of find little ways to say thank you. Because day in and day out, those people give so much for us that any little thing that I can do is huge."
Naturally, his father has been a major inspiration for that, and Chris is honored to see how Andrew has made an impact all his own.
"I couldn't be more proud of him," Chris says. "It humanizes the experience and really, hopefully lifts some of the limits that kids may think they have with the military, of being a military brat moving around. He has been able to achieve a lot of great things, largely due to his work ethic and his demeanor. But yeah if those interactions with those young kids and those families helps those kids realize that being a military brat isn't a bad thing, then that's a great opportunity and I'm glad he's doing it."
In 2020, Beck will use his platform to support America's Gold Star Families as part of the My Cause My Cleats campaign. This year, he'll host a contest for children to decide the design of his custom cleats. Last year, he selected the same foundation and later auctioned off his cleats to raise funds for the cause.
Amid the COVID-19 pandemic, Andrew has been unable to do as much as he normally would. But his focus has remained the same.
For all families making the same sacrifices that his made, he'll do his best to make challenging times just a little bit easier.