During Pat Bowlen's 35 years as the owner of the Denver Broncos, he has left his mark on the team, the Denver area and the larger NFL community. The Pro Football Hall of Fame's Contributors Committee recognized his remarkable accomplishments — which include a winning legacy and immeasurable contributions to the league's growth — by selecting him as a finalist for the Class of 2019. As the final vote approaches, DenverBroncos.com will speak with a number of people who have seen firsthand Pat Bowlen's impact on the Broncos and the NFL.
We continue with former Broncos offensive tackle Gary Zimmerman, who played for the Broncos from 1993 to 1997. Zimmerman was inducted into Denver's Ring of Fame in 2003, and Bowlen presented Zimmerman when he was inducted into the Pro Football Hall of Fame in 2008. During his time with the Broncos, Zimmerman saw how Bowlen treated his players differently than other NFL owners and never accepted anything less than the best.
Zimmerman describes, in his own words, what makes Bowlen unique.
"I always thought … if I ever furthered my business degree, I would … compare the Broncos to where I played before. The difference is Mr. B treated you like an actual human being, whereas before you were more like an asset. Mr. B, he wanted to know who you were. He took care of your family. He met your family. You actually saw the owner. The place I played before, I never met an owner.
"I think something that was really special to me was the Super Bowl party. He had us over to his home and to me that is a very special thing because, I know myself, I don't like to invite strangers to my home, so the fact that he'd invite the whole team to his house was pretty special.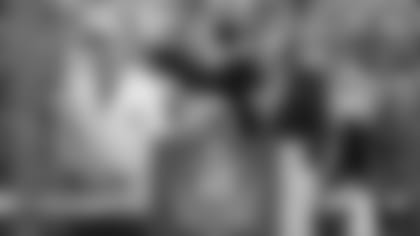 "The fact that he is personable, treated you as a human being, and the fact that he wanted to win and he'd do whatever he had to do to win was really important to me too. The place I was before was more of a bottom-line type place, where if Mr. B needed something, he'd spend the money and go get the assets. You always knew you were going to have a chance with Mr. B.
"The way that I felt about it was, when we lost, I kind of felt bad because we let down our owner. You know that is a special kind of feeling when you feel that for your owner, because where I played before, that was never a factor. I think everybody felt that Mr. B gave us the best trips, we stayed in the best place, we had the best food, he gave us the best chance to win and when we didn't produce for him, we kind of felt like we let him down.
"I think there was the flamboyant Pat with the furs, but I think his true personality was more like a lineman, because he never wanted credit for anything he did. He did a lot of stuff behind the scenes — charity work and stuff like that — that he never wanted people to know that he [did ]. He didn't want to be in the Ring of Fame, he thought it was for players only. He didn't want to be in the limelight so I kind of equate that to being a lineman. He liked to give everyone else the credit so that was really special that he was like that.
"He just loved being with his players, because, at lunch time, he'd come down to the weight room … and he'd get on that StairMaster and he'd try to set records on that thing, you know, how many flights of stairs he could do in an hour. You know, he was quite the athlete himself. He used to do triathlons and that kind of stuff, so he was very competitive that way also.
"Just to see him around so much is very special because a lot of owners, it's more of a business to them, but I think it was a business and family-type aspect with him. Even the non-players he treated right, you know, the equipment guys. … Where I played before, there were two guys who did everything … but Mr. B, he took care of everyone in the building and that what was something really special about Mr. B.
"He loved all the players who came before he owned the team [too]. He treats Floyd and all the older players the same as all the guys who played for him, so I think that is a special characteristic too. He opened his heart to everybody.
"A lot of owners have their special guys, but Mr. Bowlen liked everybody who played for the Broncos."