Beneath some of the grape vines that has made Sonoma County in California perhaps the most famous wine region in America, Todd Davis celebrated his marriage with family, close friends and teammates, and at least one person who might be considered all three.
Davis and Brandon Marshall, the other half of the Broncos' starting inside linebacker tandem, may have completely different lifestyles, with Davis being a family man and Marshall being a bachelor, but the two are very close.
From the moment Davis joined the Broncos, Marshall welcomed him with open arms, and in the years since, the two have pushed each other to become better football players and in the process, they've come to regard one another as family.
And on Davis' big day, Brandon wasn't the only Marshall at the ceremony and celebration.
"Not only was he there, but Mama [Barbara] Marshall was there too," Davis says. "We're all one big family, and that's what I love about him. … I think me and Brandon, Mama Marshall and my wife, we're all very close. It was great to have him there at our wedding. Mama Marshall can tear it up, too, on the dance floor. We were dancing all night."
With that kind of bond, the Broncos' inside linebackers know that by pushing each other will result in more great things not only for themselves, but also for the team.

Todd Davis' first moments as a Denver Bronco were, oddly enough, not in Denver at all, but in St. Louis.
The Broncos had put in the waiver claim on Davis on Thursday, Nov. 13, 2014, hoping to bring him to Denver in time to get a practice under his belt before the team traveled to face the Rams. But Davis was unable to get the call because he was still in team meetings in New Orleans. Earlier that season, the Saints waived Davis twice and then re-signed him to their practice squad shortly after each time he cleared waivers. It seems New Orleans imagined the same thing would happen the third time, so they let Davis stay in meetings so he wouldn't miss any instruction.
"It was a crazy process," Davis says. "I was actually in meetings when I found out. Two of my coaches came in the room, grabbed my linebackers coach and they all ran out of the room. … I look at my phone, and I have all these missed calls from a 303 number. It ended up being the Broncos. I got on the phone with them. They said, 'We've picked you up. We've claimed you.'"
There was no misconduct, but Davis was unable to get to Denver for that Friday practice, so instead, the first time he'd meet his new team was on the road just before a game.
"I flew straight to St. Louis, didn't know a single person, but met some of the guys and was able to go have some food with them the very first night I was there," Davis says.
At a table with Marshall and other new teammates, Davis got the lowdown on what to expect from life as a Denver Bronco.
"One of the things they told me was, 'You're going to love it here. We win here,'" Davis says. "It was just a winning atmosphere, a winning culture, and it's been great ever since."

Davis, of course, was inactive for that game in St. Louis. The Broncos needed linebacker depth when they brought him aboard, but they didn't need it bad enough to play someone who had not yet been able to get a feel for the playbook.
The time would come for Davis to step into the spotlight, but in his first weeks in Denver, Davis was brought into the fold as a backup for Marshall, who was in the middle of a breakout season in his first year as the team's starting middle linebacker.
Marshall, whose first season in the NFL mirrored Davis' in its ups and downs of being waived and re-signed multiple times, was more than happy to help Davis get adjusted as best he could. When Marshall first came to Denver, he observed the leadership demonstrated by Peyton Manning, Champ Bailey and Paris Lenon, and he knew that when the time came for him to fill that role for someone else, he wouldn't hesitate.
"I had a lot of good examples to learn from," Marshall says. "When it came time for me to bring some young guys along, I was all for it."
Davis particularly took to Marshall not only as something of a mentor but also as a role model.
"I love his story because it's so similar to mine," Davis says. "Being cut so many times and proving everybody wrong, I think that's why we connect so well. We kind of understand each other and the fight that we've had to go through to get to where we are today. But I love Brandon. He's the kind of guy that's going to tell you when you're not doing something right, but then he's also going to help you fix it, too. He's definitely a very caring teammate."
As Marshall offered advice, he could tell Davis had the talent to succeed as more than just a reserve linebacker.
"He came in, and I noticed right away that he was an extremely smart player," Marshall says. He came and picked the defense up quicker than some of the other guys we had."
When Marshall went down with a foot sprain in Week 15, about a month after Davis joined the team, the Broncos learned how fortunate they were to get a player as talented and smart as him.
"Especially after I went down with a foot injury, they felt comfortable putting him in over some of the other guys we had," Marshall says, "and I think that was a testament to his football IQ and how hard he worked. When he came in, I knew he was going to be a good player."
In Week 16, Davis' first start, he was a busy man, making eight total tackles. He added six in his second start in Week 17 against the Raiders.
But that promising start wasn't just the product of Davis' hard work alone. Marshall also brought the rookie along with extra instruction, helping him understand defensive plays as best as he could.
"What I wanted to do was come in and learn the playbook and learn where I was supposed to be and what I was supposed to do," Davis says. "But in every play, there's different nuances and different things that may come up that may not necessarily be in the playbook. For me, he was able to really tell me the things that the playbook or the pages weren't going to tell me that the coach didn't necessarily have the time to tell me because I just came over and I had to get ready for the week. So we were preparing for a team, but he was really able to give me the ins and outs of the calls, more so than just my assignment."
"You've got thunder, and you've got lightning," he says. "You've got 'Thunder' Todd Davis — the way he hits you, it hurts. And then you've got a lightning-quick cover 'backer in Brandon." Linebackers Coach Reggie Herring
In the passing years, much has changed.
It began with the defense moving to a 3-4 formation in 2015. In the more aggressive defensive front, Marshall and Danny Trevathan roamed the middle of the field for the Broncos.
In the midst of that historic season, however, the Broncos also got a brief glimpse of the linebacker duo that would be the foundation for the next two-plus years.
Trevathan missed his only game of the season on Dec. 12, 2015, giving way to Davis to start alongside Marshall against the Raiders.
Overall, the game was largely forgettable. Denver's offense, then helmed by Brock Osweiler while Peyton Manning recovered from a foot injury, couldn't muster anything more than field goals on its scoring drives and struggled to keep Osweiler upright. A muffed punt and a safety gave the Raiders the scoring chances it needed to come out on top.
But on defense, the Broncos had a rather terrific day. In the first half, the Broncos pitched a shutout on the scoreboard and held Oakland to minus-12 net yards. Ultimately, the defense couldn't keep the Raiders to the same production in the second half, but the loss became remembered as little more than a speedbump on the Broncos' way to Super Bowl 50.
As for Marshall and Davis, the game provided invaluable experience together.
So when Trevathan departed for Chicago after the season and Marshall moved to his vacated position and Davis moved into the starting lineup where Marshall had been, they felt comfortable.
"I think what excited me most was because we actually had a little bit of experience," Davis says. "There was [one game] that Danny was down the season before he left — actually, the Super Bowl season — that I had to start, and I was playing MIKE [linebacker] and Brandon was playing MO [linebacker]. So we actually had some experience before going into the season. And every game that we played together started alongside each other, we did great. … I felt really excited as far as us getting to play alongside each other, because we had a little bit of experience."
The fit, as their position coach Reggie Herring explains, just makes sense.
"You've got thunder, and you've got lightning," he says. "You've got 'Thunder' Todd Davis — the way he hits you, it hurts. And then you've got a lightning-quick cover 'backer in Brandon."
But as intuitive as the change seems now, an adjustment that awaited Marshall, who moved to the weak side of the defense, as well as Davis, who took on a new starting role with more than its fair share of responsibilities.
"You're the run-hit linebacker, where the [MIKE] linebacker is like the quarterback of the defense — [they] get everybody lined up," Herring says. "A lot of things are happening fast in there, in the core or the tight-end side. There's coverage adjustments that are a lot harder visually and mentally."
Herring, whose voice and temperament stands out at any Broncos practice, has high standards — and he's been more than pleased with what he's seen from the tandem.
"B-Marsh has responded; he went out there and he's covered for us really well over the past three years," Herring added. "Todd has developed into a quarterback leader [who] gets everybody lined up and provides us with a physical presence in the box that as good as anybody in the league. I don't care who you are — there's a lot of good linebackers in the league — but when you turn on the film, you'll see these two guys.
"... They don't make a lot of mistakes, and they come to play every game. That's something as a coach that I'm very proud of, and most of it has to do with the fact that the quality of these individuals and the ability to stay here together and work together and grow together."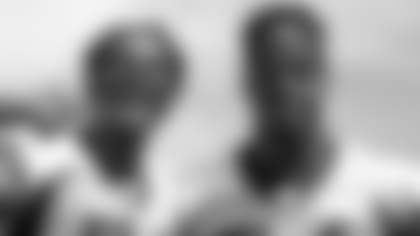 No NFL player will ever tell you they're comfortable where they're at or that they don't have room to grow, and that's true for Marshall and Davis, too. The two are coming off an outstanding season holding opponents to the fewest rushing yards in the league, and that's not enough for them.
To both of them, the key to improving is simple: It's all about continuing to work together and building cohesion.
"I think just the more you work with somebody, it's just going to work out," Marshall says. "The more you work and spend time with somebody, you're just going to click. You're going to mesh. I think that's what we've done. I know how he likes to play, I know what he likes to do and, I think, vice versa. I know how he likes to communicate. It's easy now for us."
Their bond, forged back in 2014, makes that easy.
"One of the things I love about Brandon is I really consider myself to be a hard worker, a guy that likes to push the pace and work really hard, but I feel like he's one of those guys who really makes me work even harder," Davis says. "I think that's what's allowing us to make each other better. That's what makes me excited for this season, and also the seasons to come, is that I feel like we continually make each other better, so we can only get better with time, because we're going to continually push each other."
And it won't just be their work together in the gym and on the practice fields that make them the best they can be. It'll also be the times they share at weddings and meals and other time together.
"I think at the end of the day, you play well on the field because of how you are with people off the field," Davis says. "I feel like the teams that win championships are really family-oriented teams. Everybody's close, everybody's fighting for a common goal and everybody wants to be great for each other."
Editor's note: An abridged version of this story appeared in the Broncos' Gameday Magazine for the preseason opener against Minnesota.