WALLACE, N.C. — For Jermaine Williams, every night preceding a Broncos game day is a sleepless one.
Even though it's his son, Javonte, who suits up in orange and blue on these days, Jermaine's as anxious for game day as he was as a teenage linebacker for James Kenan High School decades earlier.
"The night before the game, I don't sleep," Jermaine says. "The day of the game, I'm up [at] 5 o'clock in the morning, as if I'm playing. And my wife is like, 'Why don't you sleep?'
"I get butterflies like I've got a game that day."
Jermaine is a creature of habit, comfortable with these nerves. And there's more to the routine: Since Javonte first made varsity as a freshman in high school, Jermaine has texted his son the same YouTube link every morning of his games.
This is what heralds the biggest day of an autumn or winter week for Javonte, one of many ways that Jermaine expresses his pride. The two have a unique bond, one that's hard even for family to put into words.
"Oh my goodness," Javonte's mother, Shekemia, says. "How could I explain that?"
For the best chance at explaining it, let's start with "Pookie," the nickname that the father and son share.
As a kid in southeastern North Carolina's Duplin County, Jermaine was known to family and friends by the nickname, which his great-grandmother bestowed upon him.
That kid grew up, played high school football, met a girl named Shekemia — who went to James Kenan's rival school — and fell in love. Through it all, the nickname stuck. When they had a son, the nickname was one of the things that was passed down, along with a love for football.
When Javonte started playing contact football in the small town of Wallace, one of Jermaine's old teammates happened to be his coach. He started calling Javonte "Little Pookie."
"Ever since, it's stuck — but as I got bigger, the 'Little' part fell off," Javonte says. "They just started calling me 'Pookie.' Now they call him 'Big Pookie,' or 'B.P.'"
In football, "Little Pookie" didn't need long to show that he had a bright football. Jermaine recalls watching him score 16 touchdowns in his first year of contact football. A couple of years later, Javonte sat on the couch and told his father that he had big dreams that would take him beyond Wallace.
"I think it was at 11 years old," Jermaine says. "He told me that he was going to ... Wallace-Rose Hill, Carolina, then he was going to the NFL. …
"I sit back and think about that. When he told me sitting on that couch and to see that he actually did that — I mean, I ain't gonna say that I pretty much blew it off, but it was like a kid talking. And now to see that he actually … spoke it into existence, it's incredible."
Through high school, Javonte's parents supported him and his dream as much as they possibly could. When Javonte wanted to bulk up, his father would cook steak four or five steaks a week, including two after every game.
"His mom and dad, they're rocks," Javonte's first high-school coach, Joey Price, says. "… His dad did every job he could do to support his family. His dad's a barber and had to run a bail bonds company. His dad was just always around. His dad would go from here to the end of the world for his son. He never missed his games. I don't care where it's at. They'll do whatever."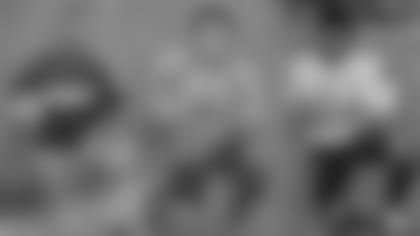 Growing up the son of a barber has its perks.
Javonte could ask for a haircut pretty much at any time and as long as he didn't ask for a design in his hair, Jermaine could take care of it right there in their home. When looking at Javonte's yearly youth football pictures or his yearbook photos, he has a different haircut in pretty much each picture.
And when Javonte went off to the University of North Carolina in Chapel Hill, about a two hours' drive away, Jermaine would use his day off each week to make the trip to see his son, bring him some home-cooked meals and give him a haircut.
"That was my favorite day of the week, just to get up there and spend time with him," Jermaine says. "Because when we left, I looked at him and I knew that he didn't want to be away from home, so every chance we got we went up to spend with him."
In 2020, it became clear that Javonte wouldn't be sticking around Chapel Hill for much longer. In his junior season, Javonte set a school record for touchdowns scored and was named a second-team All-American by the Associated Press. Months later, he was drafted by the Broncos with the 35th-overall pick.
"When he got the phone call, I probably cried more than he did," Jermaine says. "Because I know that he's pretty much fulfilling what he said he's doing."
And maybe at least one tear was shed knowing that someone else would be cutting Javonte's hair.
"Before I came to Colorado, nobody else had cut my hair," Javonte says. "Once I came to Colorado, he couldn't come every Wednesday because that ain't as short as Chapel Hill. So that's when I had to find a new barber. Before I got drafted, nobody else had cut my hair."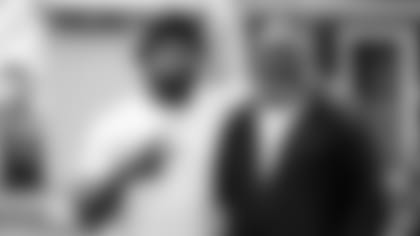 Shekemia doesn't know exactly how to describe Jermaine's bond with Javonte, but the best way she knows how is by telling a story about what it's like when she, Jermaine and their daughter Raedeyah travel to Javonte's games.
"Any time we go anywhere, like when we go to the airport or something, he's like, Don't say nothin' about 'Vonte. Don't tell them we're going to the game and Javonte's your son and all this stuff and your brother," Shekemia says. "We tell him, OK, we're not going to say anything, but we do have on all this Bronco gear, so they're going to know we're going to the game.
"And then they're like, Um, are y'all going to the game? And he's the first one: Yes, we're going to the game! My son plays!
"What?!You just told us not to say anything and you telling everybody! But that's just him. He is just so excited."
So excited, apparently, that when Javonte called during the offseason to talk, Jermaine asked him, "You watching the game?"
The next game of the NBA Finals wasn't until later in the week, so Javonte was confused.
"He's like, I'm watching the Broncos vs. the Cowboys," Javonte says. "He was watching the replay from it. … He's always doing that. Every college game he's got recorded on the TV. It's so crazy. My baby sister knows; she's like, Vonte, Vonte. She knows from TV, that's how much he watches."
There may not be a word strong enough for the level of pride Jermaine feels.
"Definitely," Jermaine says. "That's an understatement."
The love between them may be hard to express, but that doesn't mean it's hard to understand. "Big Pookie" has always been there for "Little Pookie," going to his games, cutting his hair, believing in him and believing in who he can be.
"[He's] just somebody that's always been there for me, no matter what it is," Javonte says. "I can call him any time I wanted to; he's going to answer the phone and pick up. He's always going to keep it real with me. Doesn't matter whether it's going to hurt my feelings or not, he's going to tell me the truth. And that's why I love him so much."