I went to my first Denver Broncos game on Nov. 15, 1964, and the Broncos defeated the New York Jets 20-16.
By far the most impressive performance in the game was cornerback Willie Brown's four interceptions, which tied the pro football standard that still stands as the single-game record.
Brown was a great player and he wore number 24, a classic number for defensive backs and running backs.
In Broncos history, 14 total players have worn 24, including running back Otis Armstrong and cornerback Deltha O'Neal, but only Champ Bailey could make the number so recognizable as his. And though that is still the case, it just feels right that these two great cornerbacks in Broncos history are will soon be tied together forever as Pro Football Hall of Famers, too.
But although Brown did begin his Hall of Fame career in Denver, the Broncos would not be the team with whom he spent most of his time — unfortunately for Denver.
Brown was named All-American Football League in 1964, which came as no surprise to any who watched him play, and he led the team with nine interceptions that year.
But when Lou Saban was named head coach/general manager after the 1966 season, he made what I considered a disastrous trade (and it certainly proved to be so) with the Oakland Raiders, trading both Brown and quarterback Mickey Slaughter to the Western Division rivals for defensive lineman Rex Mirich and a third-round pick.
Brown of course went on to have a great career with the Raiders, adding 39 interceptions with Oakland for a career total of 54. He also won an AFL Championship and three Super Bowls, including Super Bowl XI — in which Brown returned a pick 75 yards for a touchdown. With the Broncos, Brown was a two-time AFL All-Star Game selection and a one-time All-AFL selection. But in his years with the Raiders, he added two more All-AFL nods, three more AFL All-Star Game appearances, four Pro Bowls and two NFL All-Pro selections.
He was inducted into the Pro Football Hall of Fame in 1984, becoming the first player who had ever played for Denver to enter the hallowed Hall of Canton, Ohio.
It was a proud moment for Willie Brown and the Raiders, but a slightly more ignominious one for the Broncos.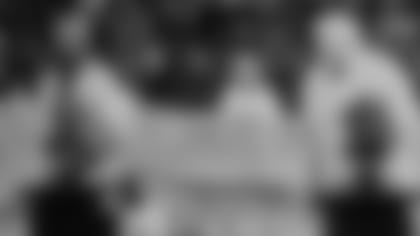 But just as Brown had been traded away from Denver, Bailey came to the Mile High City by trade as well, this one with the Washington Redskins in the offseason prior to the 2004 campaign.
The seventh pick of the NFL draft in 1999, he had been an outstanding player for the Redskins. And over the next 10 seasons with the Broncos, he would earn his place in the Pro Football Hall of Fame, just as Brown had done.
Bailey's career ledger shows 12 Pro Bowl selections, the most ever by a cornerback, three first-team All-Pro selections (all as a Bronco) and four additional second-team All-Pro selections. 
Champ led the league in interceptions in 2006 and was named to the NFL All-Decade team for the 2000s.   
A tale of two cornerbacks — one who started a great career in Denver and paved a Hall of Fame path with another team, and one who started a great career with another team and paved a Hall of Fame path in Denver.
Little else may connect those two cornerbacks, but both also wore 24, and that number appears to have come full circle.