In a long career in pro sports, I never dreamed that I would be writing about the Pro Football Hall of Fame from the inside, within the Hall.
Earlier this year, the Hall announced the selection of 20 individuals for its inaugural Awards of Excellence, and I was greatly honored to be among that group of assistant coaches, athletic trainers, equipment managers and public relations personnel.
The program for the June 30 event states that this group "not only helped to determine results on the field, but they also contributed to advancing the game's growth, safety and popularity over several decades of devotion to their teams and to the National Football League."
I have always been enormously proud of being a Bronco and also of the NFL, the greatest pro sports league in history, frankly.
The four groups presenting the Awards of Excellence created their own Selection Committees and set their own criteria for choosing their inaugural class members, who are:
Assistant coaches Alex Gibbs, Jimmy Raye, Terry Robiskie, Fritz Shurmur and Ernie Zampese.
Athletic trainers George Anderson, Otho Davis, John Omohundro, Jerry Rhea and Fred Zamberletti.
Equipment managers Sid Brooks, Ed Carroll, Tony Parisi, Dan "Chief" Simmons and Whitey Zimmerman.
Public relations personnel Joe Browne, Charlie Dayton, Joe Gordon, myself and Gary Wright.
All of our names now adorn a special display inside the Hall of Fame Museum.
Hall of Fame quarterback Dan Fouts presented the awards, and after accepting mine I was honored to accept for Gary Wright, who was not able to attend due to a long-planned family trip to Spain.
Twelve of us are living, but the eight deceased members were well represented by family members.
It was a spectacular function, and as Saleem Choudhry of the Hall told me, "We are having a luncheon for over 300 people, none of whom live in Canton! They all travelled here for this induction."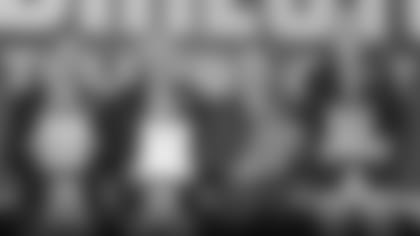 Gibbs, who achieved great success with the Broncos, among several other teams, had a dozen family members present and it was great to speak to them.
From my perspective of 36 full years with the Broncos and having been a consultant for nine more, so many faces were familiar. With having worked and attended 988 pro games, the faces and names were a blur.
As incredible as it is to have worked for the Broncos since 1978, this was a huge room full of people I have known that long.
Yes, several for everyone honored, and many more for Hall members and representatives.
I want to give special thanks to my wife JoAnn, who actually arranged for several of my closest friends to attend without telling me.
She is the first one to thank, always.
Our daughter and son and grandchildren came, creating a memory that will never leave me, and so did cousins and lifelong friends too many to mention.
I want to thank dear personal friend Mike Ornstein, former Hall president David Baker, as well as current president Jim Porter, vital Hall employees Saleem Choudhry, Joe Horrigan and George Veras.
Yes, but I am thankful to all.
And special thanks to every player, coach and media member who created opportunities and challenges daily.
Each moment was one in which one could prove himself and his worth, all over again.
I have received so many calls, text messages, Twitter and Facebook messages, and I say thank you to every one.
From a forevermore position inside the Pro Football Hall of Fame.