ENGLEWOOD, Colo. — Though he never played for Mike Shanahan, as an opponent, Peyton Manning knew just what made the longtime Broncos coach so worthy of election into the Ring of Fame.
"I have great respect for Mike Shanahan, and what a deserving honor to be inducted into the Broncos' Ring of Fame," Manning said. "Mike's teams were always prepared to play, always cutting-edge on the offensive side. I remember when I first got to Indianapolis, we used to study a lot of the Broncos' plays and some of the things that they were doing in the running game and the play-action passes off of that. Mike was that way for all NFL teams. People wanted to know what Mike Shanahan was doing, because he was always kind of ahead of the curve."
As a young player entering the league as Shanahan helped lead the Broncos to their second championship, Manning watched from Indianapolis as Shanahan continued to make the Broncos a top offensive team even after John Elway retired. Denver ranked in the top half of the league in rushing yards in each of the 10 seasons from 1999 through 2008, and the offense was ranked in the top eight in passing yards four times.
"Mike was very innovative," Manning said. "He was always willing to adapt to changing times to base his offense on what his players on that team did well, although he was also excellent at bringing in players that were going to be able to handle his offense."
In Manning's eyes, one of the most impressive things about Shanahan's legacy as a coach was how he found players who fit his scheme and got the most out of them.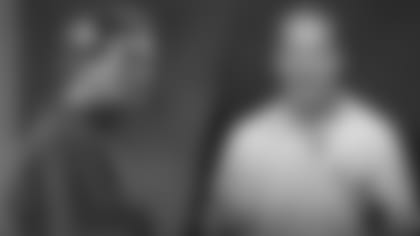 "[He had] those certain types of running backs — [they] might not have to be a first-round pick, but you take the Terrell Davis, who they got in the sixth round, and you find guys that are going to fit that scheme," Manning said. "The offensive linemen, they had to be smart, they had to be tough guys, had to be athletic. Receivers had to be willing to block. A lot of receivers, hey, you want to catch passes; if you didn't block as a wide receiver in Mike Shanahan's offense, you weren't going to see the field. Those things just showed up year after year with his teams. It just tells you the quality of coach he was. And his hands were on everything, bringing the players in and also developing them as players, as well."
During his NFL career, Manning battled Shanahan's Broncos eight times (six during the regular season, twice during the playoffs), but he also played for him once, when Shanahan coached the AFC in the 2006 Pro Bowl.
"It's a relaxing week over there in Hawaii, but if you love football, you're still going to talk football with other players and other coaches," Manning said. "And Mike and I really enjoyed that week talking a lot of ball, talking about offensive schemes, talking about other players and games.
"[I] really enjoyed that week and kind of formed a friendship and a bond that still lasts today," Manning said. "This is even before I got to Denver. I used to see him when I'd come to the Combine in Indianapolis and always took a moment before or after the game when the Colts played the Broncos or the Broncos played the Redskins to shake his hand and have a little conversation with him. I've enjoyed his friendship since that Pro Bowl and really appreciate his support of me as well."
With Shanahan's enshrinement ceremonies delayed until 2021 due to the novel coronavirus pandemic and Manning becoming eligible for Ring of Fame induction next year, it appears likely that he and Shanahan will be celebrated by the team during the same season. As a friend and someone who respects Shanahan's contributions to the game, that honor seems to be something Manning would appreciate.