It has been a difficult journey for KJ Hamler over the last year, but the wide receiver worked his way back to the field and hopes to be an impactful player for the Broncos in Year 3. Hamler tore his ACL and injured his hip early in the 2021 season, and he was able to return in Week 1 after battling his way through both mental and physical adversity. We sat down with Hamler to talk about making his comeback, learning from Russell Wilson, cooking for his teammates and more.
Ellie Kinney: What was going through your mind when you walked onto the field in Seattle and took that first snap?
KJ Hamler: "Honestly, I was really anxious at first. I've never really been that nervous for a game. That's probably the first time I've ever been really nervous for a game, but I was prepared. I knew what I was doing, things of that nature. Wish we could've got the win, but just glad to be out there. Blessed to be out there."
EK: You shared a very honest story during training camp about your battle with mental health, and it resonated with a lot of people. Were you surprised at all by the response that you got?
KH: "Yeah, I didn't really know it would touch a lot of people like that, or that people would text me, 'Man, you're very brave, I appreciate you,' things like that. The fact that I made a difference in some people's lives was big for me, just to even know that. I was just telling the story of how my life has been so far, and it affected so many other people — I didn't know it could do that. I'm glad I did it."
EK: You're in your third season now. What are your expectations for yourself and for this team in 2022?
KH: "Main goal: Super Bowl. That's the first thing. My personal goal is Comeback Player of the Year, and just to stay healthy and be a key factor to this team and to this offense. I want to be more of a leader, be more of a guy that people can lean on and rely on. I've just got to take preparation and do all the little things right, and that time will come."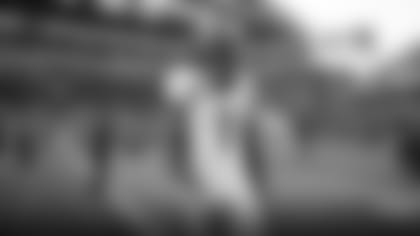 EK: With a lot of new changes this year, what kind of leader has Russell Wilson been as you guys have been putting together this offense?
KH: "Russ has been a big piece. He's probably like one of the coaches — just how he talks to us, how he is in meetings and things like that. I sit right next to him in meetings, and if he sees me not taking notes, he always says, 'Take notes. Always keep taking notes. You can learn something from anything.' That's his biggest thing — just his mindset and how he talks about things in a positive light. The mind is very strong, so he just taught me how to switch my vocabulary, switch my language of certain things. Russ has been a big help and a big piece of this team."
EK: It's been great to see you take Montrell Washington under your wing. Can you describe the relationship that you two have?
KH: "Trell, that's my guy. He calls me 'big bro' even though he's older than me, because I've been in the league for three years and this is his first year. [He's] just learning from me, because I was kind of similar to him coming in my rookie year, just overthinking a lot of stuff and things like that. I keep telling him to slow the game down. We live in the same apartment building, so he always comes down to my room and we just go over plays and talk ball and just joke around sometimes. That bond that me and him have, and I think all the receivers have, the chemistry is really important."
EK: Your teammates always describe you as the guy who brings the energy and positivity, day in and day out. How important is it to you to make sure the team is motivated and in high spirits?
KH: "I think that's one of my key things I like to do — just making people smile, making people excited. Just going on the field and being me. A lot of people will know it's not me if I'm not having fun on the field. … Just enjoying the game, playing football. This is a game we all love to play, so I'm very blessed. Every day I walk on that field, I'm blessed. I've been through too much to not enjoy it."
EK: Who is KJ off the field?
KH: "I really like music. I got into music a little bit during this whole [rehab] process. I'm really a chef, I really cook. I've got to cook for the receivers, I'll probably cook for the receivers this weekend. They want the same thing every time — they want soul food every time. I haven't switched it up in three years. It always hits. I've got to get the tight ends over there, because they've been asking me. … [Those are] probably the two main things, and just learning new things about myself."