When Adam Gotsis first joined the Broncos as a second-round pick in 2016, many analysts viewed the Georgia Tech product as a project. Since then, the Australia native has steadily progressed on the defensive line and is now in his third season as a starter — and he's not done yet. We caught up with him just before the start of the season to get his thoughts on how he wants to improve further, his thoughts on Head Coach Vic Fangio and much more.
When you were drafted, analysts thought you were a project. Now this is your third season starting. Where do you think you've made the biggest strides?
"Just everything. I've just developed as a player as a whole. My run game has gotten real good, pass game has gotten good — but I've just got to improve on that a bit more. I think I'm one of the best guys in the league that can play the run and hopefully turn my pass rush up a bit this year and get to the quarterback a bit more and just see what happens. Coming in, all these people have opinions of you and you as a player, you've just got to go out there and play your game and establish yourself as who you are in this league. People are going to find out sooner or later whether you are a guy to grow into a role or you're a guy that can come in and play right now. For me, it was just coming in, working hard and when that opportunity was there, it was there. I've enjoyed it."
What have your impressions of Vic Fangio been?
"He's locked in. It's football, football, football. I think he's seen that we didn't really have an identity or culture the last couple years, and I think it's something that he's trying to instill, that we're a workhorse of a team and we're going to go out there and grind it out and play hard, physical football. That's just the mentality that he brings every day, the way he comes to work every day, just the way he plans everything."
How hungry are you for the playoffs?
"That's one thing I haven't seen since being here. I came the year after the Super Bowl, and we haven't been back since. I know there are still a couple guys on this team from the Super Bowl that want to be back there, and I know there's a bunch of guys that have come in since that want to get back there, too, so that's the goal: to make the playoffs, and then from that, you want to go all the way to the championship."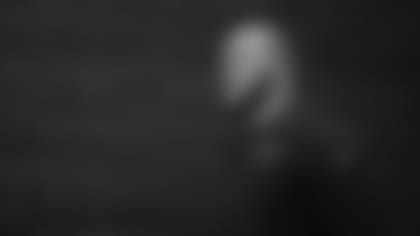 How do you relax and stay grounded when you're not here at UCHealth Training Center?
"After a couple years in the league, you kind of learn what works best for you. Some people can just go home, turn on Netflix or something. Some guys like to go home and hang out with their girlfriend or their dogs and stuff. It's all pretty chill. I just go home and relax. I go home, watch some film, some Netflix, hang out with the dog, take my mind off football for a second or two. Then you've kind of got to lock back in for the next day."
What are you watching on Netflix right now?
"I just watched the new '13 Reasons Why.' I just finished season three, so I'm looking for another show."
Who's your closest friend on the team?
"I mean, there's a couple. All the guys in the D-line room I'm close with. The guys next to where my locker is: [Andy] Janovich, Jake Butt, Isaac [Yiadom]. They're all guys that you see every day and you become friends with them."
How have you been able to get teammates to latch on to pieces of Aussie culture?
"There's a few guys that you talk to about Australia and stuff, and they want to plan some offseason trips. Kalif [Raymond], who used to be on the team, he came home with me a couple times. It's hard to explain — they've just got to come over and check it out themselves."
The last couple of years you've selected the same charity for My Cause My Cleats. What is it about Around the Campfire that you've taken to?
"It's a back-home initiative, and I wanted to raise awareness — similar to some things that happen here — [to] some racial injustices that we see back home still, equality among all people. I think it's a good cause and a way to just raise some awareness back home for that and also raise opportunities for kids back home to do the same as other people."