ENGLEWOOD, Colo. — When Peyton Manning's 14 years as an Indianapolis Colt ended and he considered free agency for the first time in 2012, he approached the decision with a careful eye. And after he chose the Broncos as his ultimate landing spot, he pointed to Broncos Owner Pat Bowlen as a major component of his decision.
It was Mr. Bowlen's leadership and devotion to the team's success that gave Manning the confidence that this choice was the right one.
In the years after that, Mr. Bowlen stepped away from the team's day-to-day operations as he battled Alzheimer's disease, but his impact remained through Manning's final game — as John Elway dedicated the team's Super Bowl 50 victory to Mr. Bowlen in the moments after Manning and the Broncos hoisted the Lombardi Trophy — and well beyond.
On Saturday, following the news of Mr. Bowlen's passing late Thursday night, Manning recalled his memories of the Broncos owner, including when they first met and how Mr. Bowlen impacted his decision to sign with the Broncos.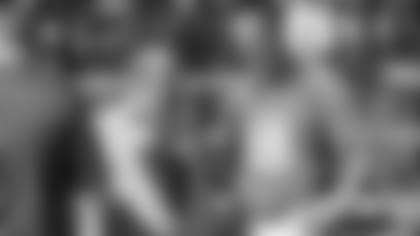 "My deepest sympathies go out to the entire Bowlen family. I met Mr. Bowlen for the first time when I played for the Indianapolis Colts and I was over in Hawaii at the Pro Bowl when he was also there at his Hawaiian home. I saw him several times throughout the years and had short, brief conversations with him that I really enjoyed.
"Coming to play here for Denver, even though his health was declining, I did enjoy a couple of conversations with Mr. Bowlen. In my first year in 2012, I was here a lot in the offseason. As soon as I signed with the Broncos, I was basically living at the facility — studying film, rehabbing and working out. I was usually one of the last to leave the facility during that time. I say, 'I thought I was the last to leave,' but Mr. Bowlen was still there. He'd usually be in the training room on the elliptical, and I would go in there and have conversations with him. He was asking me if we found a place to live yet, and I remember once I told him we found a place to live, he told me he used to live right near there, and we talked a little about that. Just short, brief conversations, and I enjoyed that time with him.
"It was an honor to play for Mr. Bowlen's organization, as I've said numerous times. I always had great respect for the Denver Broncos during my time playing for the Colts competing against his organization. So much of that credit goes to Pat Bowlen and his desire to be the best and to win. That had a lot to do with me signing with the Denver Broncos — that I knew Mr. Bowlen was all about winning and I knew the people that he had hired would carry on that tradition and legacy. It was a great decision to come play here — we still live here today. I'm grateful for Mr. Bowlen and the legacy that he's established with the Broncos, in the NFL and certainly in this Denver community. He will be missed by many. It was an honor to know Mr. Bowlen and a real pleasure to have played for his team — the Denver Broncos."