ENGLEWOOD, Colo. —** One of David Lynch's earliest memories of his son Paxton playing football is captured in a photo. In it, a 3-or-4-year-old Paxton is in diapers throwing a football on the field at Florida State, a glimpse of the career he'd yearn to achieve many years later.
David, along with his wife, Stacie, and their older son, Evin, each offered Paxton the support to help him reach the NFL. Without them—his father's devotion to be involved, his mother's openness and comfort, his brother's drive to see him succeed—Paxton Lynch may never have gotten this far.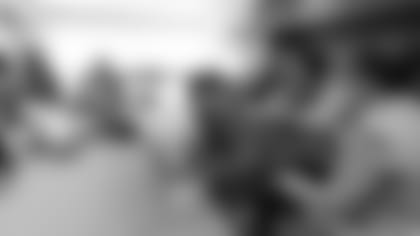 It begins with his father, a former college basketball player who even had a run on a semi-pro team that played the Harlem Globetrotters, as Paxton recalled.
"He played at Texas Wesleyan growing up, so he's an athlete and knows how it is, at least at the college level," Paxton says. "He had a chance to go play but he said his parents didn't really push him as hard as he believed he could have been pushed."
With both his sons, David was a pillar of support. Naturally, he was particularly involved in their athletic dreams. There was just one rule, which was that they couldn't quit after just starting or during a season. He saw them through, encouraging them along every step of the way.
"They had a really great relationship," Stacie says. "As a matter of fact, even in Pop Warner, he used to help coach when Paxton played Pop Warner. When he got to junior high and Paxton went to the private school, Dave was his junior high football coach. They went undefeated that first year Paxton played in junior high. When he went up to the high school level, Dave wasn't the coach, but he was always involved. He was always trying to stay involved, whether it was keeping stats on the sideline or something like that."
After being so close to Paxton during games prior to college, David found watching Paxton's games at Memphis from the stands to be difficult, particularly in Paxton's first season, a rough-and-tumble year in which he threw 10 interceptions to just nine touchdowns.
"They had to sit up in the stands and listen to fans say what they said," Paxton says. "I know it wasn't easy for them. My dad used to have to get up and walk around the stadium the whole game instead of sitting in one spot so he didn't have to listen to it."
But David always believed. They all did. Paxton put his first-year struggles behind him, throwing 50 touchdowns and only 13 interceptions in his next two seasons before turning pro.
"He's very supportive but at the end of the day, he's not there to just pat you on the butt and say, 'Good job' every time," Paxton says. "He tears you down sometimes when you do bad and then brings you back up, and he's always there for me," Paxton says. "He's definitely one of my biggest supporters and my biggest mentors, for sure."
David and Stacie could tell their two sons had special athletic gifts from, well, pretty much when Paxton and Evin were born.
"Paxton and his brother—the oldest one was a 10-pound baby and Paxton was almost 9-pounds," Stacie says. "With their dad being athletic and I played basketball, we could see when they were really little that they were going to be athletic. We just kind of started to develop that gift and get them involved in sports early on. By the time they were in high school, we could see that they had a gift. It was just a matter of grooming that gift and obviously trusting God that they would go wherever he wanted them to go."
To provide Paxton and Evin, now a pitcher for Stetson University's baseball team, with the opportunity to chase their dreams, David and Stacie—like many other families do—had to make sacrifices.
Stacie had home-schooled the children through seventh grade, all the while working jobs that allowed her to be at home during the day. But when they moved on to schooling outside of the home, she began working at a local Winn-Dixie in the bakery, which—to Paxton's delight—allowed her to bring home some of the treats she made.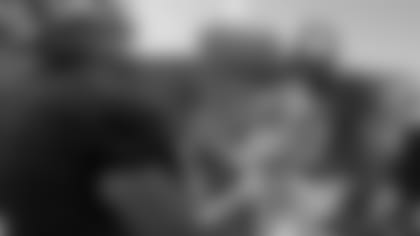 The two worked hard to be able to send their children to Trinity Christian Academy, a private school in Deltona, Florida. But what they gave up allowed a bright future for each of their sons, and to be involved with it hardly seem like sacrifice.
"It was a joy to spend time with those two and just help them do what they wanted to do. It was fun," David says. "I wouldn't call it a sacrifice."
The changes that Paxton's draft process engendered have been wild for all the family, from the pro days to the offseason program. In the middle of it, Stacie came to Denver to help Paxton settle in with an apartment and furniture. While she was in town, the timing worked out that she could join Paxton for the signing of his first NFL contract, a momentous step not only in his life and career, but also an important experience for Stacie as a mother to see him realize a part of his NFL dreams.
"She's more of just the kind of mom that always sees you as her little son that is kind of growing up now," Paxton says. "She's very supportive and I like bringing her along whenever I get the chance to, so she can experience it, too, because she thinks everything is the coolest thing ever, especially stuff like this."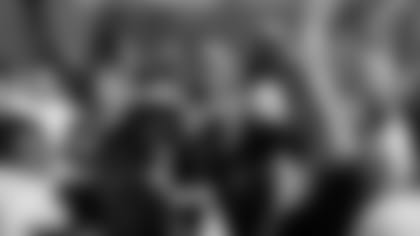 The ride isn't over for the Lynches, either. It's just the beginning. When Paxton plays in his first game as a Bronco, whenever that is, his family will be watching, remembering the little boy at Florida State making his first football memories and the young man who led Memphis to arguably two of the best season in program history. "I'm sure it's going to be emotional," David says. "Over the years, as a parent, watching your kid play Division-1 football or high school football and now the pros, you try to enjoy it and hope he plays as much as possible. But there are a lot of emotions involved there. It's going to be a good time. It's going to emotional for me and my wife."