Every week, the offensive line goes to dinner together. Sometimes other teammates join them, too, but the linemen are the regular members.
To be a fly on those walls would reveal some terrific stories — stories of humor, of warmth, of how they cement the bonds that must withstand the weekly on-field tests from the likes of Khalil Mack, Joey Bosa and so many other players who wish to divide them to reach the quarterback or running back.
But they have no stories for you or me.
That's generally the way of this offensive line, which puts as high a value on trust as any position group on any football team. And to hold one another's trust, no one can be loose with those kinds of tales.
But what's important is to know that a group that added three new starters and one key reserve into the fold has forged the connections that help make them one of the most improved and formidable groups in the NFL.
It was a transformation that unfolded in three waves — through free agency, the draft and at the beginning of training camp — and with each addition, the room developed. It gained new talent and a new personality, which begins with the signings of Ron Leary and Menelik Watson.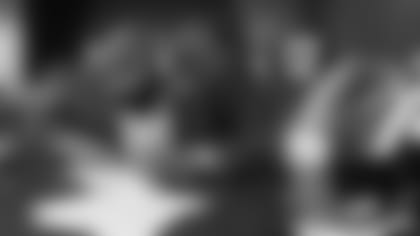 The Broncos' two keystone offensive line signings inked their contracts on the same day.
President of Football Operations/General Manager John Elway was reshaping the line with a new spirit in mind, and Leary and Watson were integral to that mission.
The two veterans were in a unique position. The Broncos' line was still relatively young, which gave the newcomers the chance to help cultivate a different culture with their new teammates.
Leary and Watson talked about what had worked well in previous years when they were with the Cowboys and the Raiders, respectively, and they incorporated those lessons at both a group level and an individual level.
For Watson, the most expressive guy in the room, it was about making a culture of transparency. Through that philosophy, Watson felt his teammates would be able to go to each other at any time for any reason for advice, a vital requirement if they were to be able to trust each another.
"It was cool, man, because it was me and Ron, kind of the new guys," Watson says. "I think there was a new vibe to the room and I kind of just wanted to be an open book with everyone so they know who I am, what I'm about, trying to establish this culture I'm going to bring here. But it was fun. It was like a challenge. It was a fun challenge getting to know different guys and their personalities, what they're like, what they like to do and the tendencies of guys."
Leary, who is more subdued, preached ways to approach their craft in the most professional manner they could.
"I just wanted to be a leader, to show the guys the way to work on and off the field, how to study, how to practice your craft and everything like that," Leary says, "and for the most part they know what they're doing over here. I'm just blessed to be in this situation with a good group of guys. Everybody listens [and] we all want to be better, so that's all we're focusing on."
Leary and Watson felt they had some responsibility as veteran leaders in the room to try to put a new touch on their new environment, but they also respected the work that had gone into the existing structure by leaders like third-year center Matt Paradis.
"Matt sets the tone a lot of the time. We cannot exclude that," Watson says. "But yeah, we just — me and Ron — we're very prideful guys. We're not perfect by any standard, but we've got a lot of pride. So if something's not right, we want to fix it. We win, but it's not perfect. We're not 100-percent happy. We're both on the same page and when they brought him on my side, it was an easy transition."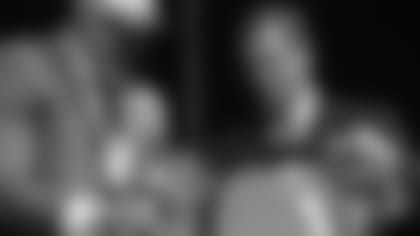 By the time the sun rose on the first day of the NFL draft, the Broncos had four of the five eventual starters on the line.
By the time the sun set, they had all five.
With the 20th-overall selection, the Broncos drafted Utah tackle Garett Bolles, hoping his talent and work ethic would allow him to start at left tackle in his first season.
But that was not a role that was to be handed to him. He had to earn it, and he knew it.
So Bolles set out to hone his skills with the help of multiple veterans on both sides of the ball, sometimes before practice, sometimes during breaks in practice and sometimes after practice had concluded.
"Menelik Watson and Donald Stephenson, they took me underneath their wing and continued to push me every single day," Bolles says. "They knew I needed to come here and step things up. They made me better and I made them better by just working hard together. Me and Menelik, the last couple months before we started the season, we just worked on our sets together so that we can get better and continue to improve so that when the time comes on Sunday we'll be ready to roll and our sets are on point."
Watson wanted to simply be a resource for the young left tackle, there if he needed him, but not an overbearing teammate grinding lesson after lesson into him.
"At the end of the day, Garett's his own man and that's one thing you have to respect, especially being an older guy," Watson says. "You don't want to impose yourself on a guy. He's a grown man at this point. But you kind of want to be there in case he does need you and because he has more questions. I just talk to him about the league, what it's like and what to expect week in and week out. He's a [freaking] sponge and he's soaked it up and he's been playing some great football. I'm proud of him, and it's just the beginning for him."
Three months after Bolles joined the team, Head Coach Vance Joseph announced the rookie would start. The starting group was pretty much set, but there was still one more addition coming.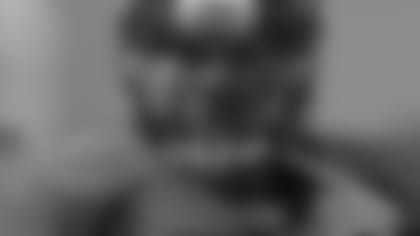 Allen Barbre's first day in Denver was a trying one.
The Broncos had brought him to town via a trade with Philadelphia, and two days after the deal was done, Barbre was on the field running plays that had just been introduced to him. With the help of his teammates, he managed to adjust pretty quickly, for the most part.
"I was running plays on Day 1," Barbre says. "I get here and they're helping me with the calls and what we're doing. That was big. I'm out there running plays and I don't even know the name of them [or] what the play means."
His teammates forgot to prepare him on one thing, however, Barbre found out.
"Allen hadn't gone over cadences yet and had a little trial by fire there. That was pretty funny," Paradis recalls, chuckling. "We'd gone over the calls with him but we hadn't gone over cadences, and they called a different cadence that he wasn't ready for, and it was pretty entertaining."
That minor hiccup aside, Barbre found his stride in the offense and along with third-year guard Max Garcia, the Broncos have a tandem of left guards who can rotate together without missing a beat.
"Just to have guys who can rotate in and out and still be successful and still drive down the field, ultimately that's our goal," Garcia says. "I feel like we've been doing a good job thus far, so we definitely want to keep that going. We don't see it as a competition, really, but we just try to make each other better."
With Barbre's addition, the Broncos' line was complete.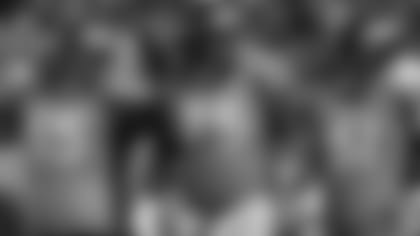 Although there's still three quarters of the season left, the group has shown a tenacity that has resulted in strong showings on the field.
Behind the strength of the line, the Broncos rank ninth in rushing yards per game and 13th in rushing yards per play, up from the 27th and 28th overall rankings in those categories in 2016. Through the first five games, the line sprung four rushes of at least 20 yards, which matched the entire 2016 season's output.
Things have clearly changed.
"I just think from Day 1, from the guys that we brought in — Ron Leary and Menelik and Barb — I think those guys, veterans, guys who have played the game, played the game the right way, and I think that coming in and them working with us, instilling that attitude with us," says Garcia about what made their group more aggressive.
In a matter of just eight months, the Broncos welcomed a lot of change to their offensive line, and each time they adjusted, they offered help and trust to the new faces. It changed the makeup of their room, but it has made all of them stronger and closer.
"A bunch of wild bandits," Watson calls this group. "We're crazy. We love the game of football, we love each other and we just try to go out there and play hard for each other. We just try to communicate, be on the same page, play nasty, play physical, take care of everybody and have fun while we're doing it."