The Lead
In the Darrent Williams Memorial Teen Center at the Denver Broncos Boys & Girls Club on Tuesday night, safety Justin Simmons sat among the group of teenagers as if he was not about twice as old as the rest of the participants.
Over the past three years, the 29-year-old Broncos star has taken part in the club's annual educational series on social justice conducted by RISE. In this session, the third of the multi-week program, he was an active listener and participant, as usual, as the group of around two dozen teens discussed how to define race and racism.
In Simmons' extensive work in the Denver community and beyond as a three-time Walter Payton NFL Man of the Year nominee, his dedication to supporting kids and social justice initiatives has been a major driving factor. Since the RISE program began working with the club in 2021, he has been a consistent presence, making the transition from Zoom classes to in-person ones.
"Really, the responsibility is to just show up and be present and listen," Simmons says. "I think what's most important with these sessions is having a platform and opportunity for those kids to talk about real-world life issues and be heard on those from adults and even their peers. So, that's probably the most important thing I can offer each and every week coming to the RISE sessions."
Having Simmons in the room — and second-year receiver Montrell Washington, who joined the group on Tuesday — provides a special meaning, as club member Naja'Ray West says.
"It just adds hope for a lot of the kids," West says, "because just knowing the platform he has, and a lot of the kids don't get to see that on the daily, so for him to come in and take time out of his day and Montrell, same, taking time out — they could be doing anything else, but they're sitting in a room full of 30 teenagers listening to what they have to say about the social injustices that we face: racism, all those different things. It's just amazing."
For Simmons and West alike, this will be their third year in the program. And while the program largely remains the same to give new participants the same foundational understanding of key principles that they learned previously, they and the other longtime pupils still are engaged, especially to make new connections.
"The thing I find the most inspirational is seeing new faces and seeing everyone timid and nervous and as the weeks go on, there's a little bit more conversation being had in the smaller groups," Simmons says. "Some are even more eager to speak up in the bigger settings when it's one big group. And then by the end of it, you can tell they feel like they're being heard. At least the last two years, you could really see that they're being heard and they're being seen and that their voice matters, their opinions matter."
In the uncomfortability of adolescence, these conversations can also be challenging, especially around such difficult topics. Through it all, the ultimate hope is to expand understanding, find some clarity about the world and identify constructive methods they can improve it, even in small ways.
"RISE just really helped me understand who I am and who I want to become," West says. "And it helped me in a way that a lot of these other kids whose first time, they're going to be at RISE, they're going to get through the end of this program and they're going to be like, 'Wow. I didn't know this much about myself or I didn't know this much about the world,' because doing RISE, you learn about yourself, the people around you, the people sitting in the room and the world. It just kind of helps you get a clearer vision."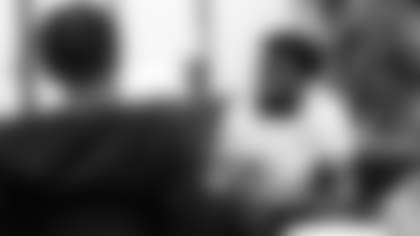 Below the Fold
West is a shining example not only of RISE's potential impact, but also the Boys & Girls Club in general.
On Tuesday morning, she won the Colorado Boys & Girls Clubs' Youth of the Year award at the competition at the Denver Art Museum. West said she was in shock when they announced her name.
"It was just amazing," West said Tuesday night. "At first, I didn't think it was me. … They're like, 'No, go!' I'm like, 'Oh, me?!' It's just like a surreal moment. It was a lot to take in at one time."
Simmons, who was in attendance, has been a major supporter over the years for West and her friend Nashara Ellerbee, who worked together to develop an annual March for Peace in the Montbello neighborhood. For their work, West and Ellerbee were named the Broncos' 2022 Inspire Changemaker Award recipients.
At the RISE meeting, Simmons celebrated West's accomplishment by bringing sparkling grape juice for the entire group to have with their dinner at the start of the session.
"It was so cool," Simmons said. "… It was so cool to sit there and to listen to everyone's story and hear how inspirational it was. For me, even, just sitting there, I'm like, 'These kids are 15, 16, 17 talking about changing the world and the different ways they want to do that and how they're going to incorporate that and the unique ideas that they have.' I'm sitting there like, 'I'm almost 30, what am I doing here? I feel like I need to get up and go do something super inspirational.' So, it was really cool that 'Ray Ray' was the recipient of that and now she has the chance to go on for regionals and hopefully nationals and win the bigger award, which I think she's more than capable of doing."
The next step for West will be to compete at the regional level, where she'll give a speech with several other state winners. The winners of the five regional competitions across the country will then advance to a national competition, along with a national military youth winner.