ENGLEWOOD, Colo. — After quarterback Joe Flacco ended his first season in Denver on injured reserve, the 12-year veteran said Monday that as he approaches an uncertain future, his focus will be on getting healthy before assessing what his role may be going forward.
"The plans are to get better and kind of figure out a little bit more about what's going on," Flacco said. "I'm not really sure at this point. We're still kind of just waiting to see. I'll get another MRI and then make some decisions from there.
"So [it will be] probably another month, month-and-a-half and then [it'll] get down to the point where I'm really going to have to make some decisions. At this point, I'm optimistic about getting better. At some point, no matter what it is, if I'm just going to be OK or have to get something done then we'll get past that point and move on. I look forward to playing football again at whatever capacity that is."
Flacco completed a career-high 65.3 percent of his passes in 2019 as he threw for 227.8 yards per game, but the team struggled to close out games and had just a 2-6 record. After suffering a neck injury after a Week 8 game against Indianapolis, Flacco was placed on injured reserve.
At this stage in his recovery, Flacco said he's back to working out and running, and he said he thought he could participate in a practice and perhaps even play in a game, if it were just up to him.
"Could I play? Yes. Would they let me play? No," Flacco said with a laugh. "It's one of those things that yeah, I feel good walking around and I would feel good throwing the ball. The question is, when I got hit or something like that, how I would hold up? The answer is probably not good at this point. Other than that, I feel good."
The biggest decision Flacco will have to make in his recovery is whether he'll have surgery. That answer may come after he gets another MRI in February.
"That's kind of what's up in the air," Flacco said. "That's why I'm getting the MRIs and continue to have to get these MRIs. I think depending on who you talk to, they're going to say, yes, I'm going to need something done or maybe not. That's kind of why it's uncertain for me right now. That's my point, whether I have to have something done or I don't, I'm still looking forward to being able to do whatever it is after that and getting ready to play again."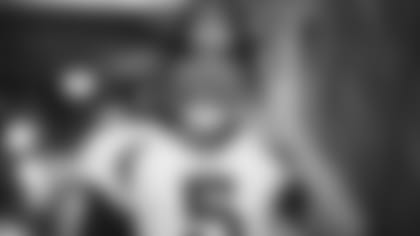 In the months since Flacco first landed on IR, the Broncos found success in their final five games with rookie quarterback Drew Lock under center, as they went 4-1 to cap the season. After President of Football Operations/General Manager John Elway said Monday that "it's unrealistic" that Lock would not enter 2020 as the presumed starting quarterback, Elway said they'll evaluate Flacco's status in the near future.
"We haven't gotten into that yet, but we'll look at that and see what's best," Elway said. "Obviously, we're going to take some time. This year we'll do it a little bit different than we've done in the past. We're going to wait for our own team evaluations for a month. We're going to get away from it. The coaches will look at it. The personnel side will look at it, get together early February and really get a good objective view of what our team's going to look like next year and what we need to do. I think that's why we'll take the time and evaluate everything. Obviously, Joe will be one of those that we'll look at and we'll see his situation."
Flacco said he'd have to have further conversations with Elway and the team before evaluating his future with the Broncos, but he did say he'd like to return to Denver.
"Of course," Flacco said. "I want the opportunity at some level and if that ends up being here in whatever capacity that is, then that'd be great."
When asked about whether he's open to being a backup quarterback, Flacco demurred but didn't close the door on that option.
"I'm probably a little bit more worried about other things at this point," Flacco said. "… I want to play football. If that's what it has to be, whether it's here or wherever, if that's what it's going to take for me to get back in and start playing again, then yeah. I'll go that route, but you never know what's going to happen in the next couple of months."