ENGLEWOOD, Colo. — Jake Butt may be happy, but he's not celebrating.
As the Broncos decided to keep the fourth-year tight end on their 53-man active roster, the move represented what can be considered a triumph of physical and mental will after multiple season-ending knee injuries sidetracked his career. Still, that will not be celebrated. Not now anyway.
"You're never 100 percent in the clear," Butt said. "Even now. Crazier things have happened, so I don't even consider myself 100 percent in the clear now."
Butt is clear to not confuse this with the finish line, though he is happy to recognize this success and how he's been able to practice every day since reporting early to training camp with the rookies without missing a single day.
"It's been a long road coming, so I'm proud of myself," Butt said. "I'm proud of the work I was able to put in, what I was able to get accomplished."
That achievement represents more than just Butt's physical health. After suffering a season-ending ACL injury in 2018, his third since 2014, he struggled to return to full health. Those problems continued in 2019 as he tried to play through a torn meniscus. Through all of these trials, Butt's mental health also suffered.
"For me, I wasn't getting as healthy as quick as I would have liked," Butt said. "It was taking some time, and I wanted to see some progress quicker than what I was seeing. When it wasn't coming, you start to question, 'Hey, is this really meant to be? Is this meant for me? Is this what I'm supposed to be doing or is it time for me to get into another profession?'"
As Butt questioned himself and his future in the sport he loved, he fell deeper into his misery. One person who recognized it quickly was Head Coach Vic Fangio, who spoke with Butt privately shortly after he suffered the meniscus injury during training camp in 2019.
"I think Coach Vic knows mentally what I was going through, fighting demons off," Butt said. "He came and talked to me last year, pulled me aside. I think I wear my heart on my sleeve [and] I think a lot of people saw how much I was struggling mentally and how frustrating it was for me to be hurt all camp last year. And he pulled me aside and kind of encouraged me to keep pushing and keep working and keep going."
Even though Fangio had not worked with Butt for very long — maybe seven months at that point — he had identified the kind of person Butt was and felt he needed something at that moment.
"If you know me as a coach does, you know I love football and you know I love working," Butt said. "And I don't want to miss practice, I don't want to miss games, I don't want to miss a snap. … And when it's out of my control and I feel like I'm doing everything I can, it stings a lot more. And I think that Coach Vic knew that and just kind of reminded me, 'Hey, listen. I don't want to put words in your mouth; you're a grown man and you can make your own decisions. But I also know how much you love this game of football, and I think you'd regret it if you walked away from it.' That was just kind of his advice without knowing anything. That kind of guided me. …
"I think it says a lot about Coach for him to recognize that want — one, to recognize it, and two, to act on it. To encourage me in that moment, it meant a lot, and it obviously pushed me."
And despite continuing to struggle through the season trying to play, including a frustrating series of stretches where he would practice for a few days before missing a week or two, Butt kept working.
"Even with those thoughts, I would always make sure I showed up every single day and worked and just continued to work through it," Butt said. "And over time, it gets a little bit better and a little bit better and a little bit better and you get a little bit more comfortable with your knee and your situation."
By the time Butt reported for training camp in late July, he was healthy and in a good headspace. Though the COVID-19 pandemic had prevented the Broncos from holding organized team activities through the spring, he had taken advantage of the isolation to focus on himself. He picked up meditation and visualization and diligently tried to anticipate what it would feel like to run a route, to cut off his left leg so when he finally would, it would feel completely natural.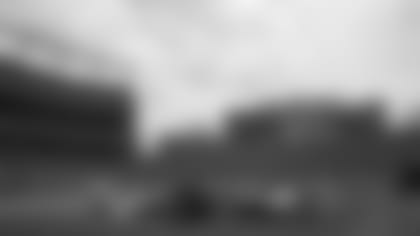 As camp ramped up, Butt found his groove. He was healthy and he picked up the new offense easily — after all, what's learning new terminology compared to learning new ways to approach how you go through life?
"Out of everything I've been through, learning a new offense is probably one of the easiest things I've had to do this year," Butt said.
After training camp concluded Friday, the team's roster decisions began to leak to the press on Saturday morning. Butt's future on the initial roster slowly became more clear, solidified finally when he got a phone call from Tight Ends Coach Wade Harman to congratulate him on his hard work.
Broncos brass also expressed their delight in seeing Butt earn one of the 53 spots.
"I tell you what, it's been a hell of year for Jake," Fangio said Saturday. "I mean from Day 1, and he came back with the early group. I've not seen him limp once, he hasn't been in the training room other than to get the, where they get those boots on just to refresh their legs. He's had a terrific camp, and not just playing-wise, but he's actually 100-percent healthy and moving around good. You'd never know that he'd been through the injuries that he's had with his knees. He looks as good as new to me."
Yet, this initial decision won't change anything about how Butt approaches each day. What's guiding him now is a lesson Ring of Fame wide receiver Rod Smith told the 2017 rookie class.
"He kind of mentioned his mindset was every day he'd come in there and he'd check his locker and see if his stuff was still in there," Butt recalled. "And he'd say, 'OK, I've got 24 more hours,' and he'd just approach that day with a killer mindset like, 'I'm going to do everything I can to make this team today."
That story aligns neatly with Butt's own description of his mindset as the regular season begins. Each day on the roster will be a day for him to build on the progress he's made, and as long as he keeps visualizing it, his goals will be in sight.
"My mentality, honestly, throughout this camp, I think should be my mentality going forward, and that's that, hey, I've got to earn a spot on this team every single day," Butt said. "That again, I'm not in the clear, that I'm going to have to continue to work and prove myself — and prove myself to the coaches every single day.
"So, I'm going to go into practice approaching it like, 'Hey, I'm on the bubble and if I want to make it, I'm going to have to continue to get better and have my play rise on a daily level.'"