ENGLEWOOD, Colo. — Russell Wilson signed a five-year contract extension on Thursday, and no one may be more thrilled for him than his teammates. Multiple players conveyed their excitement for Wilson after the news was announced, praising his hard work and winning mentality.
Wide receiver Courtland Sutton, who has been one of Wilson's top targets throughout the offseason and training camp, expressed the magnitude of what this extension means not only to the team, but to the entire Broncos organization.
"It's going to be huge for our franchise," Sutton said. "… Him being here has brought excitement and has brought a new level of expectations and hope to our team and to this organization. To be able to have him around for years to come, somebody of his caliber, is exciting."
Sutton noted that Wilson earned this extension through his commitment to making himself and the entire team better.
"When you see his work ethic, see the things that he brings to the table and what he does, it's all earned," Sutton said. "It's not given, none of that money was given to him. It's all things that he's earned by the way that he carries himself, by the way that he works. He demands excellence out of himself and everybody around him."
Running back Melvin Gordon III, who has known Wilson since they played college football together at Wisconsin in 2011, praised his teammate's dedication to the game and anticipates that Wilson will have a long, successful career.
"He deserves it," Gordon said. "He put a lot of work in, man. He's devoted — he told me he wants to play at least 10 more years."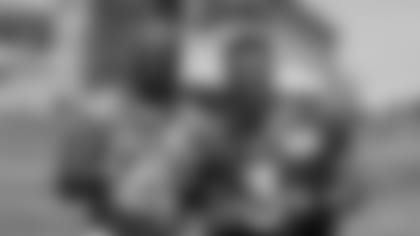 Gordon noted that he had a feeling Wilson would become a superstar from the moment he first laid eyes on the quarterback, because his championship mindset set Wilson apart even as a college player.
"When he walked in the room, I remember we [were] all in the team meeting room, and he had just walked in and it was just like … 'Yeah, he's a winner,'" Gordon said. "He just had that aura about him, so I kind of knew he was going to be right where he is today."
On the offensive line, players were excited about having a consistent presence with a brilliant football mind behind them in the pocket for years to come. They also understand the added responsibility they now have to help Wilson stay healthy for a long career.
"Now for us up front, now we know we've got to keep him clean, keep him healthy," center Lloyd Cushenberry III said. "… Our job is to keep him protected so he can play as long as he wants to."
Cushenberry added that while Wilson has helped him become a better player on the field, he has learned the most from his quarterback by how he carries himself off the field.
"I always kind of looked up to him from afar, but now getting to know him as a person, see what type of father he is, the type of man he is, it's someone I want to be someday," Cushenberry said. "So it's great to be around him."
Guard Dalton Risner talked about how fortunate the team is to have such a great leader as their quarterback, and highlighted the importance of the player that has the ball in their hands on every single play steering the ship. He pointed to Wilson's extension as a sign that team ownership is committed to Wilson and believes that he can lead the Broncos to many years of success.
"I think it sends a message that Russell's our guy," Risner said. "I think that they have a lot of faith in Russell and what Russell can do for this organization. … [I'm] super proud of him, man. I think that from what I've seen in the two, three months of knowing the guy, that he's super deserving. I know that this isn't going to make him get complacent. If anything, it's going to make him feel right more at home, and he's going to continue to grind and take us where we want to go."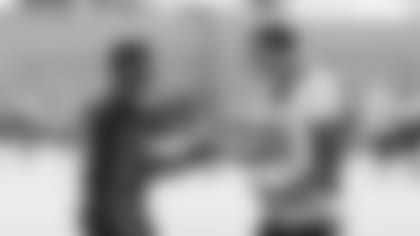 It was not just the offense that had praise for what Wilson brings to the team. Safety Justin Simmons explained that Wilson's talent and experience has been a morale boost for the entire team. To Simmons, Wilson's excellence helps the players in all three phases of the game.
"He's a proven quarterback in this league, a [future] Hall of Famer, and I'm excited for him," Simmons said. "He'll have to take me out to dinner or something. … A very expensive one."
Simmons noted that Wilson gives the Broncos the opportunity to restore a winning culture and bring a Super Bowl championship back to Denver.
"We're trying to win, we're trying to get back to what Broncos Country's used to," Simmons said. "I talk about it all the time — playoff games, hosting playoff games and winning playoff games, getting back to the Super Bowl and the Lombardi Trophy, and so it's exciting. I think it's all exciting, and first things first: It's going to start with the win in Seattle."
In his press conference after signing the contract extension, Wilson showed the same love and appreciation back to his teammates. He mentioned multiple times that this deal is not so much about him as it's about the team and putting it in position to win multiple championships together.
"Most importantly, I'm thankful for my teammates, because this is really about us, and us trying to do this thing together," Wilson said. "I can't wait to have a lot of fun with them next week, and we'll get ready to roll."