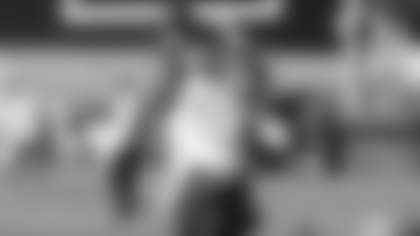 ENGLEWOOD, Colo. --Trevor Siemian practiced for a third consecutive day, and is questionable for Sunday's game against the Tennessee Titans, Head Coach Gary Kubiak announced after Friday's practice.
Siemian and Paxton Lynch once again split the snaps. Whether Siemian is cleared to return to the starting lineup for Sunday could depend on how he feels Saturday.
Kubiak said he thought the decision at quarterback would be made Saturday.
"I think it's me watching him come out of practice today more than anything," Kubiak said. "See how he feels tomorrow, soreness, those types of things."
But Friday's practice was nevertheless a "good" one for Siemian, Kubiak added.
"He did everything we asked him to do [Thursday]. He did probably a little bit more today; we're still repping Paxton," Kubiak said. "We'll see if we get there on game day; we'll see how he feels."
Siemian showed no ill effects from his work Thursday.
"He came in today; he felt good," Kubiak said. "We pushed him a little bit harder today. A bunch of good signs. But we'll see how he's doing [Saturday]."
Inside linebacker Brandon Marshall was ruled out because of a hamstring injury he suffered last Sunday against Jacksonville. He did not practice all week. Corey Nelson is expected to start in his place. Outside linebacker Dekoda Watson is also expected to swing inside and provide depth, joining first-year backup Zaire Anderson.
Long snapper Casey Kreiter was also ruled out because of a lingering calf injury. Thomas Gafford will work in his place.
Center Matt Paradis practiced for a third consecutive day after receiving rest days over the course of the previous month and is expected to play Sunday.